Home Organization Ideas I Learned from Ikea
Find simple solutions for everyday problems with these brilliant home organization ideas from Ikea.
Over the years, we've lived in some pretty quirky homes. Each presented its own set of challenges when it came to organization.
More than one home we lived in didn't have a closet in our bedroom. (What??)
And, I've discovered more than once that small bathroom organization has to get mighty creative in old houses!
For decades, I've poured over Ikea's catalog and observed their showroom like a hawk for clever home organization ideas.
Even though I don't have a house full of Ikea furniture or products, I've sure learned a lot from the clever people at Ikea.
Here are 10 Brilliant Home Organization Ideas from Ikea that I'm using right now.
Disclosure: This post contains affiliate links for the reader's shopping convenience.
Ikea's Closet Organizer can inspire a very budget friendly hack
The other day, we had the opportunity to go to an Ikea again. As I pushed my cart by the Ikea closet organizers that I've so longingly wished for, I told my husband, "I'm so happy with our closet, I don't think I want one of those anymore!"
Studying Ikea's closet organization systems helped us figure out a way to get twice as much clothes storage in our closet. And we did it for $35 plus supplies we already had on hand. Click here for some ridiculously simple small closet organization tricks.
Also, our 6 months in a rental house helped us figure out some simple ways to organize a small Master Bedroom.
The Billy Bookcase system is a brilliant Ikea wall organizer!
I can't stress enough how thankful I am for the affordable Billy Bookcase system Ikea has. It provided the perfect solution for home organization in our small living room – while being customize-able for our specific space.
We added to it as our budget allowed until we were able to finish off an entire Billy Bookcase wall in our Living Room. (See how our living room looked without it here. You won't believe the difference!)
We added custom molding to make it look built in around the tv, added shiplap to give it farmhouse style, and I love to style the billy bookcase shelves differently for each season.
Right now, our Billy Bookcase strategically hides out of season decor, Norwex cleaning supplies, books, and our receipts for tax purposes.
Home office organization can be hidden strategically with Ikea organization ideas
When we first moved into our small townhouse, my office was in the living room. I didn't exactly want the printer and file folders out on display there – so Ikea came to the rescue again!
The Billy Bookcase doors hid all the office supplies that I didn't want to be seen on a regular basis.
Don't forget about the walls for kitchen organization ideas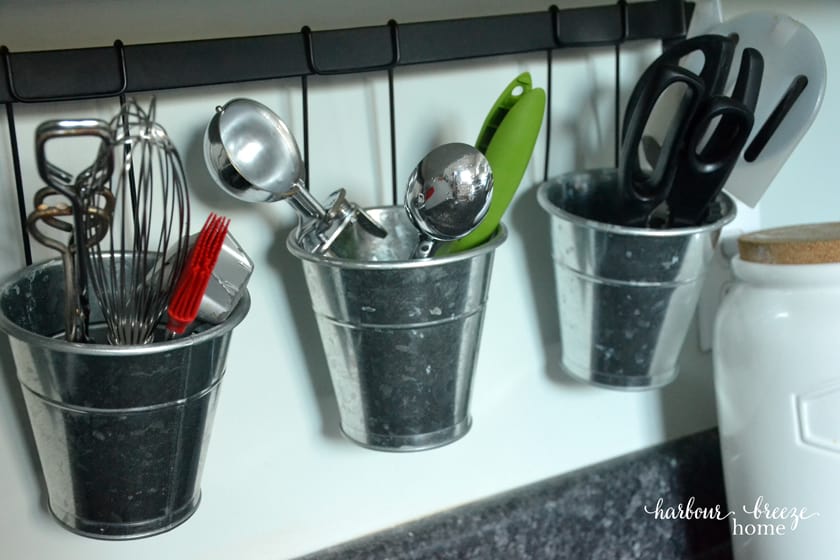 It was challenge to organize the cupboards in our small kitchen. Ikea's handy dandy hanging rail with buckets for utensils and kitchen tools frees up space in drawers for other necessities.
Sliding drawers in a cupboard are a great alternative for pantry organization
Ikea's closet organization with sliding drawers is brilliant! It gave us the idea to DIY that feature in a kitchen cupboard to act as a pantry organization since we don't have one. It makes it easy to access items on the back of the shelf that would be normally difficult to reach.
Baskets can hide a multitude of mess and look pretty, too!
Ikea's baskets are absolutely brilliant! They have covered baskets, wicker baskets, see-through baskets, and fold up baskets. I have a variety of each!;) The fun thing about baskets is that they can be stuffed full of things and set on a shelf or in a closet, labelled, and still look pretty and neat on a shelf.
Baskets are one of my favorite home organization items for entryway closets, linen closets, and small bathroom organization.
Home offices can have pretty organization systems that fit your style
One of the things I love about walking through Ikea's showroom is seeing how they put together spaces that function well but don't necessarily require a lot of square footage.
We used some of their ideas as we set up my husband's rustic home office with floating shelves, and my office and craft room with turnbuckle shelves.
Use drawer organizers to help corral things like office supplies and makeup
Although Ikea provides a whole gamut of options for drawer organization, I picked up a practical tip from Mari Kondo's organization book. Use Apple device boxes (or watch boxes) as drawer organizers. They work like a charm!
I used that idea for both our office supplies organization– like pens and paper clips – as well as my make-up drawer.
(Here is another idea for makeup organization if your bathroom is teeny tiny! And if farmhouse style is your thing, here are some farmhouse inspired bathroom organization ideas.)
Install hooks for hanging towels and coats
Although towel racks and entryway closets with hangers are a perfectly fine option, we prefer quick and easy hook system for both towels and coats at our house. We added them to our small entryway closet as well as the back of our bathroom doors for towels.
Labels help keep everything organized!
Baskets and bins can be more of a problem than a help if they aren't labelled! Who wants to pull down 10 baskets off shelves just to find the one you need? Labeling is one of my favorite parts of home organization. It can add an extra layer of style to a space and also helps in a very practical way!
I created a set of printable office organization labels to help with office organization – but they could easily be used anywhere in the house.
Where do I start with home organization?
Sometimes the hardest part of home organization is knowing where and how to start! Here are my top tips on how to get started with home organization.
For more ideas for your home
Join our free VIP membership and get ideas delivered right to your inbox! Just click the button below and become a VIP today.