Bookcases and open shelving can be a wonderful way to add style and character to a space. But, sometimes it can be a struggle to get them to look and feel the way you dream it should.
Over the years, I've experimented with many different methods, but have finally stumbled on a simple formula that makes the process so much easier. Today, I'm sharing the quick and easy steps.
How to Style a Farmhouse Bookcase in 3 Easy Steps
Disclosure: This post contains affiliate links for your convenience. Harbour Breeze Home is a participant in the Amazon Services LLC Associates Program, an affiliate advertising program designed to provide a means for sites to earn advertising fees by advertising and linking to Amazon.com.
Gather Supplies
Before you can begin styling your bookcases, you first need to gather together a selection of decor items. The most important factor to consider when choosing these items is to gather things that you love. After all, this exercise is to inject your personal style into a space.
If you love the farmhouse style similar to Joanna Gaines (and me!) here are some ideas you might like to consider:
wooden boxes
vintage china and bowls
antique cameras
leather items
**Links for Amazon.ca for Canadians:  faux greenery;  white pitchers;   wicker basket;   vintage art prints;   tobacco basket
Once you have a selection of items gathered in various sizes and textures, empty out your bookcases completely and start styling.
1.Start with tall items first and place in a zig-zag pattern
In this particular example, the top shelf is grounded with a large, central display.
Once I began the other shelf styling, I layered my tallest items first. If height is a problem, trying stacking things on boxes, or layering a tall items behind.
2.Add in books

Old books are – hands down- my most frequently reached for decor items. I stack them, pile them, and turn them every which way. They always add in great character for the farmhouse style, and help elevate small items.
3.Finish off with greenery and "littles"
I find that greenery adds a pop of life to the neutral tones of farmhouse style. You can use real plants if you like, but I prefer to use faux. This and this are some of my favorites.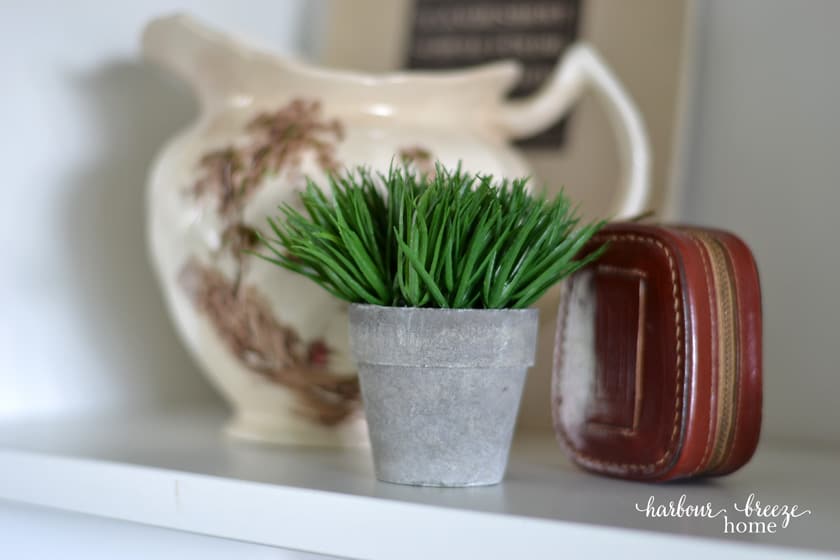 Like the other 2 steps, I add greenery in in a zig-zag pattern as well. There is something about that zig-zag formula that makes the overall look more pleasant to the eye ~ and orderly, not messy!
A few more tips and ideas
As you work in a zig zag pattern, it is also helpful to have similar textures and colors of the zig- zagged items ~ like the 3 black items in the picture above.
A good design rule of thumb is to place arrangements in odd numbered groupings ~ like the 3 brass bells.
Use bookcase styling as a way to add in seasonal decor touches. Adding in seasonal foliage or fresh flower arrangements is a simple way to do that.
Although I don't actually live in a farmhouse, this farmhouse styled billy bookcase adds the character into our builder basic townhouse that I love.
If you are looking for other helpful articles on bookcase styling, you may want to check out these: