Get Started with Home Organization using these 10 Simple Tips
In this article: These 10 Home Organization tips and tricks will help you know where to start with home organization – and how to finish with confidence!
Nearly every Sunday lunch during my college years was spent at Grandma Jennie's tiny campus apartment.
After dessert and Market Spice Tea, we'd collect the dishes to wash by hand.
I quickly learned that Grandma had a very specific system for dish-washing. Glassware first, then silverware followed by plates and pots & pans.
"Cleanest to dirtiest!" she'd say.
It was an easy and efficient system that broke a big job into smaller, doable steps.
Home organization can be viewed the same way.
If viewed as only the big picture, it can be daunting and overwhelming.
A few years ago, we dramatically downsized our home. Although I loved the process of home organization before then, having to purge more than half of our earthly belongings gave me lots of hands-on experience!
After all I've learned, I believe with all my heart that home organization is something you, too, CAN do and CAN finish – with confidence.
Here are some quick and easy tips to help you get the process going.
Home Organization Tips
(to help you start – and finish!- home organization with confidence)
Disclosure: This post contains affiliate links for your shopping convenience.
1.Use a Home Organization Checklist to Organize by Rooms
Just like Grandma's big pile of dishes, getting the whole house organized at the same time might seem like an astronomical task! So, let's not think of it that way, ok?
Instead, I want you to break up your home into separate zones and tasks. Get out a piece of paper and write them down. The easiest way to do that is to choose each room as a separate zone to be organized.
For example, I did an organization challenge a few years ago where I divided up our home into 8 different zones and organized it all in 8 weeks. (You can read all about that here.)
If you'd like a printable Home Organization Zone Checklist like I use, click here and enter the VIP password.
And, if you aren't a VIP newsletter subscriber yet, fill out the form below:
A checklist will help as you break up the jobs into more manageable portions. And, being able to cross something off a list is a great motivator!
2. Define why having an organized home is important to you
A few years ago, I set a goal to develop healthier eating habits. I had tried going on many diets before, and none ever worked. This time it did. I believe success happened because I was finally able to answer the "why I wanted to lose weight" issue – and it had nothing to do with the size of my jeans!
If you have a clear reason why you want to have a more organized home, it will help you as you move forward with the process.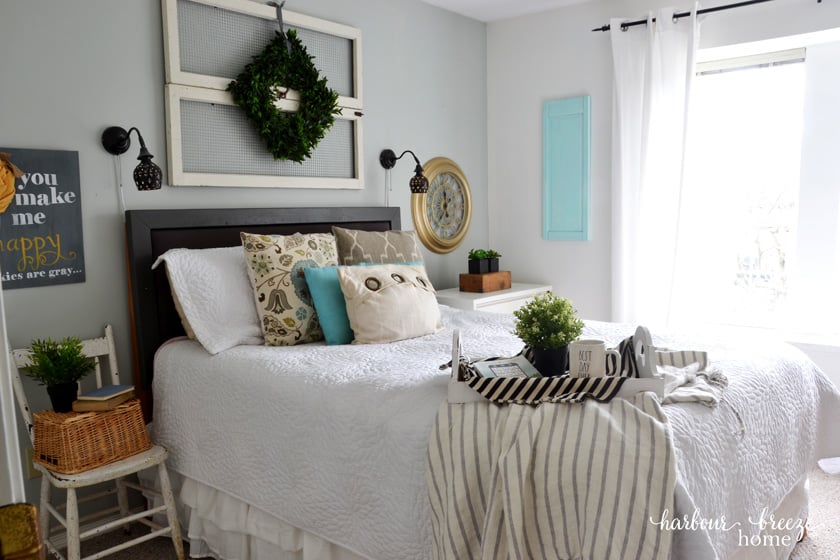 Here are some reasons why an organized home is important to some people:
It helps create a more relaxing and restful atmosphere.
Items are easier to find when needed.
Less money is spent on buying multiple items – because you can't locate an item, nor do you know what you really own.
Organization promotes creativity.
Accumulating more "stuff" requires more space.
Sorting through and purging regularly will help when moving in the future.
The answer to your "why" question may be different, but it's helpful to keep the reason in mind.
3. Determine a time frame for when you will start and finish your Home Organization Goals
This decision & goal should be made with your lifestyle and schedule in mind. Try to make it as realistic as possible.
For instance, if you work full-time, perhaps you only have evenings and weekends at home. Choose if you'd like to work only 15 minutes a day in an area, or perhaps devote an hour or two each weekend to a specific room.
You'll be amazed at how quickly you can see things improve when you take even one small organization step a day.
No matter what your time frame goal is, it's helpful to tell a friend or write it down to help keep you accountable to finish on time!
4. Assemble a Home Organization Essentials kit
To get started with your home organization projects, collect 3 boxes and mark them as follows:
Donate These Items
Sell These Items
Relocate these Items
Also, have on hand a good supply of trash bags for things that just need to be thrown out.
I encourage you NOT to go out and buy a bunch of pretty totes, baskets, and containers before you begin. Until you have a good idea of what kind of space you're working with and what items need to be stored, you might waste a lot of money!
Small sturdy boxes (like Apple product device boxes) make great drawer dividers, and you might already have a stash on hand. Also, you may discover that you already own some beautiful containers that will work perfectly for your organization needs.
As you work through each item on your to do list, you'll discover what specific containers would work best. Then you can go buy them with confidence. I've found the Dollar Tree or Dollar Store is a great resource for budget friendly home organization supplies.
5. Start with an easy win
As you're dipping your toes into the organizational arena, don't start with the most difficult and daunting task in the house! Instead, start with something that is smaller that can be accomplished in a short amount of time.
Allowing yourself to have "quick wins" and accomplish something quickly will encourage you to keep going.
The more you practice organization, the easier it will become to you.
Some easy places to start might be:
The entryway closet
The Living Room
Cleaning out one drawer a day in your Master Bedroom
6. Have a plan for items you no longer want to keep
Home organization inevitably includes decluttering.
We touched on this subject slightly when we assembled the home organization essentials kit. Those 3 boxes and bags will help you when it's time to dispose of items you no longer want, use, or need.
There are various ways you can deal with items you choose to get rid of. Here are a few:
Save them in a specific area until you are ready to hold a garage sale.
Have boxes ready to place items in that you'd like to donate.
Photograph items and sell them online through places like your local facebook selling sites, Facebook marketplace, or EBay.
Have garbage bags ready for items that just need to be thrown out.
Shred and recycle papers you no longer need to keep.
Give away items to people who want and need them.
7. Set a timer
Once you have your plan in place, set a timer and work as fast as you can!
A timer is definitely the most effective tool and motivator for organization I've ever used. In fact, I wrote an entire article on how I use it. The timer is something that helps me work more intentional and focused in many areas. In fact, I'm working against a timer as I type out this post.
Having a specific deadline will show you that you can accomplish so much more than you ever dreamed you could – in a much shorter time frame!
8. Don't just think about it – Start!
Hello, to all of you over thinkers… (Don't worry, I'm one of you, too.;))
The best plan and organized to do list will have no effect at all if we don't just start.
Choose a time and just start somewhere. There are many resources online for daily reminders or tasks to help you with the process. I encourage you to seek them out if you'd like to find a support group in your organization ventures.
I have an Instagram channel where I show stories of the real life homemaking in action, as well as a newsletter with even more tips and hacks for homemaking and organization. Click here to get on the newsletter list.
9. Develop your own system for organization and decluttering
Just like Grandma's dish-washing had a defined system ("cleanest to dirtiest!"), I have developed my own tried and try organization formula, too.
I did a video demonstrating my 5 steps that I use when organizing any area in my home here:
(To find the whole sneaky office storage in my living room reveal that I talked about in that video, click here.)
Here is my 5 Step Organization System:
Completely empty out the space.
Pile like items together in categories.
Clean the inside of the cupboard, drawer, closet, or whatever you happen to be organizing at the time.
Determine what needs to go back into the space, and arrange it in an order that makes sense to you. (And will function well.)
Purchase containers if necessary and label what is inside.
10. Hire a Professional Organizer if you want additional assistance
There is no shame in admitting that you need help. If DIY home organization just isn't working for you, you may want to look for a professional organizer in your local area.
Someone told me recently that she is working with a professional organizer. She feels absolutely amazing about finally getting a handle on her home organization systems for the first time ever.
Additional Resources:
If you want to learn more about home organization and decluttering techniques, I highly recommend the following books:
I've read both of those amazing resources and learned many techniques that I continue to use year after year!
Related Home Organization Posts:
Want help with home organization & decluttering?
I've put together a free Home Organization series just for you! Included in it are:
Simple 15 minute organization tasks for each day
Additional resources and ideas for more specific spaces – like organizing kitchen cupboards, pantry organization, and how to organize small closets.
FREE printable checklists
Click here or the button below to get started today.