How to Organize the Master Bedroom
Following these simple steps on how to organize the master bedroom will help you create a peaceful retreat for rest. You'll sleep so well!!:)
Last year, I did a big makeover of our Modern Farmhouse Master Bedroom Makeover. At that time, I worked hard to get my closet all organized and the space feeling like a cozy retreat.
However, over time, stray items got stashed and the place started to feel all cluttered again.
It was definitely time to give it some attention again. Here are the steps I used:
How to Organize the Master Bedroom
Gather supplies:
A garbage bag for garbage
A box for items to be donated
A timer to keep you motivated
Some fun, upbeat music to keep you moving quickly!
Take down the curtains and bedding and start them in the laundry
I don't wash my curtains often, so this was the perfect time to do that task. Before I started with anything else, I got them washing. Once they were finished, I started in on the bedding.
Tackle the worst area first
This may differ from one person to the next, but the worst area in our room was definitely the closet. I'm short and tend to "fling" my sweaters on the top shelf. It had gotten out of hand!
I started by pulling everything down from my sweater shelf first. Anything that I currently wear and use was folded neatly and put back up. The items I hadn't worn for a year went into my donate box.
Once that part was finished, I took out all the hanging items from the closet rod and laid them on the bed.
One by one I went through every item and put items that don't fit (or I don't like anymore!) into the donation box. Rather than double up things onto the hangars into "outfits", this time, I hung every item separate. I think that'll save time on the mornings when I'm in a rush. I hate having to "hunt down" my pants underneath all the blouses!!:) Once those 2 things were finished, I went onto the piled clothes in my shelving unit and sorted, folded, and grouped like with like.
Ahhh… so much better.
Sort and organize your jewelry

Jewelry storage is a tricky one! I work part time at a jewelry store, so I know this problem is common! I'm still looking for a more efficient solution, but right now I'm using a few jewelry hangers on top of my shelving unit.
Tidy up clothes in dresser drawers
One of my favorite tips I ever learned was to store clothes in dresser drawers folded like an accordion. It makes finding items so much easier!
Deep clean areas that don't often get cleaned
Once all the clothes were straightened up, I got out my vacuum and cleaned where you I don't normally clean. I realized that I had never taken the cover off the baseboard heater since we moved here…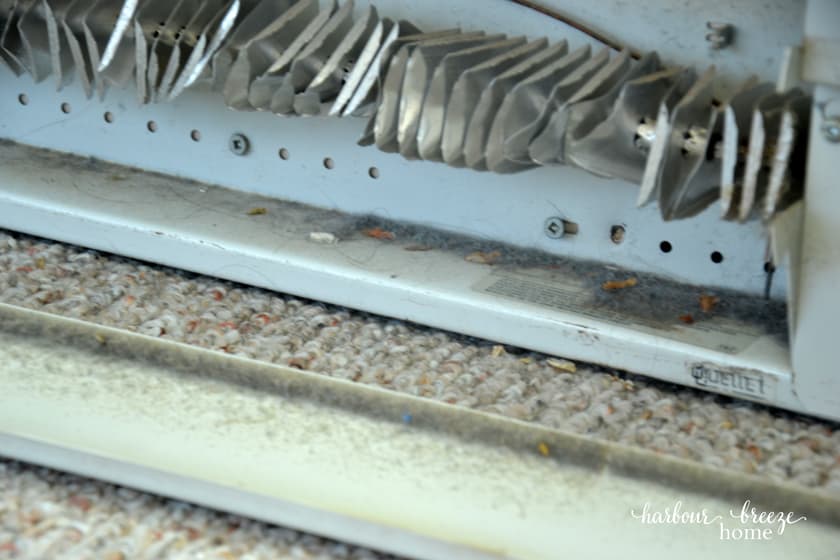 It had obviously not been cleaned for a very long time. Yuck!! A few minutes with the vacuum and my cleaning rag made it clean and sparkly again. The sun was shining, so it was also the perfect time to clean the windows and window frames. Here on the wet West Coast, mold grows quickly during the Winter, so it's good to get that cleaned off often.
Hang up the (clean) curtains, make the bed, and add decorative touches
Now that you've done that, your laundry will probably be finished. Hang up those freshly laundered curtains.
Make the bed with those nice smelling sheets, and fluff the pillows!
And, while you're at it, clear off those nightstands of the old receipts, wadded up Kleenex, and a thousand other odds and ends.
Doesn't that feel so much better?
You're going to sleep so well tonight…;)
Want more organization ideas?
I recently started a new free series on home organization called 15 Minutes a Day to an Organized Home. If so, just
click here
or the button below for immediate access.
The series will come straight to your inbox once a week. In it, you'll receive a quick 15 minute organization idea, along with additional resources for home organization for specific rooms and struggles.