How to Make a Faux Shiplap Wall
Add a touch of farmhouse style with this easy & inexpensive way to make a DIY faux shiplap wall. 
How to Make a DIY Faux Farmhouse Shiplap Wall from Plywood
I've been admiring shiplap walls ever since Joanna Gaines taught me what they were on an episode of Fixer Upper.
I've been pinning them on my Pinterest boards and wondering if one day I could somehow do one myself.
That day finally arrived last week.
After plotting and pondering for months on end, the project actually took less than 30 minutes to complete .Go figure!:)
There are tons of shiplap tutorials out in web land. I know, because I've read a ton of them myself.
I combined everything I learned from them, and modified the process to fit into our particular scenario.
Supplies Needed:
Disclosure: This post contains affiliate links for your shopping convenience.
1/4 inch mahogany veneer plywood (Our project required one sheet)

Paint (I used "Simply White" by Benjamin Moore in Eggshell finish)

A straight edge (like a long level) to draw long lines on the wall with a pencil

Pennies for spacers
The Step by step Process
Measure the wall space you'd like to cover in shiplap. Determine the width & length of the boards you'll need. Head to the store and buy the plywood.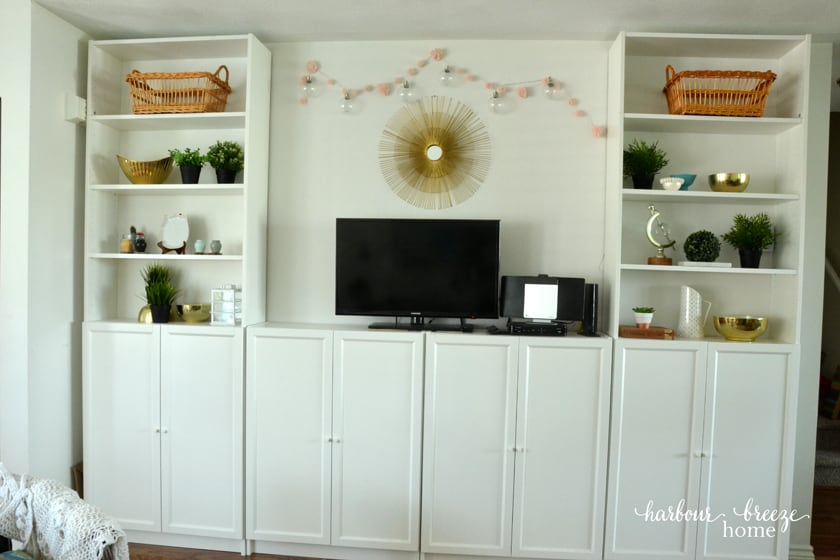 We knew that we wanted to shiplap only the portion of wall in between the 2 tall portions of our Ikea Billy Bookcase system. After doing all the calculations, we decided to make our boards 5 1/2 inches wide.
We then drew the cuts out on a sheet of paper and went to our local Windsor Plywood store to get the wood.
We discovered that the 1/4 inch plywood underlay that many other bloggers recommend wasn't available here. So, we chose this 1/4 inch mahogany veneer plywood. In actuality, it is thinner than 1/4 inch, but it ended up working just fine.
Since we don't have a saw that can rip down a sheet of plywood, we discussed the dimensions of the boards we needed and had the staff at Windsor Plywood cut them for us. (That's when the jotted down cut lines on paper comes in very handy in the communication department!)
We have found the staff there to be super helpful when we need to have plywood cut. They do a wonderful, precise job, and it doesn't cost a fortune.
Paint the edges and fronts of the boards
I've learned the hard way that there is no way you can get the edges painted well once the shiplap is attached to the wall. (See our closet door project here.)
But, here's where I made a big mistake…
I spent time carefully priming and painting each board, and couldn't understand why the wood grain kept showing through…
My husband informed me I had painted the WRONG side!
So, don't do what I did and try to paint the "mahogany" side. Paint 2 coats on the other side (no primer needed), and you're good to go.
Using a stud finder, mark out with a pencil and straight edge where the studs are on the wall you are covering.
This is where you'll nail the boards on.
Once the paint is dry on the boards, place the first board at the top portion of the wall. Nail it on with a pneumatic nail gun using the pencil lines as guides as to where the studs are.
Place pennies between the boards as spacers, and work your way down the wall.
Once all the boards are attached, fill in the nail holes with Dap drywall filler.
Don't worry about trying to use a special tool to apply the Dap. Just use your finger.
Once the Dap has dried (about 20 minutes) paint a final coat of paint over the boards.
And then stand back and admire the new look!
We just can't believe what a difference a few boards make in the look and feel of our space. Here's where it started: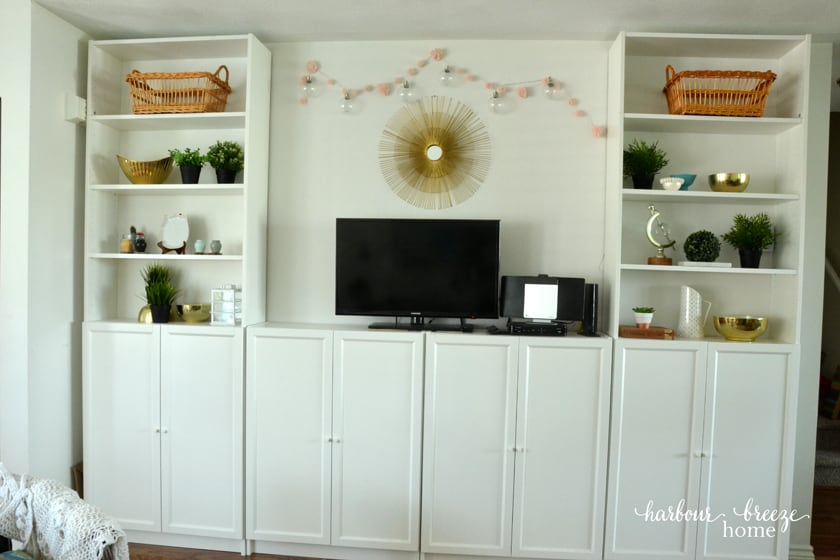 And here it is now:
We love it!
To read more about the style evolution of this space, check out this post.
To see more ideas for farmhouse shiplap walls, check out these posts: