Quick & Easy DIY Christmas Decorations You'll Love to Make
These quick & easy DIY Christmas decorations will help your home look and feel festive!
One of my favorite parts of the Christmas season is Christmas decorations. They remind me of all the fun memories of years past and help brighten up the dark, cold days of Winter.
Over the years, I've enjoyed crafting up lots of DIY Christmas decorations for our home.
You just might want to try some of them out, too!
DIY Christmas Decorations
DIY Christmas Tree
Christmas tree decorations are one of the most favorite of all Christmas traditions. Our boys used to love to help us decorate the tree every year. And, our trees have seen lots of different looks over the years!
White Christmas Tree decorations you can make yourself
This burlap & flour sack DIY Christmas Tree Topper was made the year our island house was bombarded with Winter storms and power outages. As I sat by our woodstove on those dark and dreary days, I pondered Christmas tree decorating ideas. I eventually thought of Carolyn Ingalls and Little House on the Prairie. I felt a bond with her as I learned to cook over a fire!
This rustic Christmas decoration is made of leftover cardboard, a coffee sack and hot glue. It perched on the top of our Christmas trees many years.
DIY Christmas Tree Garland can be as simple as gathering a torn piece of cotton fabric to make a ruffle! Before you get to the final scene of Christmas with the Kranks, you can have yards and yards of ruffle to weave around your tree like Christmas tree ribbon.
This Shabby Chic bird DIY Christmas ornament uses scrap fabrics, burlap, and vintage applique flowers. They were so fun to make. Not only can they hang from the tree, but they can be tied onto a Christmas present for a special handmade touch or even made into a mobile as a DIY Christmas gift idea for a new baby!
Rustic book pages or old hymnals make the most beautiful paper star ornaments when folded to become origami stars. They are so fun and easy to make. Click for the directions along with a video for how to make a paper star.
DIY Christmas Ball Ornaments
I call this Christmas craft the Winter Wonderland ornament. It's one of those easy DIY Christmas ornaments for kids. All the supplies can be purchased at the Dollar store and kids can have so much fun creating their own snowy scened inside.
These DIY chalkboard ornaments have a secret. They just look like a chalkboard! They're actually painted on so the "chalk" won't rub off! They can be customized to say whatever you want. If you don't want to dust off your power tools and cut out your own wooden Christmas ball ornament, you could use wood slices instead.
I guess I'm stretching it a bit to call these DIY wooden Christmas ornaments "quick & easy". They were quick and easy for me to paint after my husband cut them out of wood!;) Click on over to this post on more handmade wooden ornaments to get some other painting ideas.
DIY Christmas Crafts for your Home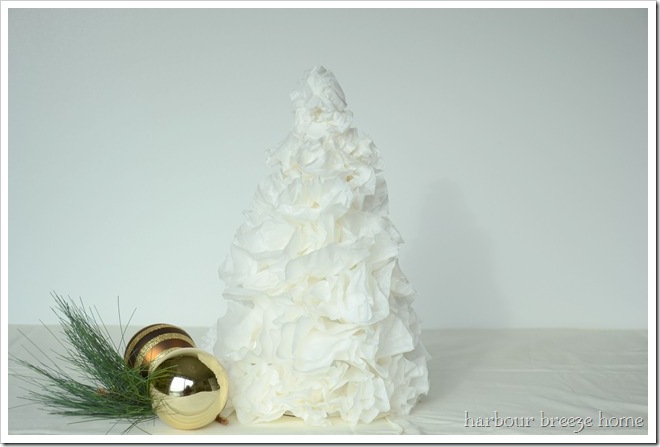 Sometimes inspiration comes in many unexpected forms. Who would have ever thought you could make such a soft and fluffy looking diy Christmas trees with coffee filters! Click here for the super simple instructions for this little Coffee Filter Tree.
These DIY Burlap Christmas Stockings were the featured in Better Homes & Gardens back in the day! I had so much fun decorating them with buttons, ruffles and fabric roses.
Wooden Signs for Christmas you can make yourself!
I just love rustic wood signs and think they make great farmhouse Christmas decor. I've done many tutorials on how to make wooden signs, but these wooden signs with sayings don't require any painting! Included in the post with step by step instructions are free printables that say "Joy to the World" and "Merry Christmas". (Click here for directions for these Christmas wood signs.)
This farmhouse Christmas tree wooden sign is to quick and easy to make. Simply painting leftover wood and gluing on wood slices looks perfectly rustic. It makes beautiful wall decor for your home, or could be used as a great handmade Christmas gift idea.
Turn someone's trash into a treasure by painting over an ugly thrift store canvas! Using acrylic craft paint and easy painting techniques, you can quickly and easily have some beautiful new DIY wall decor for Christmas.
Christmas Centerpieces & Table Setting Ideas
Christmas recipes, Christmas parties (with fun Christmas gift exchange games), and gathering around the table together to eat is a big part of many great Christmas traditions.
Here are some simple DIY Christmas centerpieces and table setting ideas.
Bring out the colorful Christmas napkins and mix it with some vintage wooden kids' blocks for a fun and festive table setting. It's a super quick and simple Christmas decor idea!
I had so much fun putting together this farmhouse Christmas tablescape using DIY wooden gift placecard holders and burlap wrapped gifts in the centerpiece.
For more Christmas ideas:
Become a VIP and get a set of free printable Christmas gift tags!!
Join thousands of others and become a VIP newsletter subscriber. Get ideas for you and your home delivered right to your inbox! Join for FREE today by clicking the box below & get instant access to the free printable set of Christmas gift tags.