7 Tips for Small Bathroom Organization
Part of our bathroom makeover reveal involved sorting out our small bathroom organization situation.
Take it from someone who has been struggling with the realities of a small bathroom –
It's tricky!!
Today I want to share 7 creative and clever tricks that I'm using in my real, everyday life to solve small bathroom organization struggles.
They have made our space feel tidy, neat, and user friendly!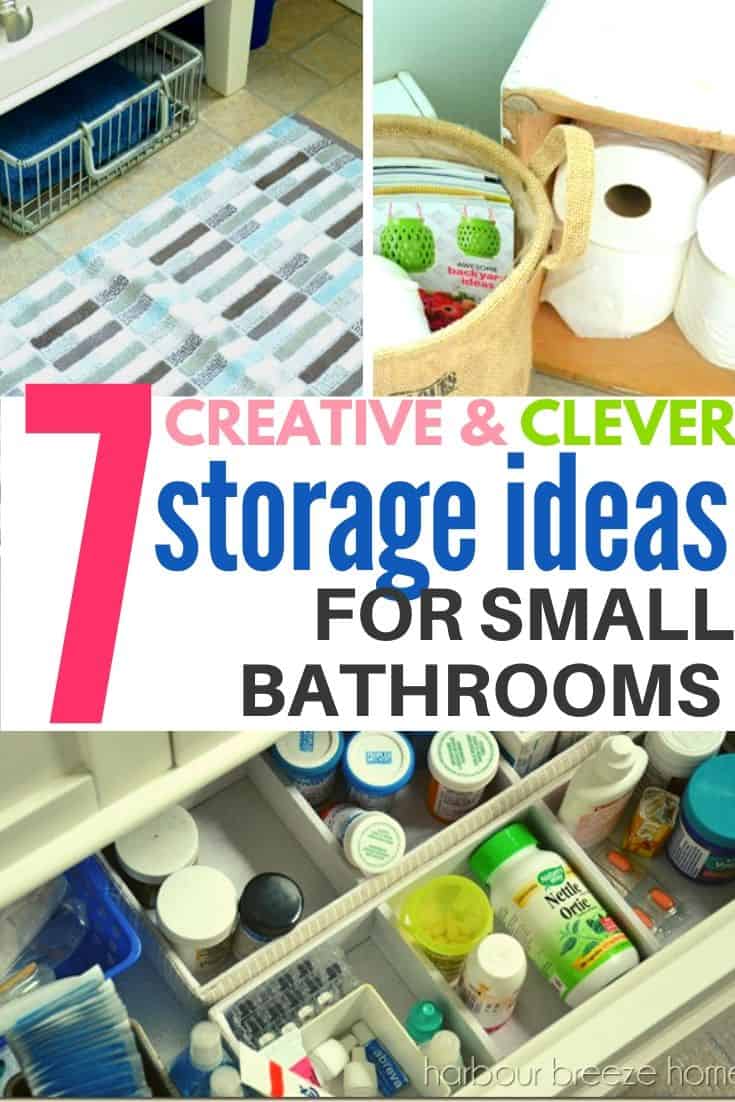 1.Use shelves and baskets in a small vanity cabinet to help you access what you need easily.
Here's how the situation looked before adding in some practical shelves.
A kitchen plate rack provides a handy separation of items so they don't need to be stacked on top of each other. Since it didn't have a top shelf, an Ikea mirror was added to function as one.
Now things are easy to access and reach, with the most often used items placed front and center.
2.Use drawer organizers to organize medications
I searched specifically for a vanity with a drawer, and I love it so very much.
Drawer organizers provide the perfect solution for organizing medications and products by category.
But, please note, if you have crawling babies or toddlers, I don't recommend this idea! Always place medications high out of reach of all children.
3.Use pretty baskets for small bathroom storage
Pretty bathroom supplies like lotions, bath salts, and bubble bath can be stored in pretty containers right out in the open. They can do double duty as both bathroom storage and decor!
Large baskets and crates can be placed on the floor to store toilet paper rolls or rolled up towels.
Turning this hand painted crate backwards provides a little decor, but it's hiding the extra toilet paper inside!
4.Find extra storage for towels under the vanity
The extra supply of bathroom towels might need to be stored in a nearby hallway closet, but if you have a little space under the vanity, place a few towels in a basket under it. It also is a great spot for your scale!
5.Use hooks as a space saver for daily used towels
Hooks for towels take up so much less square footage than towel bars do.
When you're really cramped for space consider using a hook for the hand towel above the sink, and a rail of hooks for multiple towels for family members.
6.Use the back of the door as a prime storage area
Don't forget the back of the door! There are some amazing over the door organization systems if you are interested in more storage space.
Or just adding a hook for bathrobes or multiple hooks for towels can free up some well needed space.
7. Think outside the box when it comes to makeup and beauty supply storage
I tried all kinds of ideas for all my "get ready in the morning" products. No matter what I tried, I was constantly frustrated with the lack of space on the vanity counter.
In the end, the solution was outside the bathroom. I set up a vanity station in an under-used are of the house and organized all my beauty products there. It makes getting pretty in the morning so much more pleasant!
If space for an antique vanity and mirror isn't an option for you, consider using a dresser with mirror above in your bedroom.
For more bathroom organization ideas, you might want to check out this article: