100 Affordable Decor Ideas for Your Home
Let's face it, sometimes our homes and hearts are longing for a little change… But maybe the "change" in our pocket isn't very much! (See how I did that? ha ha!;))
Just like we aren't wearing the same clothes that we wore when we were 12, our houses need to reflect the style that we have now. Do you have a room stuck in the wrong decade? Does it feel like it's wearing big hair and bell bottoms and you'd like it to have a little black dress instead?
Yes? Then, here are some budget friendly ways to get a new look going on ~ in any room of the house.
And, before I forget, I just finished a FREE video course on how to do a room makeover (on any budget). If you want to join the course, CLICK HERE for all the details!
100 Affordable Decor Ideas for Your Home
Affordable Decor for Any Room 
1.Paint it a new color (Simply White is my current favorite fresh and modern color. But, if that color isn't for you, here's some tips for picking out paint colors.)
2.Install a new light fixture.
3.Put different light bulbs in your current light fixtures to give the room a different glow.
4. Purge and declutter all the things you no longer love, need, or use.
Affordable Decor for The Entryway
5. Take out the hanging coat rack and install hooks instead.
6.Turn outdated bi-fold closet doors into french doors.
7. Add a pretty wreath to your door.
8.Layer some welcome mats.
9. Put a pretty plant in a pot outside your front door.
10. Add a shelf with hooks for keys, scarves, and your pet's leash.
11. Get a mat or shelves for shoes so you don't trip on them when you walk in the door!
12. Paint the inside of the door.
Affordable Decor for The Living Room
12. Buy yourself a pretty big girl area rug.
13. If big girl rugs are too pricey, find one at Walmart or Home Depot that is a commercial carpet that is bound. (They are about $39.)
14. Paint lamp bases to fit your color scheme and update the look.
15. Add a stylish lamp shade to freshen up an old lamp.
16. Make new pillows out of free printables.
17. Put a bouquet of fresh flowers on the coffee table.
18. Add interest and color into the room with a cozy throw blanket ~ and cuddle up in it during cold Winter nights.
19. Put up a new wall arrangement above the couch.
20. Switch up the decor on your shelves.
21. Declutter all the old books, magazines, VCR cassettes, DVDs, music tapes, cds, etc… you no longer use.
22. Look for patio side tables that would look good indoors and shop for them at the end of the patio season. Some make great living room end tables!
23. Purchase affordable bookcases and make slight alterations to make them look like custom built ins.
24. Paint the coffee table legs.
Affordable Decor for the Dining Room
25. Put a fun centerpiece in the middle of your table.
26. Add a pretty rug under the table.
27. Hang up new curtains.
28. Find a pretty table runner and placemats that you love. Use them every day!
29. Put a tall plant in an empty corner to add life and interest to the space.
30. Paint your table legs a different color.
31. Hang some shelves above the buffet to provide a place for storage and decor.
32. Display your Grandma's special teapot set on a silver platter on the buffet top as part of the decor ~ and use it frequently!;)
33. Collect white pitchers, bowls, and containers at thrift stores and garage sales and use them as pretty decor and vases.
34. Have a neutral set of dishes (I love white ones) and change up the table settings seasonally with pretty napkins. (I always look for them when they go on clearance, and then tuck them away for the following year!)
35. Recover the cushions on your dining room chairs.
Affordable Decor Kitchen
36. Buy a big bag of lemons, limes, or oranges and put them in a bowl in the corner of a counter.
37. Hang a pretty towel on the stove handle.
38. Wash the window above the kitchen sink.
39. Shine your sink til it sparkles and add a pretty smelling hand lotion beside it.
40. Put fresh flowers in the window sill.
41. Throw out all the outdated items in your pantry. (You'll be surprised at all the extra space!)
42. Get rid of all the plastic containers you no longer use. Replace them with pretty glass ones.
43. Clean out under your sink and put pretty shelf liner on the bottom of it.
44. Organize your dishcloths and dishtowels in pretty baskets in the drawer.
45. Buy a pretty rug to stand on while you wash dishes.
46. Hang a new pendant light above the sink.
47. Remove a cupboard and add shelves instead for a pretty coffee bar station.
Affordable Decor for the Laundry Room
48. Put your (powder) laundry detergent in a pretty, large glass canister with a lid.
49. Have a basket handy for all those pesky mis-matched socks.
50. Make a pretty set of hooks for your cleaning cloths.
51. Install shelves above your washer and dryer for a mix of storage space and a place for pretty things.
52. Print off some pretty free printables and use them as art. (You can subscribe to be a VIP and get access to the entire  free printable library!)
Affordable Decor for Bathrooms
53. Hang a pretty hook on the wall above the sink to hang a hand towel on.
54. Clean out the vanity drawers and cupboards and line them with pretty paper.
55. Find a pretty shower curtain you love and hang it up.
56. Then, find some rugs that coordinate with it and put them on the floor.
57. Put some pretty smelling hand soap beside the sink.
58. Find a cake stand at the dollar store and use it on the counter top to hold your most frequently used beauty products.
59. Replace old worn towels with pretty new ones.
60. Organize supplies and linens in the cupboards with pretty baskets. (I found some beautiful ones at the Dollar Store!)
61. Buy a big bar of beautiful smelling soap. (It will last SO much longer than the cheap stuff!)
62. Put your epsom salt or pretty smelling bath salts in a large glass container with a lid and a pretty scoop.
63. Organize cotton balls, extra bars of soap, and rolled up wash clothes in pretty containers on a shelf.
64. Make budget friendly wall art by framing interesting vintage book pages.
65.Hang a macrame plant hanger with faux or real plants in the bathroom window.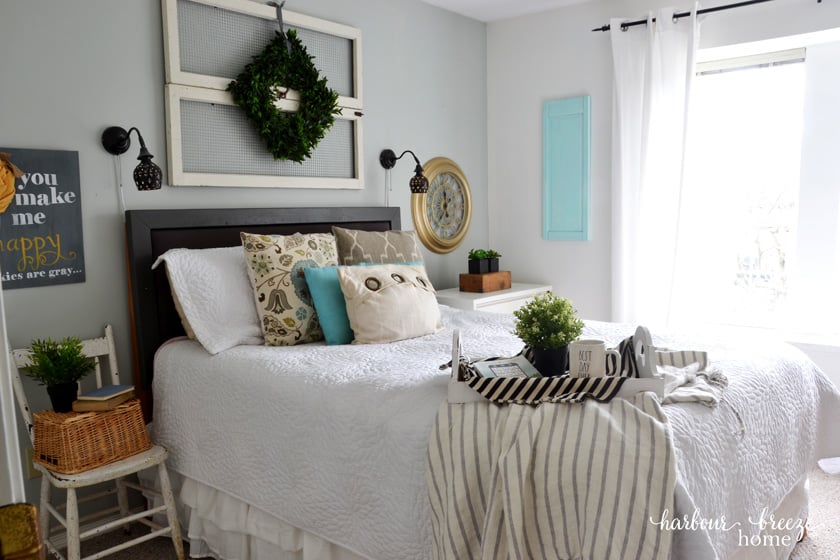 Affordable Decor for Bedrooms
66. Go through your closet and get rid of all the clothes you no longer wear (or make you sad when you see them!).
67. Organize your jewelry with a pretty organization system.
68.Sew some pretty pillow covers for your bed.
69.Make a bed ruffle out of flat sheets.
70. Add a pretty throw to the end of the bed.
71. Change up the artwork above your bed.
72. Make a padded headboard.
73. Use a vintage chair as an nightstand.
74. Put a soft rug beside the bed so it feels good on your feet in the morning.
75. Hang wall lamps so you can see well to read.
76. Find a pretty smelling candle and put it on a dresser.
77. Hang hooks on the back of the door for your bathrobe.
78. Throw out old, ripped sheet sets and buy pretty new ones.
79. Update bedding with a new comforter set or coverlet.
80. Wallpaper the main closet wall with a fun wallpaper you love.
81. Add a sparkly chandelier to your closet or above your bed.
82. Corral all the little things on your nightstand in a pretty lidded box.
83. Make a headboard out of an old door.
Affordable Decor for the Office
84. Paint an old farmhouse table and make it your desk.
85. Install some fun turnbuckle shelves for storage and wall art.
86. Make an oversized bulletin board for organization and decor.
87. Put your pens and pencils in interesting containers like china creamers or antique wooden boxes.
88. Paint an old dresser and use it for storing your papers and supplies.
89. Add in splashes of faux or real greenery and plants.
90.Put chicken wire in an old window frame and use clothespins to hang up special papers or art.
Affordable Decor for Hallways
91. Make an oversized chalkboard with a piece of wood and chalkboard paint.
92. Update old doors with new door handles.
93. Frame engineer prints of family pictures for a gallery wall.
94. Add a board and batten wall treatment to add interest to a long space.
Affordable Decor for Stairwells
95. Paint stair risers and steps.
96. Add a gallery wall that moves up the staircase.
97. Paint the handrails a fresh white or black color.
98. Spray paint the hardware of the handrails. (I love oil rubbed bronze.)
99.Add a rug runner down the center of the stairs.
100. Or, paint on a faux runner!
***
Are you wishing you could make over a room in your house, but your budget is nearly non-existent? I've been there! Budget friendly room renos are my passion. I've just put together a FREE video series with a simple 4 part formula for room makeovers that will help ~ no matter how small the budget.
Click here or the image below to get the 4 videos delivered right to your e-mail box PLUS access to a private facebook group and a printable Recipe for a Room Makeover Workbook.