I'm not a stranger to painting weird surfaces. I've painted 70's paneling, barker board in a bathroom, stained wood walls, fabric, and even wallpaper.
But, I admit. I was a little stumped with our exterior doors.
The main surface is metal, and the window trim plastic!
Since I am only able to paint the inside of our doors, I started researching how to paint both metal and plastic for interior use.
The process seemed quite simple, with the key ingredient being the proper primer.
It worked like a charm!
Here's how to paint metal doors with plastic trim:
Supplies Needed:
Painter's tape
Cleaning Cloth
Drop cloths (I use old towels)
Step Stool (If you're short like me…)
Paint brush
4 inch foam roller and roller tray
Benjamin Moore Aqua Lock Primer
1 Quart Benjamin Moore Latex Paint in Pearl Finish (I chose Regal Select in the color "Raccoon Fur")
Exact-o Knife
Screwdriver to loosen or remove door handles
The step by step process:
Clean the door surface well
Paint does not like to stick to dirt or grease! Clean off the door thoroughly. (I used my Norwex cloth and water for this step.)
Remove door handles (if you desire to) or tape around them carefully with painter's tape. Tape off the inside of the window panels.
Although I find this step to be slightly annoying and time consuming, I did find that it saved time in the long run. I removed the door handles, as we were replacing them. However, if you aren't replacing the handles, I would just loosen them slightly and tape around them carefully.
Using a trim brush, paint around the window trim first. Then, paint the insides of the recessed areas of the door. While the paint is still wet, use a foam roller to finish off the door.
I did a Facebook live while I did this part if you'd like to see the process in action.;)

Once the primer is dry, paint the door the color of your choice.
I again painted in a systematic order, trying to work neatly and quickly, as it is much better to do all the steps while the paint is wet. (They call it "keeping a wet edge"). All along the way, I tried to watch carefully for any drips that might want to form ~ especially in the corners of the windows.
I started with the window trim,
then the recessed areas,
and then, using a foam roller, I filled in the recessed areas, and  moved on to the bottom half of the door:
And then the top half: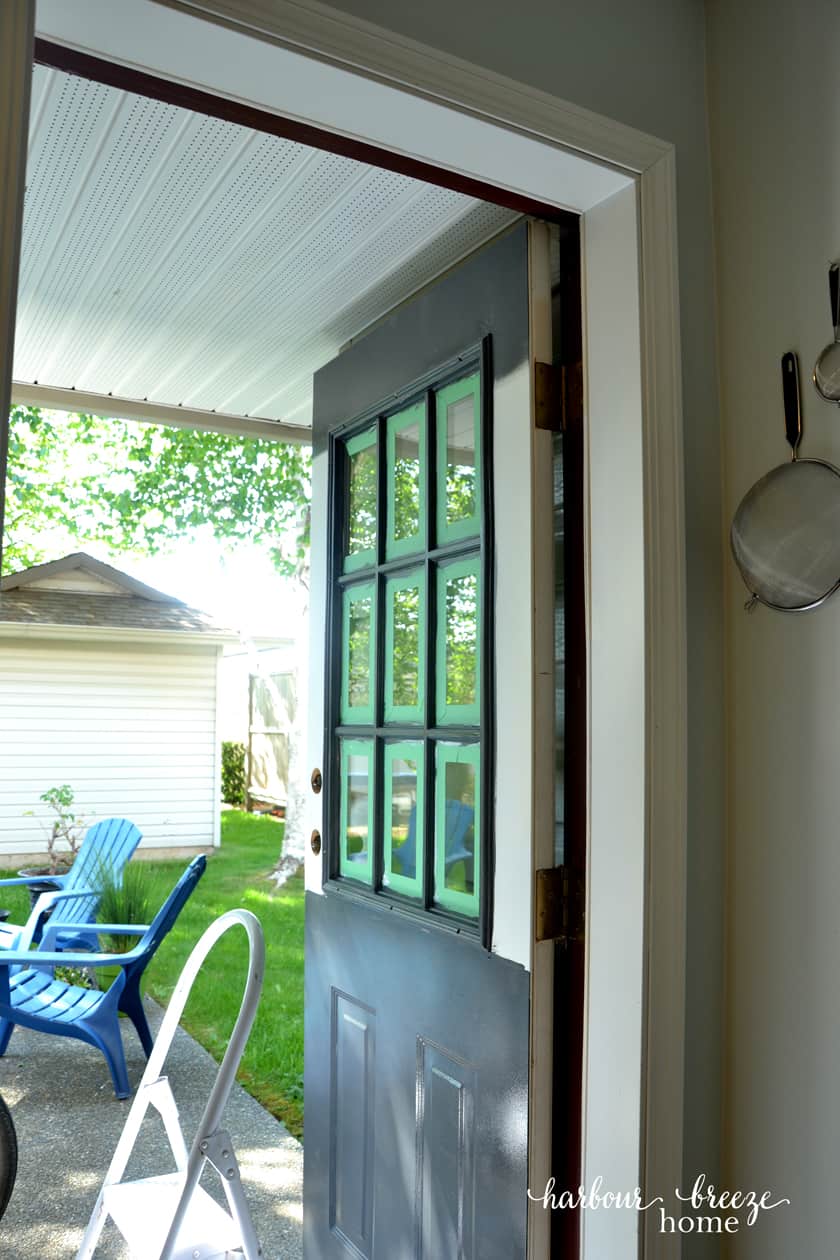 Once it was completely dry, I did a second coat to finish it off nicely.
Once the paint is totally dry, run an exact-o knife around the edges of the painter's tape before removing it!
This is a VERY important step. I talk about it in this short Facebook live:

This space was a little boring before…
And this new color has given it so much life!
And, just a reminder ~ have you entered for a chance to win a set of pretty door handles from Schlage Canada? If not, hop on over to this post and follow the prompts on the giveaway app. The contest is open until Sunday at midnight PST, so be sure to enter and tell your friends!