How to Make Spring Throw Pillows in Under 10 Minutes Using Free Printables
Learn how to make Spring throw pillows in under 10 minutes using free printables. This project is quick, easy, and budget friendly!
Last week, I got bit by the Spring bug. You know, the one that makes you want to clean all the things and make the house fresh and pretty again!
I cleaned and swept and rearranged and got to the part where you fluff the pillows on the couch.
I needed something new to fluff.
But, alas, I just couldn't find anything I wanted in town. AND, now that we've downsized dramatically, I decided I only want to use pillow covers from now on. I just don't have room for 4 seasons of pillows in my limited storage space!
So, I put my creative on and tried to figure out how to make some. Here's what I came up with.
How to Make Spring Throw Pillows in Under 10 Minutes using Free Printables
Disclosure: This post contains affiliate links for your shopping convenience.
Supplies Needed
Avery Iron On Transfers (I used Avery Iron on Transfers for dark fabric #3279)
Printer (This is ours)
White Pillow Covers – (I got 2 20 x 20 inch Ikea "Gurli" pillow covers for $4.99 at the store, but you can find it here. I'm not sure why it's so much more expensive online?)
Iron
Free Printables (Become a VIP and get access to my whole free printables library!)
Print off free printables using the Avery transfer paper
Using your home printer, print off the design of choice using the Avery iron on transfer paper.
I had fun putting together a set of potted plant free printables with this project in mind. You can access it and all the other free printables in the VIP Printable Resource Library by clicking here. (If you're not a VIP yet, click here to become one!!)
Trim and peel
Trim closely around the edge of the design so that there isn't much white showing. You will want it to blend well into the pillow.
Once trimmed, peel off the backing paper. I found this very challenging, until I read that you just need to tear a bit of the edge to get it started. Once I did that, it peeled off fine.
Heat set the transfer
Following the manufacturer's directions, use a hard surface with a pillowcase underneath (not an ironing board!) to iron on the transfer. Set the iron on high heat setting and make sure the steam is turned off.
Iron out all the wrinkles from the pillow cover and center the transfer onto the middle of the pillow.
Place the transfer setting tissue paper on top of the transfer, and press down firmly on the design, moving the iron slowly over the whole design. I kept the heat on these transfers for about 2 minutes.
Let it cool
Once the design has been heated for the recommended time, lift off the iron and let it cool for about 2 minutes.
Then, peel it off and enjoy your masterpiece!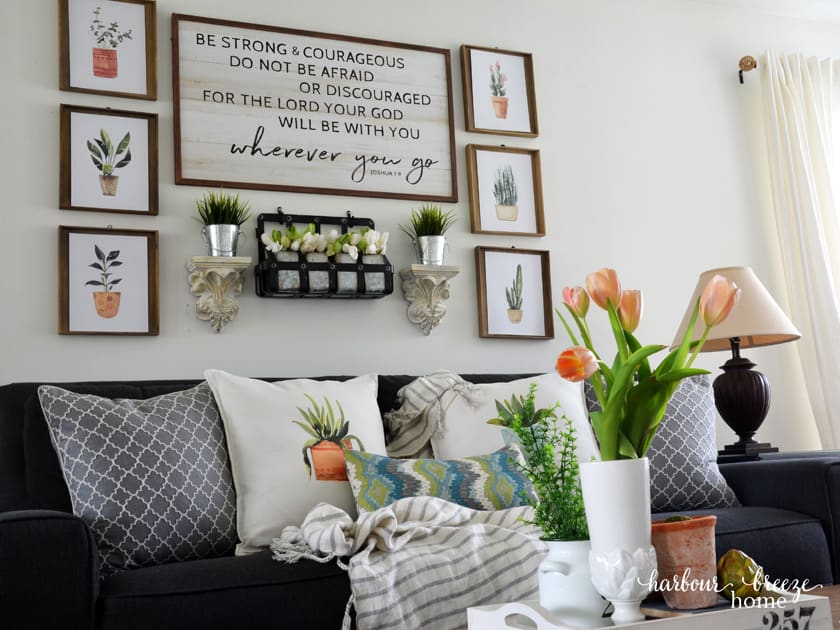 This quick and easy method could be used with any free printables you can find online. I've done free printable round-ups for all season. Here they are:
I've recently added some other new Spring printable sets into my VIP printable resource library, too, so you can access both of the sets below by becoming a VIP here.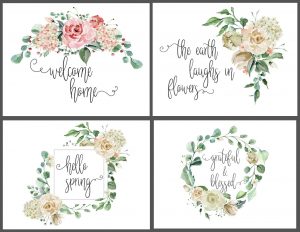 Oh, the possibilities…
Now that I've discovered this super fun and easy transfer method using iron on transfers, I've been thinking that this would be great for other projects, too! Like:
Canvas shopping bags
Table runners
T-shirts
Dishtowels
Other couch pillow projects you may want to try: