A Painted Farmhouse Table Makeover with Country Chic Paint
Yesterday, I shared with you the story of my sweet old farmhouse table.  It was time for a new look.
I stripped, sanded, stained, and sealed the top. All the instructions for those steps are on yesterday's blog post. (Find them here.) That was one part of the project.
The other part involved painting, distressing, glazing, and waxing the apron and legs.
I knew I wanted to do something special in the paint department, but I didn't want to lose the patina of the original crackle paint finish.
I also wasn't sure what color I should paint it, but in the end, used the inspiration board for my Living Room project as my guide.
That little blue dresser is so cute, I decided to use it as my color inspiration.
When it was time to begin painting, I packed my table into the back seat of my car and drove to Jan's house.
Jan is my talented friend who teaches chalk painting workshops and sells Country Chic Paint. We've been talking for ages about doing a project, and this desk was it.
I had such a fun day working on my desk, along with 5 other ladies who were all working on completely different things. Unfortunately, though, this is the ONLY picture I took of the process…I got so busy painting, I totally forgot about documenting the process.
But, I'll do the best I can with my words in hopes it will help you with your future painting projects.
HOW TO CREATE A PAINTED FARMHOUSE TABLE WITH COUNTRY CHIC PAINT
Supplies Needed:
bucket of warm water and rag

Cottage Chic Paint (I used the color "elegance")

Paint brush

Cottage Chic Glaze (I used "graphite")

Small, flat paint brush to apply glaze

Blow Dryer (to speed up drying paint)

Cottage Chic Wax (I used clear)

Small microfiber cloth to apply wax
Step 1: Clean the furniture piece well with rag and warm water.
(Paint doesn't like to stick to dirt and old cobwebs!!)

Step Two: Brush on Paint color of your choice
Using a good quality paintbrush, I brushed on one coat of "elegance" Country Chic Paint. I worked my way around the apron and each leg watching for drips.
I find that handle-less paint brushes like these are especially helpful with intricate legs and spindles:
Although I wanted to cover the piece well, I didn't put the paint on too thick, since I was trying to preserve the original crackle finish.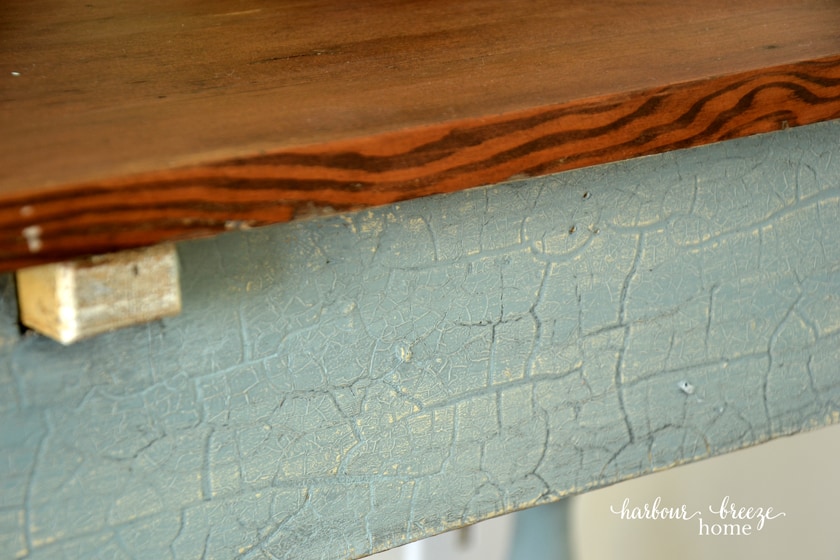 Step 3: "Distress" the paint finish to give it a naturally- aged and worn appearance
Once the coat of elegance paint was dry, I dipped my rag in warm water and rubbed gently in areas that I wanted to remove the paint. In this particular case, I wanted a bit of the original paint color to peak through.
I rubbed off some of the paint on the edges and the curvy parts of the legs.
One of the nice things about this brand of paint is that it was so easy to distress. When done right after the painting, it rubs off so nicely ~ no sandpaper needed.
Step 4: Apply glaze
In order to get some more definition around the curvy leg parts and to make the crackle stand out a bit more, I applied graphite glaze.
Glazing will affect the overall color of your paint, and I found this color chart particularly helpful as I chose glaze color:
To apply the glaze, I brushed it on with a small brush in a small area, and then used a damp rag to rub off the excess. I worked my way around the piece rubbing it on more in the cracks of the legs, and less elsewhere.
Step 5: Seal the surface with wax
Once the glaze has dried it is time for the final step ~ sealing the piece with wax. Since this is a chalk paint product, it must be sealed to protect the finish.
I used natural wax (which didn't have any bad smell!), and applied it by rubbing on a small amount with a microfiber cloth. I worked in one small section at a time, and looked at it from the side to see it get "shiny".
And, then it was done!
Here's a little reminder of the before:
And the after:
Although it is technically a table, I use it daily as my desk.
I love its history and character that comes only with time.
If you want to learn more about Country Chic paint, check out its website here, or talk to my friend Jan on her Seas the Day – Weathered Signs and Beach Decor Facebook Page (here).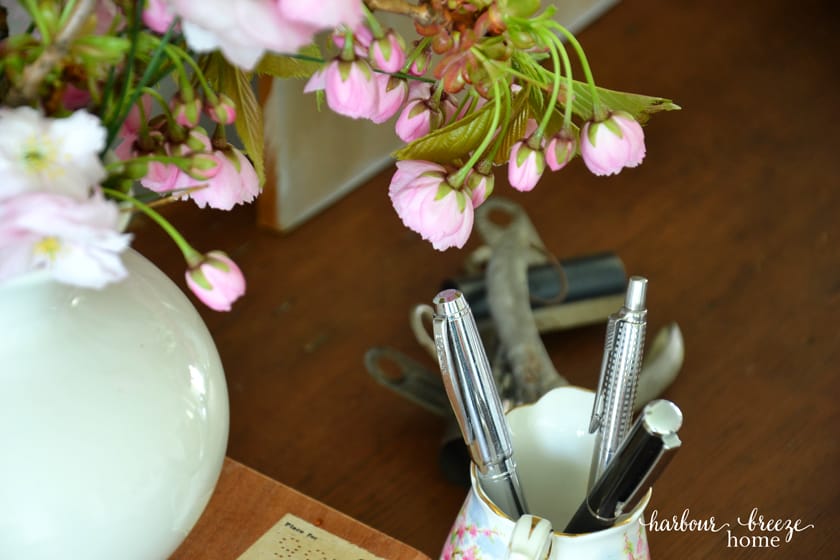 Thank you, Jan, for giving me such a fun and lovely experience painting in your workshop!
Although I didn't get many pictures taken that day, I did do a Facebook Live. If you want to meet Jan yourself, here she is!;)
PS. All product photos were found at the Country Chic website. This is not a sponsored post.