The One Room Challenge Update
Six weeks ago, I joined in the One Room Challenge  hosted by Calling it Home. The premise behind the exercise is that in 6 weeks, you are to start and complete a room renovation.
Today is week 6 and it should be the big  exciting "reveal" post.
Oh, how I wish it were, but that isn't the case.
In fact, I've been in a quandary as to whether I should even link this post up to the guest post challengers tonight.
Are the makeover police going to kick me out since I didn't get it completed in time?
This reminds me of when I couldn't get a college paper handed in on time.
I had to ask the professor for an extension since I'd been in quarantine for salmonella food poisoning (true story).
I hated not having it finished in time, but he offered grace, an extension, and the paper eventually got written and handed in.
The good news is, I haven't had any boughts of food poisoning.
The bad news is, my room isn't ready for its reveal.
So, I'm coming to you today for grace and an extension on this homework assignment.;) And, by extension, I mean it's going to be a while…
Like… July!! (Who knew it took so long for a couch to arrive??)
But, progress has been made, and I'll show you where we're at in the process.
Here's where we started:
I wanted our living and dining room in our small townhouse to have a little more "farmhouse" style injected into it.
I was a bit lost in the process of how to go about mixing my styles together, so Melissa from The Farmhouse Native came up with these two beautiful inspiration boards.
I cannot tell you how much those inspiration boards have helped me as I've tried to envision how to put the room together!
So, here's the current updated progress:
1.We painted out the dark walls in the dining room to match the Simply White paint of the rest of the room.
Here it was when we started:
And here it is now:
It really does feel like a large blank canvas now, and the furniture and accessories just pop from it.
2. A Billy Bookcase extension was added to the top of the bookcases so they nearly reach the ceiling.
Before:
Now: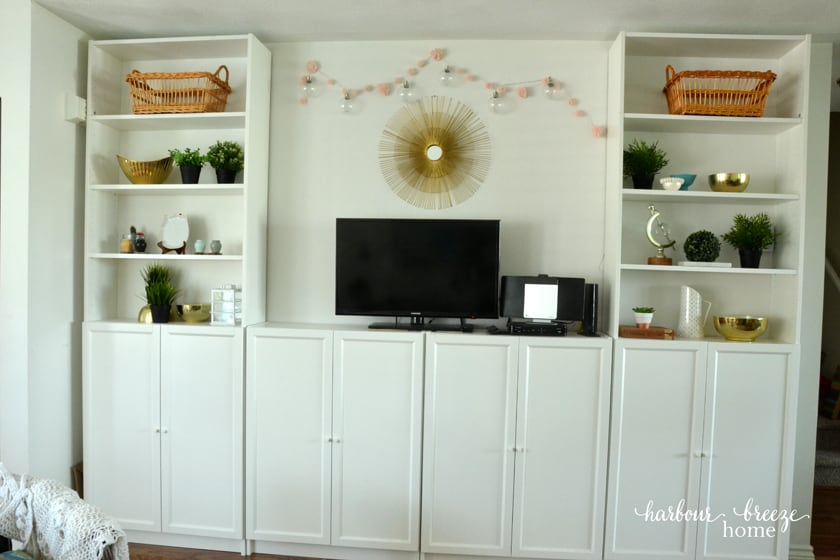 There are more exciting plans in the works for this area. (And side note, where do you all hide your tv cable box and wifi tower? They look so obnoxious!)
3. My little farmhouse table / office desk got a makeover.
Before:
Now:
(You can find the tutorials for that project here.)
4. I ordered the couch!!
This may not be a big deal for some of you, but for me this was a BIG deal. I shared my struggles with making a purchase like this in a facebook live one day.
You can see it here.
5. I ordered a rug, too.
I was absolutely thrilled to find a rug I loved online and have been anticipating its arrival in a few days. But, a recent e-mail informed me that it will now be arriving mid-July…
Apparently, my couch and rug are determined to arrive at the same time!:)
I have a few more projects all ready to go, and am just waiting for a time to get them done when my husband & I both get the same day off. So, stay tuned…
I also want to mention that I'm so grateful for Melissa from The Farmhouse Native for collaborating with me on this project. She helped me so much as I worked through the direction and details of this space.
We did a Fearless & Fun DIY + Decor Workshop on Facebook live. If you want to catch the replays, you can do so by clicking on the links:
Shopping Your House:
Picking Paint Colors:
Working with a Budget
If you are in need of some design direction, check out Melissa's Coop Design Service as well as the other packages she offers.
I'll be updating you as further progress happens. And, if you want to see what's happening behind the scenes, be sure to follow along on Instagram and Facebook.
And, thank you, sweet readers, for giving me grace and an extension on my One Room Challenge makeover. It got me motivated to start…and now we'll just need a little patience to get us to the end!:)