Old Fashioned Banana Cream Pie Recipe (Easy)
Banana Pudding Pie – also known as Banana Cream Pie with pudding- is a nostalgic dessert from the past using simple ingredients. With a creamy pudding filling poured over bananas, the resulting flavor is an ultimate favorite!
This homemade banana pudding pie recipe from scratch is a classic recipe. Like chocolate cream pie, it's one of those favorite pudding pies.
Using a ready made pie crust or a crust from scratch, it's simply sliced fresh bananas with a homemade pudding poured over the top. If you want a slightly different flavor, a graham cracker crust or a nilla wafer crust could be substituted for the traditional pie crust.
Once the crust is made and baked, a layer of fresh banana slices are covered with homemade vanilla pudding. Once chilled and set, the top of the banana pudding pie covered or served with whipped cream or cool whip.
If you're in a rush, canned whipped cream is a quick and easy alternative to homemade whipped cream.
This recipe is a great recipe of the old fashioned variety. It's the one my Mom and Grandma made!
How to Make the Best Banana Cream Pie with Pudding
Ingredients you'll need: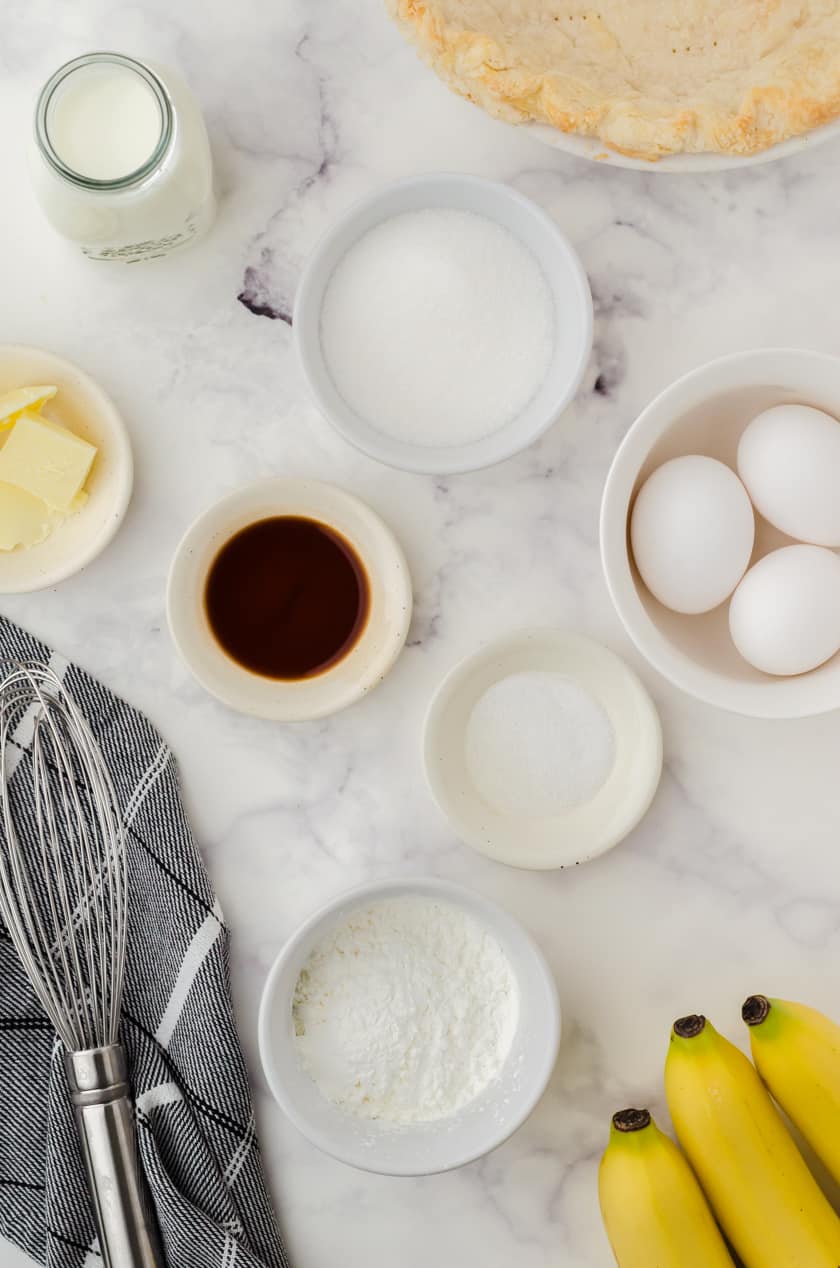 9 inch baked pie shell
2/3 cup sugar
3 Tbsp. cornstarch
1/2 tsp. salt
3 cups whole milk (2% or 3% milk works fine, too)
3 egg yolks, slightly beaten
1 Tbsp. salted butter
1 1/2 tsp. vanilla
3 medium bananas
1 cup heavy cream
1 Tablespoon sugar
1/2 teaspoon vanilla

Step 1: Make the vanilla cream pie filling
Mix sugar, cornstach and salt in a medium saucepan.
Gradually whisk in milk.
Cook over medium heat, stirring constantly, until the mixture starts to thicken and boil.
Boil for 2 minutes – continuing to stir constantly to prevent sticking to the pan.
Remove from heat and gradually stir half of the hot mixture into the bowl of egg yolks. Then blend it back into the remaining hot pudding in the saucepan.
Place back on the burner and boil 1 and 1/2 minutes more, stirring constantly.
Remove from heat and stir in the butter and vanilla. Set aside to cool.
Step 2: Slice 3 large bananas into the baked pie shell.
Step 3: Pour the cooled vanilla cream filling over the bananas.
Note that the hot filling will start to develop a "skin" on the top as it cools. To keep the pudding mixture smooth, stir it every 5 minutes as it cools.
Step 4: Cover the vanilla cream pie filling with a piece of plastic wrap to prevent a skin from forming.
Let the pie chill thoroughly – at least 4 hours – before cutting.
Step 5: Serve with whipping cream and garnish with sliced bananas.
To make whipping cream, follow these steps:
Pour 1 cup heavy cream in a large bowl of a stand mixer.
With the whisk attachment, beat at high speed until stiff peaks form.
Add 2 tablespoons sugar and 1/2 teaspoon vanilla and beat until mixed through.
Whipping cream tip: It is helpful if the bowl and whisk are chilled before whipping cream.
Original recipe yields 8 slices from a 9 inch pan.
Other variations of this Banana Cream Pudding Pie:
Use additional toppings such as toasted coconut or chocolate shavings.
Layer in even more bananas by putting a banana layer in the bottom, then a half of the pudding followed by more bananas and a final pudding layer.
For an even quicker option, you could use instant vanilla pudding mix or the pudding layer.
Use a graham cracker crust or layers of nilla wafers in place of the baked pie crust.
FAQs about homemade banana cream pie:
"How can I keep bananas in banana cream pie from turning brown?" – If you aren't going to serve this pie soon after you make it, you may want to toss the sliced bananas in 1 Tbl. citrus juice (like lemon juice). It won't affect the flavor, and will prevent the bananas from turning brown.
"How can I get my pie filling to be thick enough?" – This recipe uses cornstarch as the thickening agent. That, along with a long enough cooking time should prevent your pie from being runny.
"How should I store leftovers?"- To store leftover pudding pie, cover with plastic wrap or place in an airtight container and place in the refrigerator.
Other old fashioned recipes that are super duper yummy!
For more recipes and ideas for your home:
Be sure to join the VIP newsletter list! As a valued VIP member, you will get exclusive access to the entire library of free printables – including wall art, cards, organization lists, menu planning set, and more.
Click here or the button below to join today.

And if you want to see more real life behind the scenes action, be sure to come join me on my @harbourbreeze Instagram Channel!
Comfort Food Dinner Ideas Just for You!
I co-wrote a comfort food recipe e-book set with my friend Shirley from Intelligent Domestications. You'll find 30 Comfort Food Dinner ideas plus a bonus 10 Sweet & Treats recipes.
Click here for all the details.