Texas Sheet Cake with Instant Frosting
This decadent and moist chocolate Texas sheet cake (or "Texas brownies") is perfect for potlucks, picnics and family gatherings. It's smooth fudge frosting is poured over the cake immediately when it's pulled out of the oven, making it a quick and easy dessert recipe.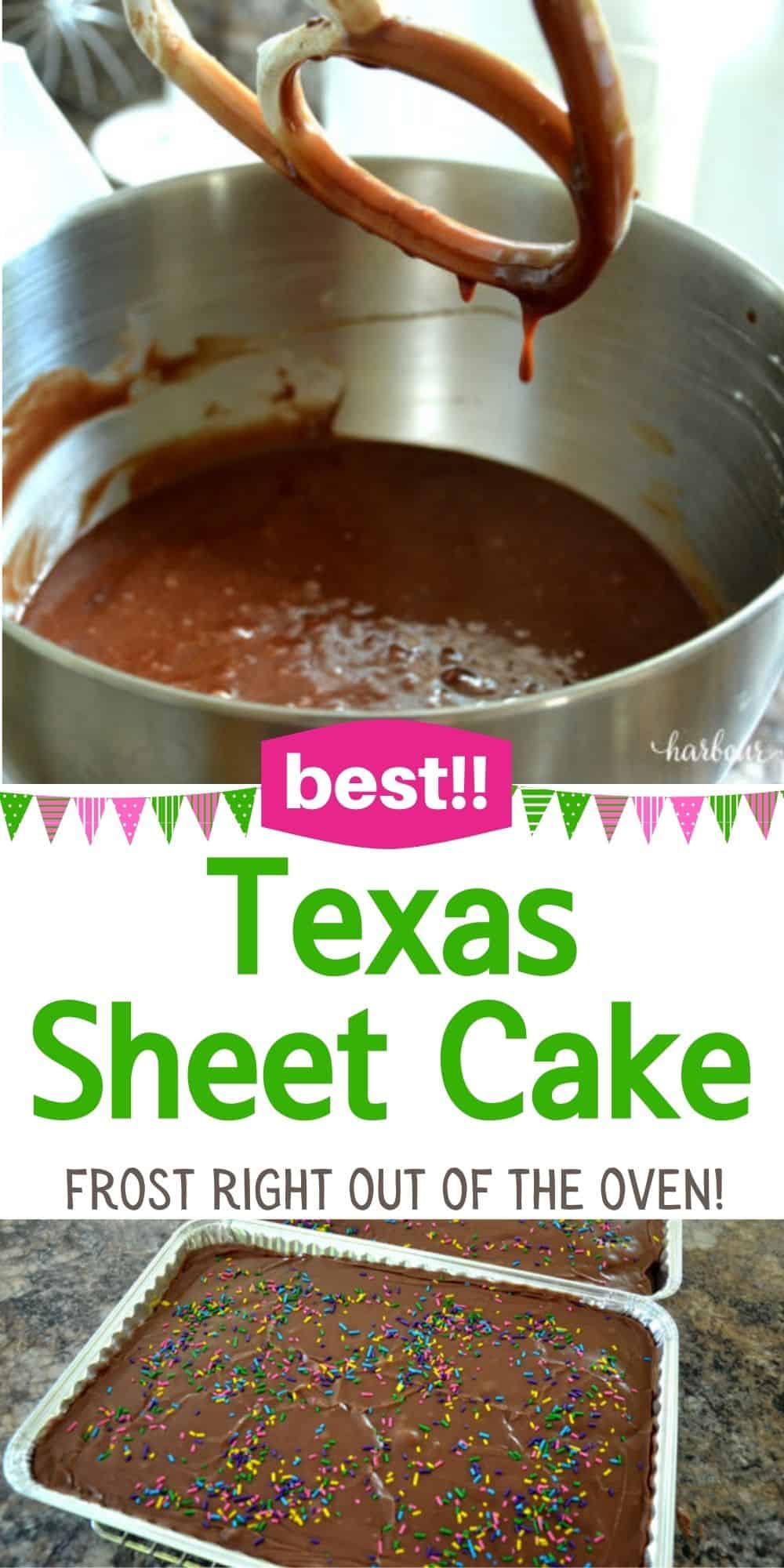 Texas Sheet Cake Recipe
These Texas Brownies – also known as Texas Sheet Cake – are my favorite brownies in the history of all things chocolate and ooey and gooey. I love how you can bake them and put the frosting on immediately instead of waiting for them to cool to do the final steps. Here's the run-down of how they're made:
Ingredients you'll need for this chocolate sheet cake recipe
For the BROWNIES:
2 cups flour
2 cups sugar
1 cup butter
1 cup strong brewed coffee or water
1/4 cup cocoa
1/2 cup buttermilk**(If you don't have buttermilk, pour 1/2 Tablespoon lemon juice into a measuring cup and add enough milk to equal 1/2 cup.)
2 eggs
1 tsp. baking soda
1 tsp. vanilla
For the FROSTING:
1/2 cup butter
2 Tablespoons cocoa
1/4 cup milk
3 1/2 cups powdered sugar
1 tsp. vanilla
Step by Step Instructions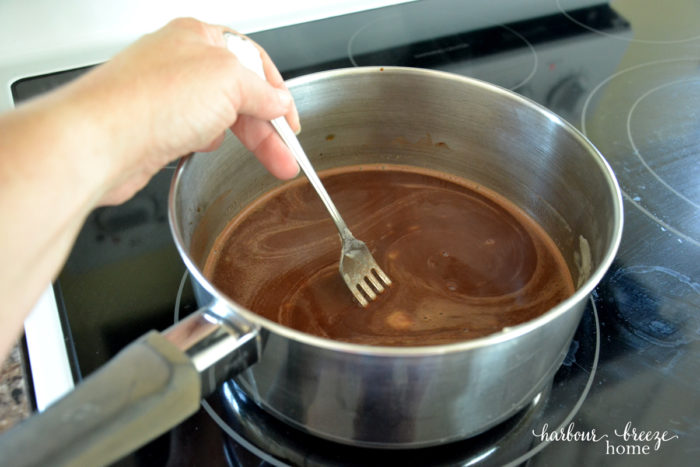 Step One: Melt together butter, cocoa and strong coffee or water until the mixture just comes to a boil.
Step Two: Pour the hot liquid into a mixture of flour and sugar.
Step 3: Add eggs, buttermilk, baking soda, and vanilla to the mixture and beat well.
Step 4: Try not to lick the beaters… Scratch that. Lick the beaters!!;)
Step 5: Pour batter into pan. ( The recipe calls for it to be poured into a jelly roll pan (17 1/2 x 11 inches), but this time, I used 2 disposable cookie sheet pans I purchased from the Dollar Store. That way I didn't need to worry about making sure I got my pans back! It worked like a charm.)
Step 6: While the brownies are baking, prepare the frosting.
To make the frosting, in a saucepan, combine the butter, cocoa, and milk. Heat to boiling, stirring. Mix in the powdered sugar and vanilla until frosting is smooth. (I use my electric mixer to make sure it is really smooth.)
Step 7 *This is key* ~ Once the brownies are finished baking, pour the warm frosting over the brownies and spread out quickly and add sprinkles if you'd like. The frosting sets quite fast, so you don't want to dilly dally on this step!
And just like that, you have the perfect make and take dessert for your next meal to share…or for you to just enjoy at home!
Looking for another Summer make it and take it recipe? You might like this great
Macaroni Salad
: