How to Fix Flat Red Velvet Crinkle Cookies
Oh, no! Your red velvet crinkle cookies look nothing like the picture. Learn how to fix flat red velvet crinkle cookies by turning them into red velvet whoopie pies!
If you've come here looking for a great recipe for red velvet cookies made with cake mix and cool whip, I'd recommend instead clicking on this link for Red Velvet Cake Mix Cookies.
And likewise, if you want to make some red velvet whoopie pies for real, I think this cake mix hack recipe might be just what you want.
But, if you've come here because you have baked your first batch of the oh-so-trendy cake mix cool whip crinkle cookies and they turned out like sad, flat puddles – then you are in the right place!
Pull up a chair, Girlfriend, and we are going to learn how to fix our flat cookies and make them pretty enough for a party!
How to turn flat Red Velvet Cookies into Red Velvet Whoopie Pies
The first step to these ingenious cookies is to first bake up a batch of flat red velvet crinkle cookies. Here's how I made mine. (giggle)
Ingredients for Cake Mix Red Velvet Cookies
Only 5 Ingredients
1 box red Betty Crocker Red Velvet Cupcake Mix
8 oz. cool whip, thawed to room temperature
1 large egg
½ cup white sugar
1/2 cup powdered sugar
In the bowl of a stand mixer, beat the cake mix, cool whip and egg until smooth and fluffy
Cover sticky dough and refrigerate for at least 30 minutes.
Place each of the sugars in separate shallow bowls.
Using a tablespoon cookie scoop, scoop dough into portions and roll into balls.
Rol first in the white sugar, then the powdered sugar to completely coat.
Place on parchment lined cookie sheets 2 inches apart.
Bake at 350 degrees for 13-15 minutes.
Cool on the cookie sheet for 1 minute and then place them on a cooling rack to cool completely.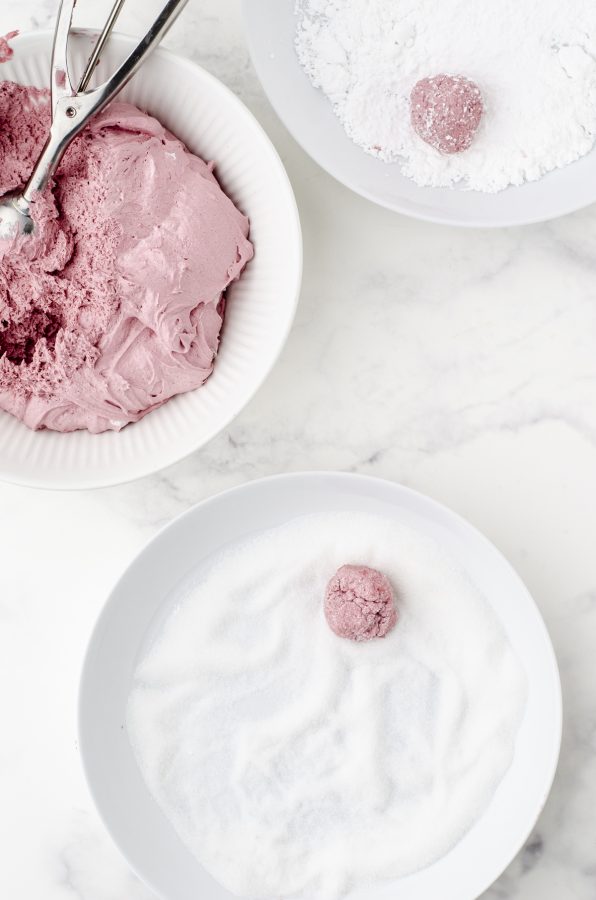 Why did my cookies go flat?
Well, I sure wish I could figure that out! I think it may have something to do with the measurements of the products I used up here in Canada. I've discovered that I need to watch closely the difference in sizes of packaging, and unfortunately no "cake mix" cookie recipe I could find specifies what size cake mix it is (by measurement).
I purchased the only Red Velvet Cake Mix I could find here in my Canadian store. Upon reading it more closely, I realized it was Betty Crocker cupcake mix. Maybe that was the problem?
The other problem could have been the amount of cool whip I used. It comes in 1 size here in my Canadian town – in a 1 liter size. I scaled out a measurment of 8 ounces, but perhaps that was the wrong way to measure it?
I honestly don't know. Most articles say that another reason your cookies may be flat is that the dough needs to be chilled. That couldn't have been the issue here, as I chilled and even tried putting it in the freezer for a while. It was definitely chilled!;)
So, we were left with cookies that just looked sad, and I wanted to challenge myself to make my flat cookies look better.
How to fix flat cookies so they look better
Cut each cookie with a 3 inch cookie cutter.
Using the icing from the cupcake mix box (or even purchased icing), spread a bit of icing on the underside of half of the cookies.
Gently press another cookie on top of the icing, bottom side down.
Put some icing in a small sandwich bag and cut a tiny hole in the corner. Drizzle some icing over the tops.
Voila! You've just turned your sad, flat red velvet crinkle cookies into red velvet whoopie pies. Or, in this case, I like to refer to them as WHOOPSIE PIES!
Serve them with confidence. They taste amazing, and your guests will never know they were meant to look totally different!;)
Pin this for later!:
Other Cookie Recipes You may be interested in:
For more recipes, crafts & ideas for your home all year round, become a VIP!
Become a VIP newsletter subscriber and get instant access to the library of free printables (including wall art, gift tags, and more!). Click here or the button below to join today.