Save Stress! Here's a Free Printable Christmas Planner 2023
Get ready for a stress free holiday with this festive and fun free printable Christmas planner! This fun 9 page set with Christmas colors and art can be downloaded instantly and printed off on your home printer to help you get all your thoughts and ideas organized for the upcoming Christmas season.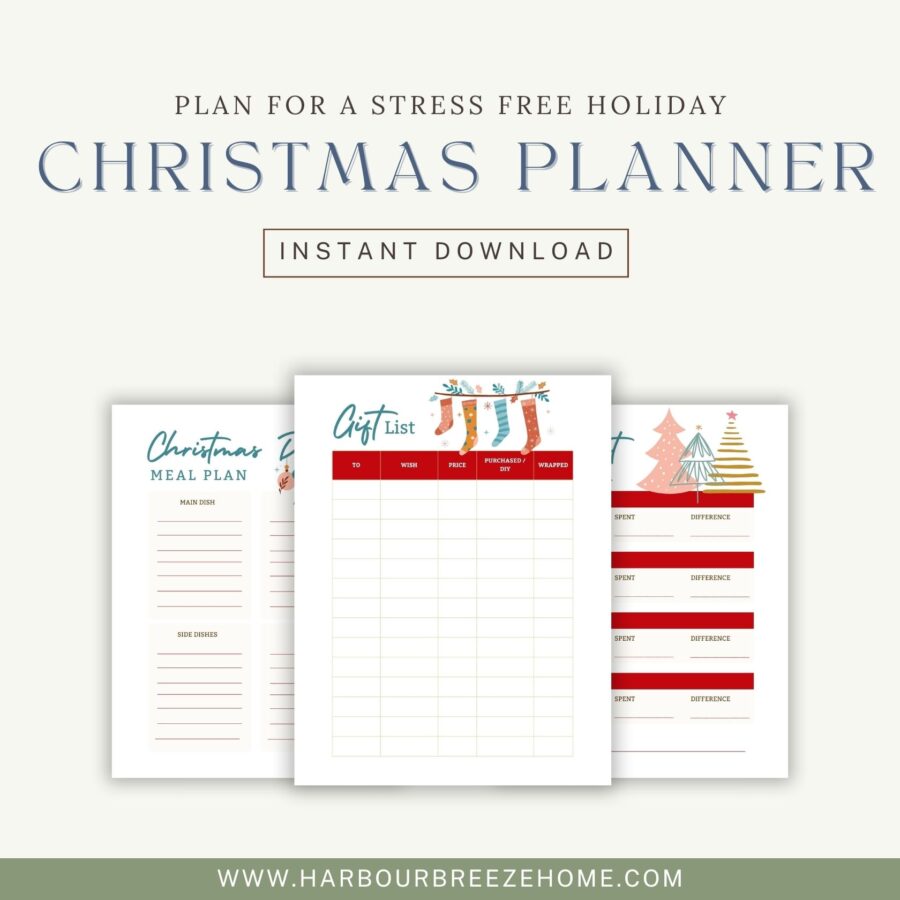 Why have a printable Christmas planner set?
I've found over the years that getting ready for anything can be a daunting task if we just have a million thoughts running rampent in our head. So many details and "to dos" can quickly cause overwhelm and panic.
Taking a few minutes to make lists can give us mental freedom, come up with a strategic plan, and helps us not to forget important details.
What's included in this free printable Christmas planner set?
In this free printable Christmas planner set, you'll find:
A blank December calendar with a notes section for you to jot down all the seasonal activities you and your family will be going to.
A Christmas gift list to help you keep track of what you need to buy. Be prepared for big holiday sales by having everything you need to look for easily at hand.
A budget tracker to help you keep your finances from going out of control during the holidays.
A Christmas menu for you to plan what you are going to make for Christmas dinner. (**Tip – Maybe you want to delegate some family members to bring a few of the dishes, too?)
A preparations countdown list starting a month away, so you can come up with a plan that will be less stressful for you. (Another tip: Feel free to adjust plans when you need to for sanity's sake!)
Decoration checklist – Maybe you want to assign some others in the family to help you decorate a certain area in the house.
A grocery list – so you don't forget any important ingredient you'll need.
A party game list.
How to get this free printable Christmas planner set
This free printable Christmas planner set is available instantly through my VIP Printable Library. If you are already a member of my VIP newsletter subscribers, just click the link to the free printables library, enter your secret password, and it's there! (And remember, the password is at the bottom of every email I send!;))
If you are not yet a member of my VIP newsletter subscribers, just click on the "send it my way" button below:
How to use this free printable planner set
Once you click on the "download now" button for your free Christmas planner set, you can choose to print all the pages, or choose just the ones that are of interest to you. You can also choose to save colored ink and print it in black and white only.
I hope you enjoy this little gift from me to you!
Other free Christmas printables:
Pin this to remember it later!