Never Fail Chocolate Fudge Recipe
This simple and rich, chocolate fudge is a perfect Christmas recipe. It's so good, you'll have to hide it (from yourself) to make it last til Christmas!
My mom was a Christmas sweets maker. She loved to spend time making pretty candies like homemade caramels, divinity, and toffee – and baked pans and pans of delicious squares and cookies.
Then, she carefully lined Christmas card boxes (remember them?) with waxed paper and arranged a variety of treats to give away. School teachers, mailmen, Sunday School teachers, and UPS drivers were gifted her special boxed sweets.
She always had an extra stock in the freezer to pull out whenever the need arose.
"Mom!", we'd barge in the door saying,
"I forgot to tell you I have to take a plate of goodies for tomorrow's Christmas program!"
That never phased her. She just went to the freezer and got out some of the "stash"!;)
I quickly realized though, that without all the taking and giving of the gifts – baking sweets for weeks on end for our little family just added weight to our scales!
So, I limit my baking to our family favorites…and then try to keep myself from eating it all! Along with today's recipe, I like to make Rolled Sugar Cookies, Dipped Chocolates, Steamed Pudding Christmas Dessert, and Christmas morning Swedish Tea Ring.
This recipe is my youngest son's favorite, and he never fails to ask when I'm going to make it!;)
How to Make This Chocolate Fudge
Ingredients you'll need for this easy fudge recipe:
For this recipe (that makes 36 pieces), you'll need:
2 cups sugar
2/3 cups evaporated milk
1/2 cup butter
12 large marshmallows
Dash of Salt
1 2/3 cups semi-sweet chocolate chips
1 tsp. vanilla
Step 1: Prepare the fudge pan
Line a 8×8 inch pan with parchment paper. I've found it works better than wax paper. Also, I recommend a metal pan for this recipe if you have one. I used a glass one once and it was difficult to remove the fudge!
Step 2: Combine first five ingredients in a saucepan.
In a medium saucepan, combine the sugar, evaporated milk, butter, marshmallows and salt.
Stir over medium heat until marshmallows are melted and mixture comes to a boil; boil for 5 minutes, stirring constantly. (Stir continually so mixture won't stick to the bottom.)
Step 3: Remove the mixture from heat and stir in the chocolate chips & vanilla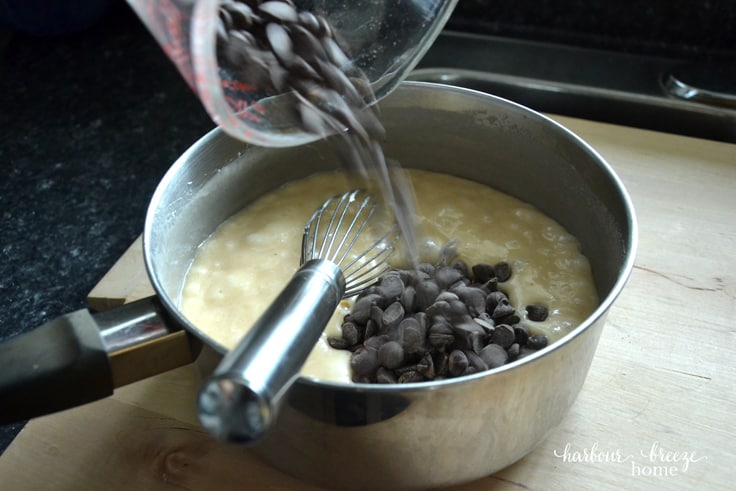 Pour the chocolate chips and vanilla into the hot liquid. Stir in quickly to melt the chocolate chips- until the mixture is smooth and glossy.
Step 4: Pour the chocolate fudge into wax-paper lined pan
Work quickly, as the fudge firms up faster than you think it would! Once the fudge is poured into the pan, do not touch the top with a knife. It will mess it all up! (Ask me how I know.;)). Just shake the pan slightly to make it level evenly. Once poured into the pan, place in the fridge to cool.
Once cooled, remove from pan and cut into small squares.
How to Slice chocolate fudge into perfect squares
After struggling to figure out how to get nice, even squares of fudge, I discovered these easy tips.:
Make sure the fudge is set nicely. Once it is, gently remove it from the pan. Since I used parchment paper along one side, I gently ran a hot knife around the edge where the parchment paper wasn't. Then, I pulled up with the parchment paper "handles" and it came right out!
Using a ruler, find the exact center of the fudge is. Using a small knife, mark that spot on the top and bottom.
Heat up a large chef's knife under water and dry it with a towel. While still hot, lay it down on the center marks and let the heat melt the fudge slightly and you push gently down.
Then, using your ruler again, mark the fudge at ever 1 1/4 inch along the top and bottom. (Measurements might differ slightly depending on the pan you use.)
Cut with the hot knife at those marks, wiping and heating after each cut.
Turn the fudge the opposite direction and repeat the process.
How to store fudge
To store fudge to use at a later day, place in single layers in a plastic container with parchment paper between layers. Place in the freezer and remove when ready to use.
Looking for more Christmas cookies and baking ideas? Here are some:
For more recipes, crafts & ideas for your home all year round, join the VIP group!
Become a VIP newsletter subscriber and get instant access to the library of free printables (including wall art, gift tags, and more!). Click here or the button below to join today.

And if you want to see more real life behind the scenes action, be sure to come join me on my @harbourbreeze Instagram Channel!
And here's another sweet treat for you! Check out the links below for a whole lot of Holiday Desserts and Treats from my blogging friends. Click on the link below each picture to get all the details. And don't forget to scroll to the bottom and enter the giveaway from our gracious sponsors!
Happy Christmas baking!
This post was updated November 2021.
You are invited to the Inlinkz link party!