Today I'm sharing my son Colin's favorite Christmas treat – Never Fail Fudge. This simple and rich, chocolate dessert melts in your mouth. You'll have to hide it to make it last til Christmas!
*Today's post is part of the 12 Days of Christmas series hosted by Intelligent Domestications and My Pinterventures. Click here to see all of the previous topics and meet the other participants!
My mom was a Christmas sweets maker. She loved to spend time making pretty candies like homemade caramels, divinity, and toffee – and baked pans and pans of delicious squares and cookies.
Then, she carefully lined Christmas card boxes (remember them?) with waxed paper and arranged a variety of treats to give away. School teachers, mailmen,  Sunday School teachers, and UPS drivers were gifted her special boxed sweets.
She always had an extra stock in the freezer to pull out whenever the need arose.
"Mom!", we'd barge in the door saying,
"I forgot to tell you I have to take a plate of goodies for tomorrow's Christmas program!"
That never phased her. She just went to the freezer and got out some of the "stash"!;)
I quickly realized though, that without all the taking and giving of the gifts – baking sweets for weeks on end for our little family just added weight to our scales!
So, I limit my baking to our family favorites…and then try to keep myself from eating it all! Along with today's recipe, I like to make Rolled Sugar Cookies, Dipped Chocolates, Steamed Pudding Christmas Dessert, and Christmas morning Swedish Tea Ring.
This recipe is my youngest son's favorite, and he never fails to ask when I'm going to make it!;)
Never Fail Fudge
Assemble the Ingredients:
For this recipe (that makes 36 pieces), you'll need:
2 cups sugar
2/3 cups evaporated milk
1/2 cup butter
12 large marshmallows
Dash of Salt
1 2/3 cups semi-sweet chocolate chips
1 tsp. vanilla
Prepare the pan
Line a 8×8 inch pan with wax-paper. I used a glass pan for this batch, but I recommend a metal one. I found it difficult to remove the wax paper from this glass pan!
Combine first five ingredients in a saucepan.
In a medium saucepan, combine the sugar, evaporated milk, butter, marshmallows and salt.
Stir over medium heat until marshmallows are melted and mixture comes to a boil; boil for 5 minutes, stirring constantly. (Stir continually so mixture won't stick to the bottom.)
Remove from heat and stir in the chocolate chips & vanilla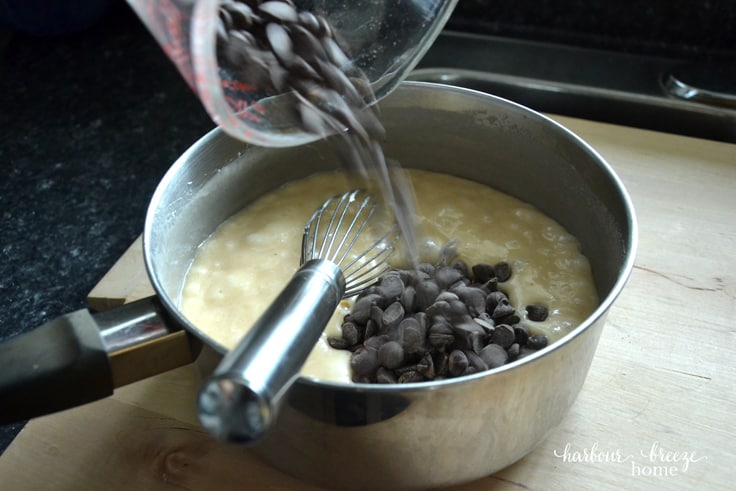 Pour the chocolate chips and vanilla into the hot liquid. Stir in quickly to melt the chocolate chips- until the mixture is smooth and glossy.
Pour fudge into wax-paper lined pan
Work quickly, as the fudge firms up faster than you think it would! Once poured into the pan, place in the fridge to cool.
Once cooled, remove from pan and cut into small squares.
Garnish with nuts, if desired
You can garnish each piece of fudge with a single pecan or chopped almonds – or just leave them plain.
They are certainly delicious either way!
Speaking of sweet treats – I have a sweet treat for you! Check out the links below for a whole lot of Holiday Desserts and Treats from my blogging friends. Click on the link below each picture to get all the details. And don't forget to scroll to the bottom and enter the giveaway from our gracious sponsors!
Happy Christmas baking!
You are invited to the Inlinkz link party!
MEET OUR GIVEAWAY SPONSORS who have generously donated fabulous prizes for the Big Christmas Giveaway!
DecoArt  winner will receive a prize package valued at $100!
Dixie Crystals/Imperial Sugar winner will receive a Keurig Coffee Maker valued at $100!
Oriental Trading winner will receive an OrientalTrading.com gift card valued at $200!
Cabot Cheese winner will receive a gift basket of Cabot products valued at $75!
Burlap Fabric winner will receive a prize pack of products valued at $50!
Zulay Kitchens winner will receive one Milk Frother and a Lemon Squeezer valued at $21
It's Home To You winner will receive one wooden Santa sign valued at $65
Giveaway begins Nov. 8, 2019 and ends Dec. 6, 2019. Winners will be notified by December 13, 2019. Sponsors will ship each prize to the winner. There will be a total of six winners, one for each prize. Drawing is by random selection using the Rafflecopter widget. 
Must be 18 to win. Open to U.S. residents only.