Fall Decor Ideas for the Farmhouse Look
The other day, I found the changing season outside motivating me to change the inside of my home, too.
Although I'd spent some time looking for some fresh new Fall decor to add into my home, I didn't find anything that really excited me. So, I used all my budget saving tricks and put to use what I already had.
I spent some time searching on Pinterest for Fall decor ideas for the farmhouse look, and noted features that I really liked. I used that as inspiration to mix and match things I already had to come up with a new, cozy look for this cooler season.
Fall Decor Ideas for the Farmhouse Style
1. Style Farmhouse Shelves with Neutral Colored Pumpkins & Natural Elements
Since the main living space in our townhouse is one main room, I focused my attention on it. I started in the Dining Room area and styled the Fixer Upper style farmhouse shelves we made.
I didn't want them to appear too busy, so I styled them with neutral tones of white, gray, and greenery. Some of the "tricks" I saw others use was to stack dishes, use natural elements like pine cones, and mix up the heights of white pitchers on shelves.
Since the bright orange tone of the Dollar Store pumpkins I had picked up last year was a little bright, I quickly painted them with gray chalk paint. Filling up a wooden tray with faux greenery, acorns, and painted pumpkins added a Fall touch in a subtle way.
2. Create a Table Centerpiece with Fresh Flowers for the Fall Season
The table centerpiece inspiration came right from my little patio garden! The hydrangeas and snap dragons were in full bloom that day, so I clipped them off and brought them into the house to enjoy.
Layering a large wooden lazy susan with a round woven tray filled with farmhouse style decor makes a nice statement piece on the table. Since the rest of the decor in the room is neutral, I can mix up the colors of the fresh flowers whenever I want.
3. Add Authentically Vintage Items into Billy Bookcase Shelves
Directly on the other side of the Dining Room is the Living Room space. The focal wall there is a set of Billy Bookcases from Ikea that we've modified to look like built ins. – with a farmhouse shiplap walls feature in the middle.
I call them my farmhouse bookshelf.;)
To add in the cozy vibe of Fall, I filled them with vintage finds I already had saved in my collections.
Layering pattern and texture is a trick I used in our farmhouse master bedroom, and I did the same when styling the shelves!
I started by layering in all the old books I own. Then, I added in some wooden features, greenery, and metal items.
I think vintage pieces gives such character to a space – and many of these items are authentic vintage – and come with special memories!
Having an old wooden-handled bag with knitting needles isn't probably the normal decor item on a shelf, but it makes me smile and think of the lovely lady who used to own it…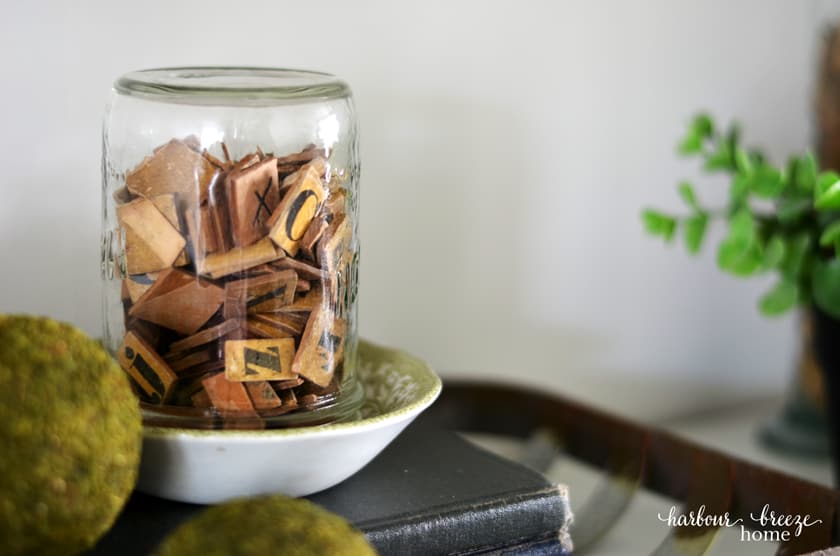 Wishing for a glass cloche to put these vintage primer alphabet tiles in, I discovered an upside down mason jar in a vintage saucer works well, too!
3. Group items in a tray for a simple coffee table arrangement
The coffee table is a great place to add some color and seasonal style into the Living Room. This little "Be Thankful" sign came from Hobby Lobby a few years ago, and is appropriate at all times ~ and especially when Thanksgiving is not too far away!
Like the Dining Room table arrangement, I can change out the fresh flowers when needed for a whole new splash of color in the room.
4. Bring out the wool plaid blankets and Fall scented candles
Not pictured in any of the above are the vintage plaid blankets I laid over the arm chairs in the Living Room. They add the perfect Fall cozy touch and are perfect with a lovely smelling candle burning.
(My favorite candles EVER can be found in this Fall decor post!)
Thank you so much for joining me on this little Fall decor tour of our townhouse Living and Dining Room.
May you have a cozy Fall day ahead…