8 Dramatic Room Makeover Reveals Done Under $200
Room makeover reveals don't have to cost a fortune. Here are 8 budget friendly examples all done under $200.
Decades of living in old historic houses gave me lots of experience in the room makeover department.
I discovered I loved it.
Like, I really really loved it.
Our budget was super duper tight and the rooms were in super duper need of help. So, using creativity and sheer determination, we figured out how to make them over to look and feel so much better!
I thought it would be fun to stroll down memory lane today and take a peak at some of the dramatic room makeovers done on a budget here at Harbour Breeze Home.
Some were done in our previous house, and some were done in our current townhouse.
And, yes, I'm only going to show the "before" of each room.
You'll need to click the link to see the after reveal.
Because, you just might want to read the whole story!;)
Room Makeover Reveals done on a Tight Budget
The $159 Kitchen Makeover
This was our first most dramatic budget friendly makeover. It was so fun to do! Click here for the makeover reveal.
We referred to this room as "The Coffin" before it got its makeover. Click here to see its dramatic makeover. You won't believe it!
Doing laundry in this space was the opposite of fun… See what it turned out looking like here!
Our master bedroom in the townhouse where we live was in beautiful condition. It just needed some style and pizzazz! See how it turned into a beautiful boho master bedroom for $125!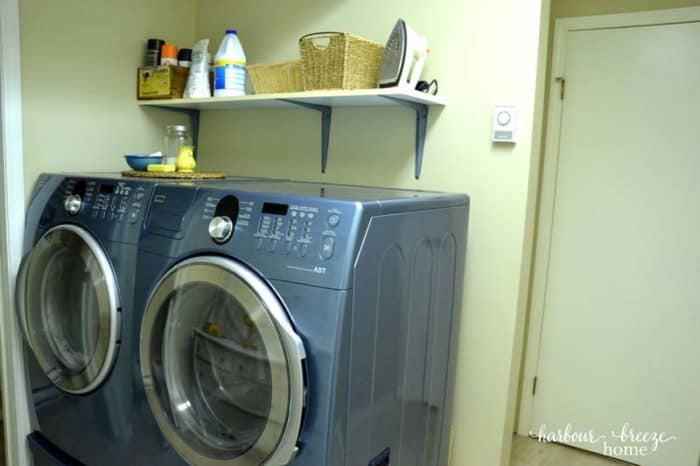 This little laundry room got a big new look when the washing machine suddenly died! See how it turned out here.
When our youngest son moved out of our small townhouse, we decided to turn his room into a home office for my husband. He just loves it. (Click here to see the after reveal.)
Want to see some more before & after makeovers (also super budget friendly and under $200!)
How to do a room makeover on a budget
Want to do some room makeovers in your home but don't know where to start?
I've created a special FREE series just on that topic. You'll receive the simple step by step process that has helped me start and finish many rooms over the years – and all on a tight budget!
Click here or the button below for immediate access.