How to Roast a Large Sweet Potato Quick
With natural sweet caramelization and simple spices, roast sweet potato makes a delicious and nutritious side dish.
Roasted sweet potatoes are one of our favorite side dishes these days. Not only do they have great nutrition facts and health benefits, they taste great!
I've always been puzzled by the difference between yams and sweet potatoes, but one thing I do know for sure – the sizes of sweet potatoes in our grocery store differ greatly!
Sometimes they are small and fist size. Other times they are huge and football sized!!
I have developed a roasted sweet potato recipe that is a cross between a microwave sweet potato and an oven baked sweet potato.
The nice thing is, it works for any size of sweet potato!
Easy Roasted Sweet Potatoes Recipe
Ingredients you'll need:
sweet potato
salt & pepper
4 Tbsp. olive oil
cayenne pepper or chili powder
Step 1: Wash & slice the sweet potato into pieces roughly the same size.
Scrub the sweet potato well under running water. Cut off any dark spots that may be on it. You do not need to peel the sweet potato to roast it in the oven, unless you prefer not to have the skin on.
The nice thing about this recipe is that you can make it seem different based on how you cut the potato.
This time, I cut this very large sweet potato into 1 inch slices and then each circle slice in half.
If you would like roasted sweet potatoes that are diced, just cut them in squares and reduce the baking time. Likewise, cutting them in thin, narrow strips will make them more like oven roasted sweet potato fries. Again, you will just adjust the baking time to less time if they are cut smaller.
One note on cutting sweet potatoes – they are extremely difficult to cut through when they are large. To cut safely, make sure you are using a very sharp large knife and keep your fingers out of the way. Rock the knife back and forth as you press down to make the job easier.
Step 2: Pile the cut sweet potatoes on a microwave safe plate and cook in the microwave for 5 minutes.
This step decreases the time it will take to roast them in the oven.
Step 3: Drizzle olive oil in the bottom of a baking pan and toss the sweet potatoes in it. Season with salt, pepper, and chili powder or cayenne pepper.
I usually just eye the amount of oil, but make sure that each piece of sweet potato is coated in oil.
You can feel free to use the type of seasoning you prefer on roasted sweet potatoes. We like spicy food, so a sprinkle of cayenne pepper is our favorite.
Step 3: Bake at 400 degrees for 30-45 minutes.
Baking times will differ based on the thickness and size of your cut sweet potatoes. You'll know they are done when they are tender when you poke them with a fork and have a nice golden brown, slightly crispy bottom.
Serve roasted potatoes with your favorite main meat dishes.
We like to have oven baked sweet potatoes with our easy hamburger steak recipe, sloppy joes, roasted chicken, and chicken cordon bleu.
You can also cut sweet potatoes into long strips like fries and serve it with your favorite sauce. This yum yum sauce would be amazing with them!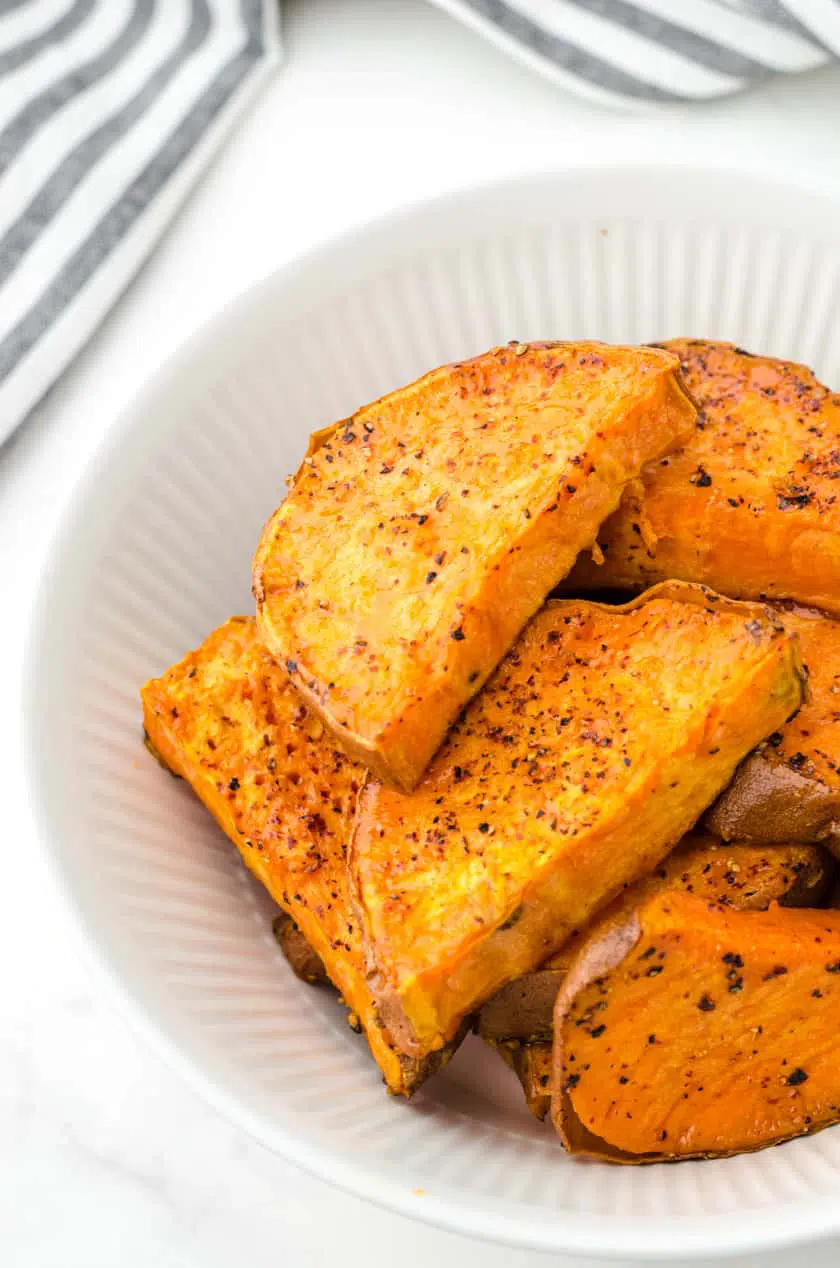 Other recipes you may be interested in:
For more recipes and ideas for your home:
Be sure to join the VIP newsletter list! As a valued VIP member, you will get exclusive access to the entire library of free printables – including wall art, cards, organization lists, menu planning set, and more.
Click here or the button below to join today.

And if you want to see more real life behind the scenes action, be sure to come join me on my @harbourbreeze Instagram Channel!
Comfort Food Dinner Ideas Just for You!
I co-wrote a comfort food recipe e-book set with my friend Shirley from Intelligent Domestications. You'll find 30 Comfort Food Dinner ideas plus a bonus 10 Sweet & Treats recipes.
Click here for all the details.