DIY Upholstery | Chair Seat Covers
Update worn out chairs or thrift store finds with this DIY upholstery dining chair update project. It's easy to add new chair seat covers – and they are no sew!
I have some old chairs sitting around the house that I love very much. They're sturdy and classic and quite charming, in my opinion. The only problem is, the cushions are covered in fabric that dates them oh, so much.
I purchased some outdoor fabric (that I love!) at a great sale at the local fabric store, and I decided it would be perfect for this little chair.
Re-covering a chair seat is one of the quickest and most gratifying diy projects ever! In less time than it takes for the cornbread to bake for dinner, you can have a whole new look happenin'.:) (True story…)
DIY Upholstery : Dining Chair Seat Covers
This DIY upholstery dining chair project begins by first removing the seat cushion. To do so, unscrew the 4 screws on the underside of the seat.
2. Cut out fabric, allowing for enough fabric to wrap up and around the sides.
3. Using a staple gun, pull the fabric around the middle of one side and staple. Then staple the side directly across from it, pulling the fabric tightly before stapling. If your fabric has a linear pattern, make sure the lines are straight.
4. Continue stapling side to side until both sides are fastened securely and only the corners are left.
5.The trickiest part of a diy upholstery dining chair cover is the corners. Here's how to upholster the seat cushion corners:
If you have excess fabric at this point (like I did), trim it close to the stapled area, and start on the corners. The corners are the trickiest part of this project ~ but you can do it!
Pull the long tail of the corner up first and staple it down. Then pull each side over, adjusting it carefully and checking to make sure it doesn't pucker on the edge.
6. While the cushion is already off, wash the chair frame well.
(I used wood floor cleaner, since I didn't have my favorite wood cleaner (Murphey's Oil Soap). Then I shined it up with a mix of olive oil and lemon juice. That old wood just drank it up!)
7. Finish it off by attaching the seat with the 4 screws underneath.
Ta Da! A whole new look!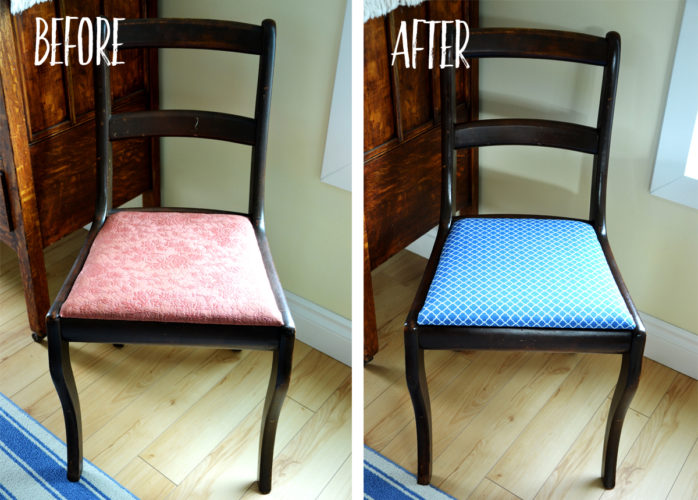 PS. My first experience with re-covering chair cushions was at my sister's house last Fall. While I was working on them, my husband videoed some of the steps. I ran across the video the other day and laughed my head off. This is "Real Life DIY' in ~ well ~ real life ~ right in the middle of the normal activity of family life and laundry.
I did 6 chair cushions that day and I think this one was the last one. You can see (while listening to the hilarious conversation going on) how I did the corners. (Blooper reel included for free…)
Happy laughing DIYing!:)

(If that movie doesn't show up in your browser, you can find it on my Youtube Channel here.)
Want to see some more Real Life DIY videos? Well, you can! Here are the links to previous episodes:
For more recipes, crafts & ideas for your home all year round, become a VIP!
Become a VIP newsletter subscriber and get instant access to the library of free printables (including wall art, gift tags, and more!). Click here or the button below to join today.