The chalk paint bandwagon started rumbling down the road years ago. I jumped on and experimented with all types and varieties: homemade chalk paint, Folk Art Chalk, Annie Sloan Chalk Paint, and recently painted a bookcase with Cottage Paint.
I love transforming things with paint, and have found all the chalk paint brands have performed well.
Trying to figure out the waxing step, however, has been a different story.
Through lots of experimenting, I've discovered that all waxes are not created equal. As I've gone online to read tutorials and watch videos, it became even more confusing…
I first tried out Cottage Paint on our electric fireplace.
The waxing step went very badly. I ended up with little teeny tiny patches of sealed areas. When the light hit it just right it looked speckled and splotchy!
When we were in White Rock, BC last Fall, I stopped into the Cottage Living Shop to ask how to apply the wax the proper way. Not only did the store owner explain it to me, she agreed to do a demonstration right then and let me video it.
So, today I'm showing you what she showed me! ~ the 2nd episode of Real Life DIY :
How to Apply Cottage Paint Acrylic Wax
If you don't want to watch the whole video, I'll give you a short synopsis of the steps.
As an acrylic based product, Cottage Paint wax should be applied with a damp brush. (I used Miss Mustard Seed's Large Wax brush.) Run the brush under water and squeeze out the excess water with a towel.
Once the brush is damp, dip it into the wax and pick up a small amount.
Apply the wax to the furniture piece by applying it in circular motions and back and forth, rubbing it in as if you are applying lotion ~ making sure no wax is left sitting on top of the surface.
Work in small sections at a time. Once a section is well covered with wax, finish off by brushing lightly in the same direction it was painted.
At least 2 coats of wax is recommended. When applying the wax, it will appear shiny (partly because of the wax and partly because of the damp brush), but will dry as a clear, light matte sheen.
Once finished, wash the brush out thoroughly with pure soap (like Sunlight bar soap), towel dry, and hang to dry.
The acrylic wax dries very quickly. If you find it is starting to dry in the brush before you are finished waxing, rinse the brush out while you're still using it. (I did this a few times while waxing the bookcase.)
Some people have good experiences applying the wax with a damp sponge. I didn't do well with that method, but perhaps that would work for you.
Cottage Paint Acrylic Wax has no beeswax in it, and therefore, it doesn't need to be buffed at all. The advantage of this is that when or if you ever decide to repaint your piece later on down the road, you can simply repaint right over the top.
If you are interested in watching the original video I took at the Cottage Paint shop with Linda, I've published it as well ~ It has my actual questions in it as she's working…along with a plethora of "OKs"… So, if you want in on the real live action, here it is!: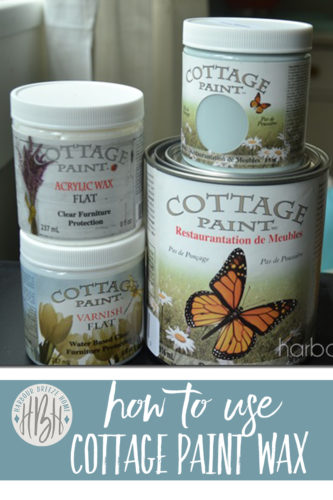 If you missed the first episode of Real Life DIY (which showed how to use Cottage Paint), click here: