Peanut Butter Chocolate Bars Recipe
These easy peanut butter chocolate bars with cake mix only require a few ingredients and are melt-in-your-mouth delicious!
If I had to choose my very favorite cookie bar recipe of all time, this would be it!
I was first introduced to it by my sister in Montana, and I've been baking it ever since. It's the perfect baking recipe to make for potlucks or bake sales, and it freezes beautifully.
With a fudgy chocolate center, the only problem I've discovered with them is that I want to eat the whole pan all by myself!!;)
Recipe for Peanut Butter Chocolate Bars
Ingredients you'll need for this easy recipe:
1 package yellow or white cake mix
1 cup peanut butter
1 egg
½ cup oil
1 can sweetened condensed milk
1 cup semi-sweet chocolate chips
2 Tbl. butter
Step 1: Combine the cake mix, peanut butter, egg and oil. Stir together in a large bowl.
Step 2: Press 2/3 of above mixture into a greased 9 x 13 inch pan. Bake at 350 degrees for approximately 10 minutes.
Step 3:Melt together in the microwave or on the stove top the sweetened condensed milk, chocolate chips and butter. When melted completely, pour over the baked crust.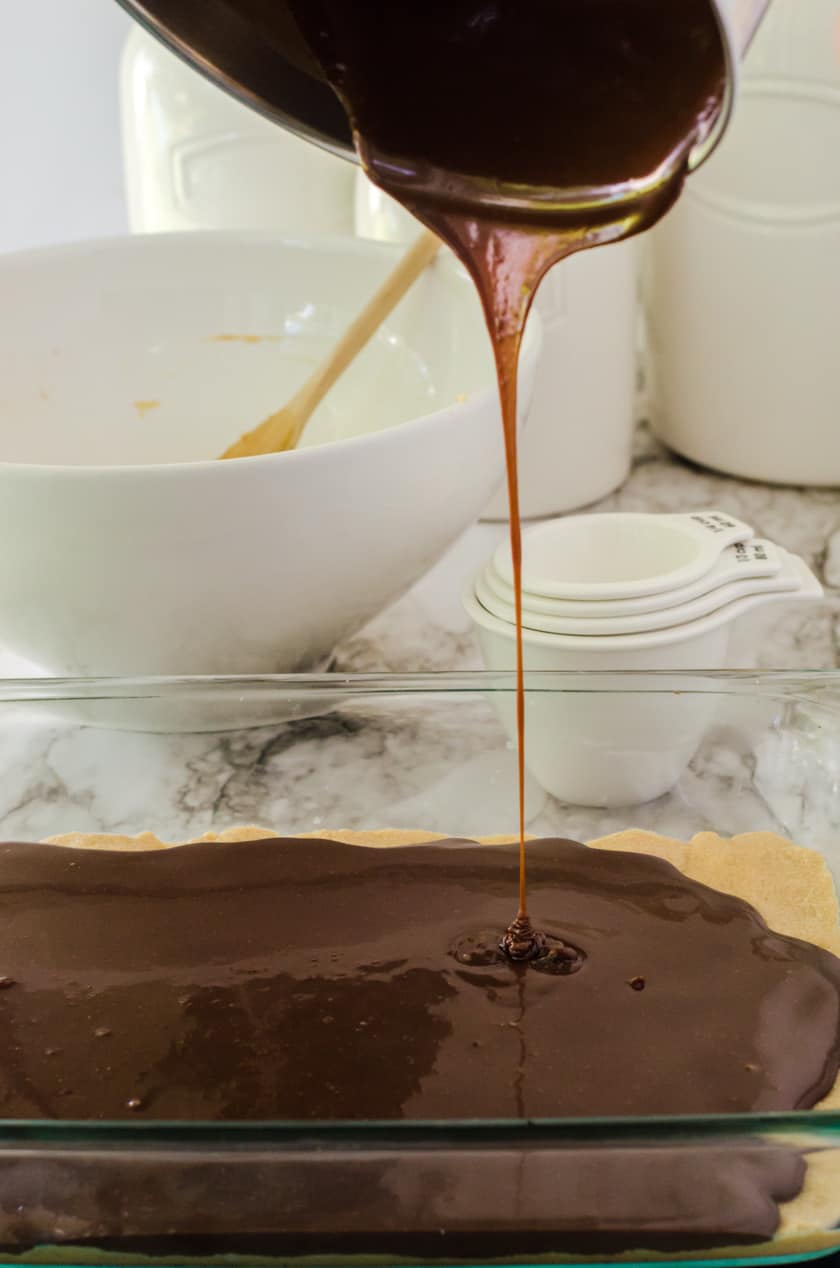 Step 4: Sprinkle with remaining crumbs. Bake for 20-25 minutes, or until golden brown.
It takes a little patience to sprinkle on the thick batter. I just take a little in my hand at a time and gently rub it together to make small crumbs.
Take it out of the oven when it is barely golden brown, and cut while still slightly warm.
Enjoy!!
More delicious baking recipes you may love!
Let me help take the stress out of dinnertime!
Get 5 popular (and easy!) dinner recipes delivered instantly to your inbox. Just click here or the button below to join thousands of others as VIP newsletter subscribers!