What to do in Oahu + Our Vacation Favorites
Are you ready to plan a vacation to Hawaii? Here are our answers to your burning questions regarding details for accomodations, fun things to do, how to get around Oahu, and where to eat in Oahu.
My husband and I just got back from our second time visiting Hawaii. Our first trip was to the serene, peaceful, and wonderful smelling island of Maui.
This time, we decided to try out the island of Oahu.
If you are planning a trip to Hawaii, my biggest piece of advice is to research all the different islands of Hawaii. Each of them has a different personality and feel, and you want to choose the one that fits your personality and goals of your vacation.
Oahu (especially Waikiki Beach & Honolulu area) has a very busy, big city feel filled with lots of people and traffic. Before you book your tickets to Oahu, know that much of it will feel like a city with Palm Trees. We didn't find it nearly as relaxing and peaceful as Maui, but every day we did something fun and left with a rolodex of great memories!
Places to stay on Oahu
As you begin your search for accomodations for Oahu, you will quickly realize there are an overwhelming amount of options to choose from. There are resorts and hotels on Waikiki Beach, on the East & West Side of the Island & the North Shore (we toured Turtle Bay Resort), as well as many, many hotel, Airbnb and VRBO options.
Your budget will help guide your decision of where to stay while in Oahu. We chose to go with an Air BnB room in a hotel that was about a 20 minute walk from Waikiki Beach. We found it to be exactly as pictured in the listing, and it provided us with nice air conditioning, a comfortable bed, a kitchenette, and a bathroom with a walk in shower. The downside was that it was a 20 minute walk from the Waikiki Beach area that we preferred, so we clocked nearly 20,000 steps a day walking while we were there. (We didn't rent a car. More on that later.)
Things to consider when choosing accomodations in Oahu
Whether you choose a resort, hotel, or air bnb, here are some of the questions we asked ourselves when making that choice:
Is it in the location we want to stay? Is it near the attractions that we want to take part in the most?
Does it come with a kitchen? If so, what appliances are available? Does the coffee maker need specific filters or pods?
Are towels and beach towels provided? How many?
Is there a free shuttle service to and from the airport?
If we rent a car, how much does parking cost?
What are the ratings and reviews of this accomodation?
Is it in a safe part of town?
Does it come with a complimentary breakfast?
What to do in Oahu
There are oh, so many options of things to do while you are visiting Oahu. What you decide to do will need to be determined by your own goals & dreams. If you like to sit on the beach and soak in the sun (don't forget sunscreen!), there are many beaches for that. If you want to hike and adventure, there's lots of that, too. Want to shop?-options gallore.
Below is a list of things that we personally enjoyed doing. I noticed after I listed them, they almost all would fit into a "low budget" category. That wasn't necessarily intentional, but just goes to show it doesn't have to cost a lot of money to have fun. Be prepared, however, that almost everything in Hawaii is more expensive than what we pay here in Canada (and the rest of the US).
Below our list are some of the other options that others recommended that we didn't do.
1. Ride the Waikiki Trolley
Whether you rent a car or not while you are visiting Oahu, we would recommend highly the Waikiki Trolley. With three different routes and lines, you can get to some of Oahu's hot spots while riding in a delightful open air bus. It is relatively inexpensive (compared to the price of parking and renting a car), and gives you a way to get around to some of the main places near the Waikiki area. We purchased the 7 day all routes pass and used it every day.
2. Visit the Ala Moana Center
If you get one of those handy dandy Waikiki Trolley passes, it will take you right to the Ala Moana Shopping Center. As the largest open air shopping mall in the world, it not only has a LOT of stores, it is beautiful to walk through. The stores tend to be very high end (and not something I'd actually buy anything in), but they are very lovely to walk through and visit. There is also a large food court with a variety of options. There is a 2 story Target store there, along with a Foodland Farms Grocery store where we bought our groceries for the time there.
3. Try shave ice
We had heard about shave ice before, but never tried it until now. It didn't disappoint! There are lots of places to purchase shave ice, but we chose Lahaina Shave Ice. As you can see, it's HUGE, so it's a perfect treat to share.
4. Friday night fireworks on the beach
One of our favorite places to visit on Waikiki Beach was the Hilton Hawaiian Village. On the beach outside their main hotel is Friday night fireworks Waikiki. Is it the most spectacular fireworks show we've ever seen? Nope! (It's only 4 minutes long.) BUT, fireworks on a beach with the sun setting and palm trees swaying was pretty magical to us. It's one of our favorite memories.
5. Attend a free hula show at the Royal Hawaiian Center.
We discovered the gorgeous Royal Hawaiian Center the first day we arrived. It's a gorgeous complex on the Waikiki strip with beautiful shops, restaurants, and sitting areas to relax in. We just happened to notice a sign that there was a free hula show that night.
They actually have free shows daily as well as other classes and demonstrations. You can find all the hawaiian activies and shows they do here.
We thoroughly enjoyed the Hawaiian music and the explanation of the hula dances that told stories with actions. We particularly enjoyed a hula dance with 3 generations of dancers – grandmas, moms, and sweet little girls. It was a beautiful example of mentoring and passing down traditions.
6. "Tour" the fancy hotels and resorts
If you would have told me decades ago that someday I would love walking through beautiful resorts, I wouldn't have believed it for a minute. But, lo and behold, I've now become that person!;)
Oahu has the most gorgeous resorts that are beautiful beyond description. They are not "exclusive" in that only guests can be there. Instead, they welcome everyone with open arms (except in their pool areas and rooms, of course – and you can't use their fun beach chairs and umbrellas).
The resorts are filled with shops, restaurants, coffee shops, and lovely sitting areas with ponds, waterfalls, and gorgeous plants.
Some of the resorts we "toured" were:
7. Take a trip to the North Shore.
Once you leave the busy strip of Waikiki Beach, you can travel North and find a whole different type of scenery. The skyscrapers are replaced with rolling fields with farms and ranches. Smaller towns are dotted through the area with a completely different feel than the Waikiki Beach area.
Our favorite town on the North Shore was Haleiwa. Filled with darling little shops and restaurants, it also had a parking lot with food trucks. My husband finally got to eat at the famous Giovanni's Shrimp truck and loved it!
There are also a whole bunch of beautiful beaches on the North shore – including the one with the famous banzai pipeline for surfing competitions. (We looked for those wild, high waves, but it wasn't the right time of the year to see them, apparently…)
Another thing we did while on the North Shore was go to Waimea Falls Park & Botanical Gardens. It was an absolutely stunning walk on a paved path through a botanical garden park with a waterfall at the end.
If you go there, keep in mind it is a rain forest – and yes, it was pouring down rain while we were there! But, it is a very warm rain, with times of the sun shining – so humid and "steamy" feeling as well. You might want to take a rain jacket for it, or the gift shop has a glorified garbage bag with a hood that worked like a charm for me!;) (You might want to pack along some disposible rain jackets for this??)
8. Taste dole whip at the Dole Plantation.
As you toodle around the North Shore area, you'll find that the Dole Plantation is there as well. I wasn't sure what to expect, but we didn't go tromping around the pineapple fields (although you could definitely see them from the road – so cool). The Dole Plantation in Oahu is really a large store with lots of pineapple themed things.
We weren't tempted by the touristy trinkets, but we did try the dole whip. It is YUMMY! If you've never had it, I'd describe it as a type of pineapple ice cream. (Here is a Dole Whip recipe if you want to try making it.) We found that it came in huge servings, and wished we had shared one instead of each buying one. I couldn't even finish my bowl.
9. Go snorkeling
We were told that there are some amazing beaches to snorkel at in Oahu. Unfortunately, our snorkeling tour that we took was a complete dud. (I'll explain more about that later.) We did try it out, though, and my husband figured it out well enough to find some fun little yellow striped fishes.
10. Have breakfast or lunch at a beach restaurant.
There are a myriad of restaurants and food trucks on Oahu. We were aware before we arrived that prices at them are very high. However, the breakfast and lunch menus are always less expensive than the dinner menus. So, we only ate in 2 real restaurants the whole 9 days we were there. (We made our own simple meals in our kitchenette and also ate at some less expensive food trucks and food courts.)
One morning we had breakfast at the Hula Grill and a lunch at Duke's Restaurant Waikiki. Both were right on Waikiki Beach, and it was a treat (and felt so surreal) to eat while watching the gorgeous scenery!
11. Try malasadas.
In his research before we left, my husband heard about malasadas. I had never heard of them! One evening at the food court in the Royal Hawaiian (we loved sharing a Raising Cane's chicken meal for dinner there), he headed over to the Penny's Waikiki Malasadas and ordered 3. Oh, mercy! They are similar to a filled donut – made fresh to order – and are divinely delicious. We thought we would save some for the next day. But, nope, we ate all of them that evening. So delicious.
12. Watch a Hawaiian sunset on the beach.
While we were on Oahu, we tried to keep in mind each day the time the sun would set. (You can google the exact time for each day.) Then, we tried to walk somewhere on the beach to see it… So beautiful!
13. Try out local coffee shops
Wherever we go, we try to find fun coffee shops to enjoy a good cup of coffee and a baked good. Here are some of our favorites in Oahu:
13. Other fun things to do on Oahu (that we didn't do)
Here are some other options that were recommended to us, but for one reason or another we weren't able to do:
How to get around Oahu – Transportation options
We decided to try something different on this vacation and not rent a car. Between the cost of the rental itself, plus the costs of parking each day, we thought it would be a good way to both save money and also adventure during vacation in a different way.
Would we ever do that again? Honestly, probably not. But, we gave it a good try!
We had read that Oahu is rated very highly in the world for their public transportation system. Before we left, my husband studied the options extensively. It seemed we could get to whatever destination we wanted to go to on either their city bus (called The Bus) or the Waikiki Trolley.
Clearly, each personality will respond to these options differently, and what I'll be writing is from our personal perspective.
We absolutely loved the Waikiki Trolley. It felt more like a tour bus than just a taxi to get us from point A to B. The drivers provided some dialogue to explain some things about the area and culture, and we found it hilarious how the information each driver gave did NOT match. We always wondered which fact was actually a "fact"!
We took the Waikiki Trolley Blue Line to see Diamond Head, the Halona Blow Hole, and other surrounding areas and just loved it.
We also took the Waikiki Trolley Red Line to see more of the downtown Honolulu area like Chinatown, Punchbowl Cemetary, and the State Capitol. We didn't care for that tour as much, but it definitely gave us more of an overview of the area.
The Waikiki Trolley Pink Line was something that we rode on nearly everyday. We treated it like our shuttle that took us to where we wanted to go around the Waikiki Beach area (including the Ala Moana Shopping Center where we got our groceries).
We only used the Bus twice while we were there. Once to take us up to the North Shore, and once to take us back to the airport. The bus did work fine (although I wouldn't ride it alone at night), but you just have to be prepared that a normal 30 minute drive will take you probably an hour instead.
Not renting a car and the proximity of our hotel meant that we did need to walk a lot to get to the shuttle and bus stops, and then lots of walking after we arrived at our destinations. If walking is a challenge for you, I wouldn't recommend this way of vacationing on Oahu.
Another option for transportation is bus tours to a specific area. There are many options for those.
We were struggling trying to figure out how to get to top snorkelling spots with public transportation, plus we just didn't know where/ what type of snorkelling gear to get.
So, we ended up signing up for a "snorkeling tour". Although the all day tour did provide us with some good memories of the day, the snorkeling part was a complete disappointment.
The snorkeling gear was absolutely horrible, no instruction was given on how to use it, and the driver literally dropped us off at a beach and told us he would be back in an hour.
Of the entire bus load of us, only my husband and one other man ended up figuring out how to use the snorkels. And it was so shallow, my husband ended up with tiny cuts all over his hands and feet from the sharp reefs.
All that to say, ask lots of questions and do good research before you sign up for a bus tour on Oahu!;)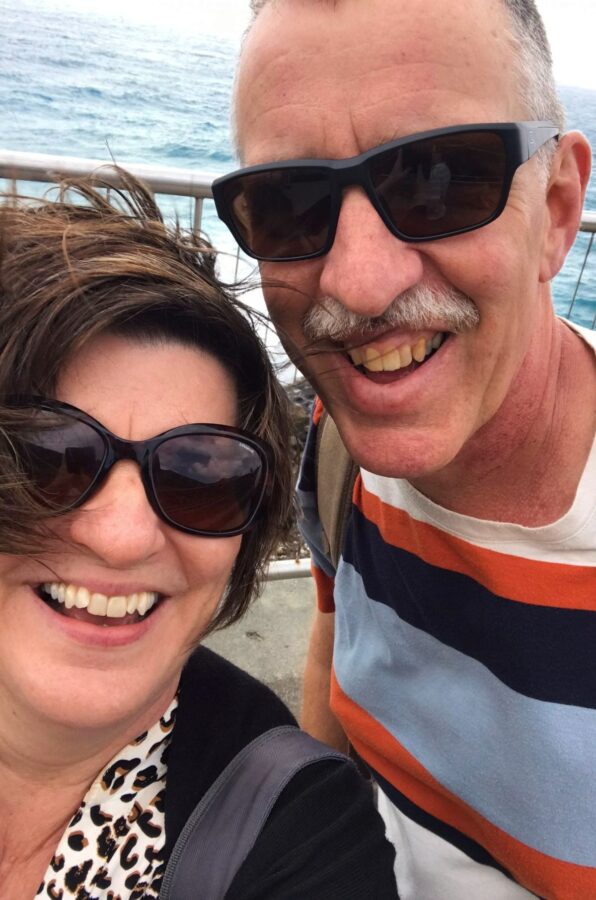 What to pack when going to Oahu, Hawaii in February or March
Disclosure: The following contains affiliate links for your shopping convenience.
Here are some things we packed and took along on our vacation that we are SO GLAD we did!
For more information on Oahu vacations
Check out the Fodor's Travel Guide for Oahu. We found it had so much valuable information, we took it along with us!
And for more detailed and currated shopping and packing lists, check out my Amazon Shop.
For other travel tips, check out my travel category with tips for trips to Vancouver Island, the Oregon Coast, Georgia, and more.
Pin this for later!