The First Glimpse of Maui | Travelling to Hawaii
When travelling to Hawaii on our dream come true trip, the first stage was flying into Maui and finding our accommodations. Tag along with us as we show you the first glimpse!
Before I can tell you about our first day in Maui, I need to fill you in on an important back story.
As you very well know, I've been anticipating this trip for a very long time. I've researched, shopped for the perfect swimsuit (uggh!), agonized over the items for my carry-on bag, and even borrowed the perfect little passport holder to make the travel days easier.
It was 10:30 pm the night before we were to leave at 6:45 the next morning.
I don't know what made me do it, but I decided to pull out my passport and check the expiration date. It's a 10 year US passport, and I like to make sure I keep on top of all the "immigration" issues in my life. (Ha ha…)
Keep in mind the day we were flying to Maui was April 10th.
I opened the book and glanced at the date…
April 13, 2013.
I was horrified!!
So much for my "I like to be organized" life!
I had absolutely no idea what I should do. A few searches in the internet gave me no direction. Obviously, this was a situation that no one should be in!
We decided to go ahead and go to the airport the next morning. My husband assured me with his gracious, patient attitude and told me the worst case scenario was that they wouldn't let me board the plane.
"We'll just take it one step at a time…"
So, we did.
We had no glitches with the airlines, and since Maui is in my "homeland" (the United States), there was absolutely no problem with immigration in getting there.It was the getting home to Canada that was going to be tricky. That became the first priority for our "Maui Day 1" itinerary…
Travelling to Hawaii
Day One Itinerary : Fly into Kahului Airport
We arrived in the Kahului airport at 8:30 pm. By then, it was completely dark and we were a bit travel weary. It is a 3 hour time difference for us, so we felt like it was already 11:30.
We drove about 40 minutes to our condo in the Kaanapali Beach area. Since our meal times were odd that day, we stopped at a little nearby grocery store for a snack. After spending $12.00 for a box of crackers and a small block of cheese, we knew that we'd find a different grocery store from then on.
However, the man on the moped dressed in the batman suit did provide us some entertainment on the way out…!
Getting settled into our Hawaiian accomodations
The next morning, we woke up bright and early ~ 5:00, to be exact. The time difference was obviously playing tricks on us, so we just decided to go with it. We got up and opened the door of our linai.
We had booked a garden view room at the Papakea Resort. We weren't exactly sure what that would mean, but the place had been highly recommended by 4 different couples. We, too, highly recommend it. This is what greeted us that morning: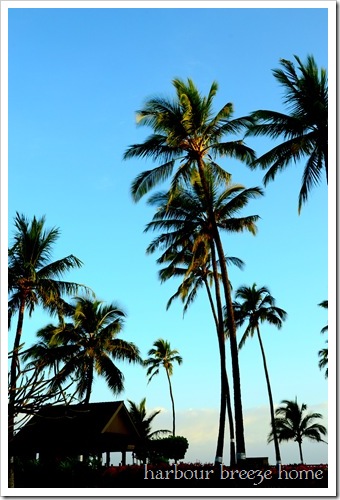 and there, off in the corner was this:
the ocean!!
We grabbed our cups of coffee and decided to head right out to the beach.
We finally got to stick our toes in the sand,
and feel the much warmer ocean water (although I wouldn't call it "bathtub temperature"!)
That became our every morning tradition ~ coffee on the beach. We even had "our" favorite bench…
Because we didn't even try to fight the "get up at 5" jet lag, it was often very quiet with very few people mingling about.
It was the perfect, peaceful spot to watch the sun wake up each day.
A large part of Day 1 was spent on the phone figuring out my passport debacle. After quite a few phone calls, a plan was in place. We needed to fly to Honolulu (on the island of Oahu) for my Monday afternoon 2:00 appointment at the Federal Building.
Once that was settled, we chose to relax and carry on… I had to put into practice every lesson I've ever learned about worry.
Although a bit stressful, I'm happy to report that I really didn't think much about that situation again until Sunday night (the night before our unplanned "day trip" to Oahu).
Places to eat and see in Maui
Lunch at Kimo's in Lahaina
the ocean waves splashed right under our feet!
Shopped for groceries at Costco in Kahului (the Maui pineapple was incredible!)
Exchanged our first rental car (it had a problem with the drive train), and ended up getting a brand new car! (First time ever driving a brand new car!)
Tasted our very first fresh Krispy Kreme donut. (Oh, my!)
Went to Lahaina in the evening to go through the shops. We loved it there!
For the other posts on our Hawaii trip, click the links below: