Mini Mason Jar No Bake Cheesecake in a Jar Recipe
Do I ever have the cutest little dessert recipe idea for you today! These easy no bake cheesecake in a jar desserts are the perfect dessert for your next party or family gathering.
Creamy no bake cheesecake filling is layered between a pretzel pie crust and fresh fruit and topped with whipped cream. They're delicious, easy to make, and depending on the fruit you use, it can even be one of your red, white, and blue desserts perfect for 4th of July or Memorial Day. Leave out the blueberries and add extra strawberries, and you'll have a dessert perfect for Canada Day!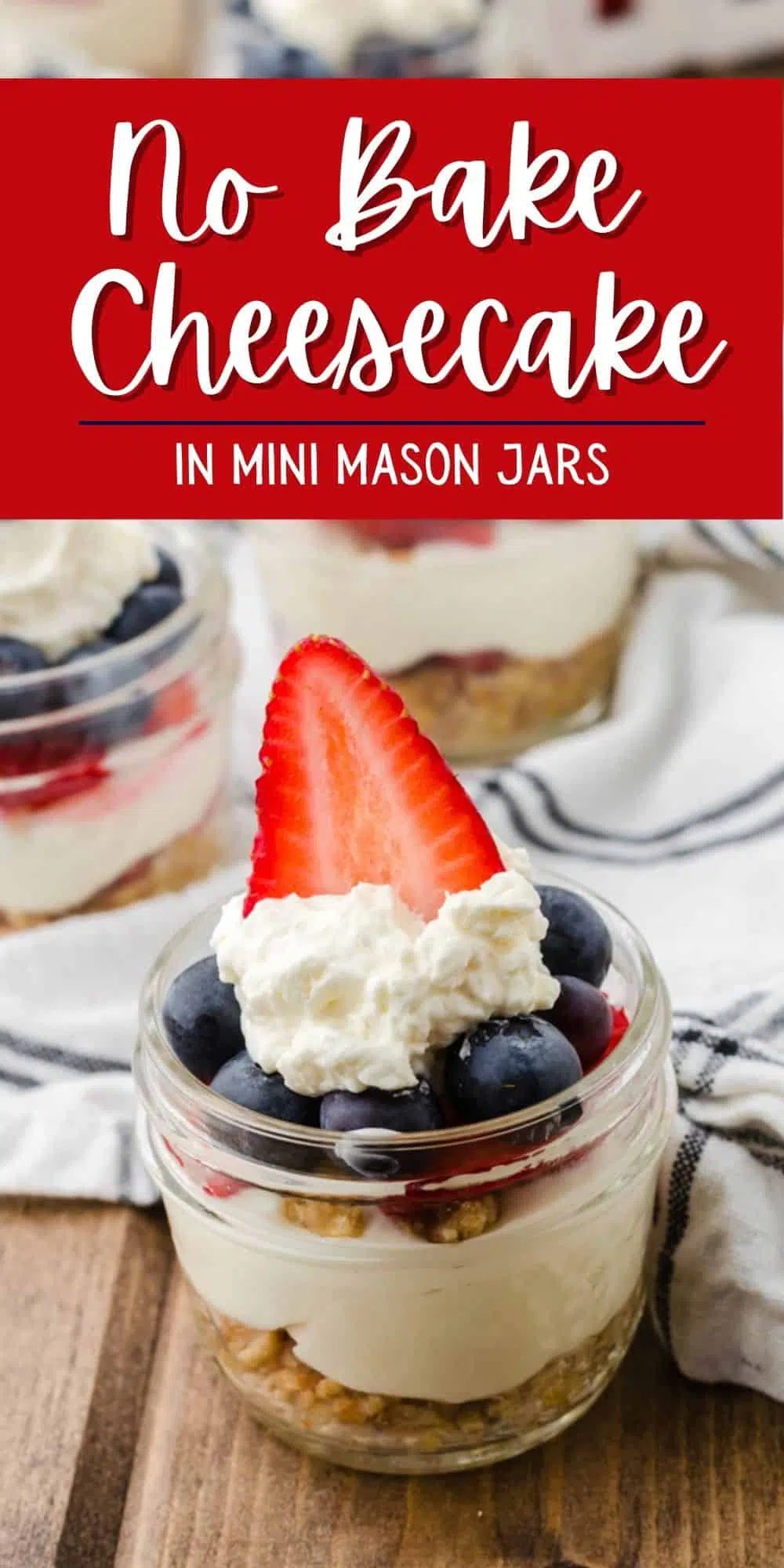 How to Make No Bake Cheesecake in Mini Mason Jars
Ingredients & Supplies you'll need:
1 cup fine pretzel crumbs

3 Tablespoons sugar

¼ cup plus 2 Tablespoons unsalted butter, melted

1 package (8 ounce or 250 grams) cream cheese – softened to room temperature

½ cup plain Greek yogurt

½ teaspoon vanilla extract

¼ cup liquid honey

¼ cup powdered sugar, sifted

12 medium sized fresh strawberries

½ pint fresh blueberries

½ cup whipping cream, whipped

12- 4 ounce (125 ml) mason jars
Directions for these mason jar desserts
Step 1: Mix together the pretzel crust by combining pretzel crumbs, sugar, and melted butter.
Press one tablespoon of pretzel crust mix in the bottom of each of 12 mini mason jars. There will be some crumbs left over. Reserve them to use for another layer. Arrange the jars on a baking sheet and place in the freezer for at least 10 minutes to allow the crust to get firm.
Step 2: While the crust is chilling, make the no bake cheesecake filling. To do so, beat the cream cheese with an electric mixer until it is fluffy. Add the yogurt and vanilla and mix well. Be sure to scrape down the sides and bottom of the mixer throughout the mixing process to make sure the mixer incorporates well. Drizzle in the honey while the mixer is on low speed, then add in the powdered sugar.
Step 3: Prepare the fruit by running water over it in a colander. To slice the strawberries, cut off the tops and stand each strawberry on the cut portion on a cutting board. Slice each strawberry in thin slices. Make sure all the stems are off the blueberries.
Have fun layering up these mason jar no bake cheesecake bites. You can mix and match to make it look however you like!Step 4: Assemble the mason jars in the following layers:
pretzel crust

strawberries

Cheesecake filling (Start with a heaping Tablespoon for each jar and add a little more in each jar until it is evenly distributed.)

Sprinkle of pretzel crumb topping left over from the crust layer

strawberries

ring of blueberries

whipping cream

slice of strawberry or blueberry for the top
Chill these desserts before serving. (At least 6 hours or overnight is preferred. However, I served these only an hour after assembling, and they were delicious.)
Step 5: Add whipped cream just before serving. To whip the cream, follow these simple directions:
Chill the bowl and whisk of an electric mixer in the fridge or freezer.

Pour in 1/2 cup whipping cream and whip until it starts to thicken. Slowly add in ½ teaspoon vanilla and 1 Tablespoon sugar. Taste it to see if it is sweet enough for you. If not, add a little more sugar.
Tips for these no bake cheesecake bites with pretzel crust
To make pretzel crumbs, place about 2 cups twisted pretzels in a food processor or mini food chopper. Process until the granules are like fine sand. If you don't have a food processor or chopper, place pretzels in a zip-loc bag and roll a rolling pin back and forth over the top until they become crumbs.
Although either salted or unsalted butter could be used in the pretzel crust, I chose unsalted – as there is already so much salt in pretzels.
Make sure that the cream cheese is at room temperature when mixing the filling. It will be so much easier! Although I've tried different brands, Philadelphia cream cheese brand is my favorite for no bake cheesecake.
If you have creamed honey (like we do), just place 1/4 cup of it in the microwave for about 20 seconds, or until it liquifies.
These cheesecakes in 4 ounce mason jars are a small serving – perfect for a dessert bar or dessert charcuterie board. If you want them to be a more full sized dessert, place in larger mason jars or bowls and make only 6 instead of 12.

It isn't recommended to freeze no bake cheesecake. However, it is best if refrigerated for 12 hours before serving, so it makes a great make ahead dessert. If you don't have time to chill them that long, though, it's ok. I served these 1 hour after assembling them, and they were delicious!

No bake cheesecake isn't as firm as baked cheesecake even when it is chilled. It is more like a pudding or creamy mousse.
For an even easier option than whipping your own cream – use canned whipped cream.
Other options for this no bake cheesecake in a jar dessert
The pretzel crust was inspired by my love for the popular strawberry pretzel salad! However you could use a graham cracker, Oreo cookie, or vanilla wafer pie crust recipe instead.
Make this easy no bake cheesecake recipe in a pie shell or 8 x 8 inch baking pan and serve as pie or squares instead.
If having them at a party, place a long white flag toothpick in each one with the guests name…or use a flag like this .(affiliate links)
For more dessert ideas, you might want to check these out:
For more recipes and ideas for your home:
Be sure to join the VIP newsletter list! As a valued VIP member, you will get exclusive access to the entire library of free printables – including wall art, cards, organization lists, menu planning set, and more.
Click here or the button below to join today.

And if you want to see more real life behind the scenes action, be sure to come join me on my @harbourbreeze Instagram Channel!