Make These Fun Mocha Hot Chocolate Bombs with Fireside Coffee Mix
These mocha hot chocolate bombs make a delicious coffee + hot chocolate flavored drink with a hint of cinnamon. Turn this Christmas hot chocolate bombs idea into fun handmade gift idea with free printable tags.
What is a hot chocolate bomb?
Apparently, Tik Tok has made them all the rage these days.
I had no idea what they were, so I researched.
Traditional hot chocolate bombs are hollow shells of chocolate filled with hot chocolate and marshmallows.
Once dropped into a mug of hot milk, they burst open and the contents of hot chocolate mix spills out to be stirred into a hot drink.
These hot chocolate bombs have heartwarming mocha flavor with a hint of cinnamon. Added as the main event of these mocha hot chocolate bombs, they are DEE-licious!
How to Make Mocha Hot Chocolate Bombs
Ingredients you'll need (for 4 hot chocolate bombs):
1/2 cup semi-sweet chocolate chips
1 tsp. butter
fireside coffee mix (recipe below)
2 squares bakers white chocolate
Supplies you'll need for making hot chocolate bombs: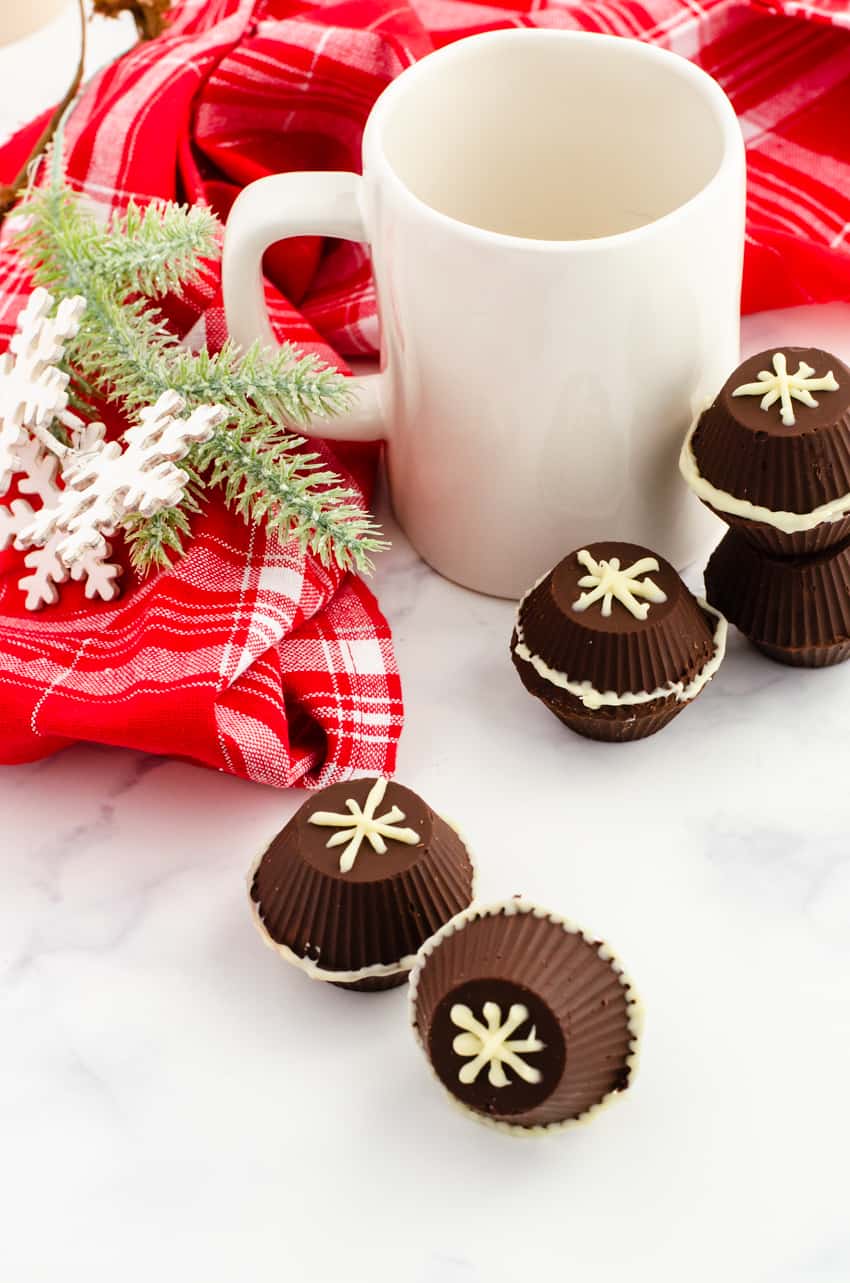 Step by Step Method of chocolate bomb recipe:
Make the fireside coffee mix (recipe below).
Set 8 silicone molds on a pan that can be moved to the fridge or freezer.
Melt the semi-sweet chocolate chips with the butter in a microwave safe bowl in 25 second intervals, stirring in between each interval- until the chocolate is melted and smooth.
Using a teaspoon, coat the insides and sides of the silicon molds well.
Place the filled molds in the fridge or freezer until they are set completely.
Once set, carefully peel the molds off each of the chocolates.
Fill 4 halves with 1 1/2 Tablespoons fireside coffee mix – "piling" it high in the middle.
Pour boiling water over a small plate to warm it up, and dry it off well with a towel.
Place the top half of a chocolate onto the plate and twist gently until it starts to melt. Then press it onto a filled chocolate and make sure it adheres well. Repeat with all chocolates.
Optional – Melt white chocolate squares in the microwave in 25 second intervals – stirring in between until it is melted. Place in a piping bag and pipe onto the hot chocolate bombs for decoration.
Video of how to make a hot chocolate bomb:
I did a quick video for Instagram stories. Here it is if you'd like to see a quick tutorial of how to make hot chocolate bombs:
Turn Hot Chocolate Bombs into a Fun Handmade Christmas Gift
I've made a set of printable gift tags for you to use to turn these yummy treats into a fun gift idea.
Just click here to get to the printables library, enter your secret VIP password, and click on the downloadable tags to print.
If you aren't yet a VIP newsletter subscriber with the printables library password, no problem! Just click the button below to get instant access.

Fireside Coffee Mix Recipe
Fireside Coffee Mix is so easy to make. Just mix the following ingredients together in a bowl:
2 cups instant hot chocolate mix
2 cups coffee creamer
1 cup instant coffee
1 teaspoon cinnamon
1/2 teaspoon nutmeg
1 1/2 cups sugar
1 teaspoon salt
Once mixed, store it in a jar or tightly sealed container. When ready to use, use 2 Tablespoons mix per mug of hot water.
Fireside coffee mix makes a great gift idea, too!
The fireside coffee mix recipe makes a large batch, and is perfect for gift giving, too. While I was making printable gift tags for the hot chocolate bombs, I also made some for the fireside coffee mix.
I like to put some in a small mason jar and tie a tag on it to give as gifts for teachers, co-workers, neighbors, and friends.
To get the fireside coffee gift tags, go to the printables library and put in your secret password. Don't have one yet? Just click the button below to get started and instant access!

Make These Fun Mocha Hot Chocolate Bombs with Fireside Coffee Mix Creation
Christmas baking just got easier!
With a mix of traditional classics, and new trendy favorites, our Christmas Cookies Recipes E-Book cookbook can help make Christmas baking SIMPLE & FUN. With 12 digital (and printable) recipes with tips & tricks, you'll have time for more traditions – and less stress in the kitchen!
SAVE TIME & STRESS!
CHRISTMAS COOKIES RECIPES COLLECTION
With a mix of traditional & trendy Christmas cookies, this recipe collection with pictures can help bring back the fun (& simple) traditions of Christmas baking.