Chorizo Chicken Sheet Pan Dinner
This quick & easy Chorizo Chicken Sheet Pan Dinner is a perfect, hearty recipe for a weeknight dinner idea.
I discovered this super yummy Chicken Sheet Pan recipe one day when I was watching chef Jamie Oliver on a talk show.
I had never heard of "Sheet Pan Dinner" until that day, and I was so fascinated, I grabbed a piece of paper, wrote down the recipe, and made it for dinner.
My family LOVED it – and it has become one of our favorite recipes.
Chorizo Chicken Sheet Pan Dinner Recipe
Ingredients you'll need:
2 small sweet potatoes
2 small baking potatoes
1 red onion
2 colored peppers – any color
cayenne pepper – optional, to taste
salt
pepper
2 1/2 oz. chorizo sausage (about a 3 inch chunk)
2 garlic cloves
1 chicken bouillon cube
1/2 tsp. dried rosemary
2 Tbl. vinegar (any kind)
1 1/4 cups boiling water
3 boneless chicken breasts – cut into large chunks
Step 1: The Chorizo Chicken Sheet Pan Dinner recipe starts by chopping all the vegetables into 1 1/2 inch chunks and lay in the bottom of a large sheet pan. Sprinkle with cayenne, salt & pepper.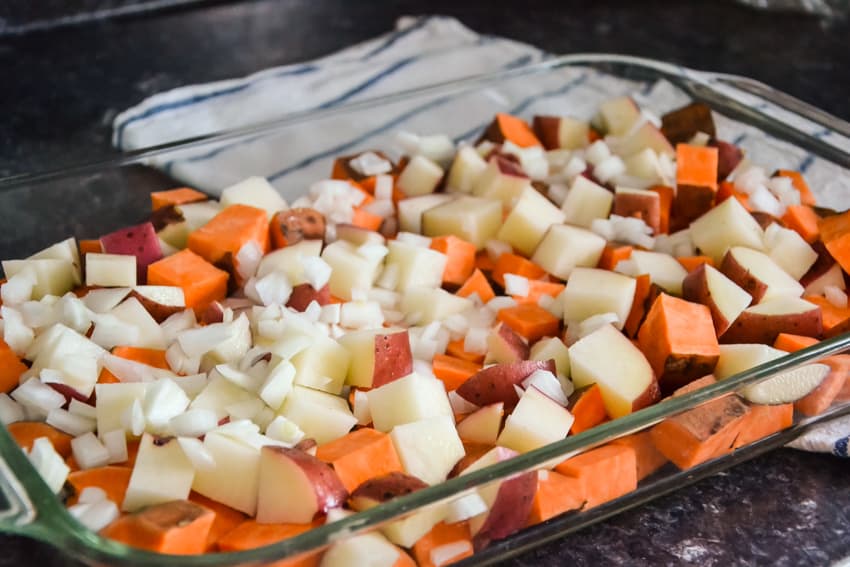 If you don't have a large sheet pan, you can use a large baking dish like pictured above. However, I do prefer making this recipe in a large stoneware sheet pan. It makes the veggies crisp up a bit more.
Also, feel free to substitute vegetables if you don't have the exact ones listed. Don't have potatoes? Carrots would work fine, too. And on the day I took those pictures, I didn't have peppers. But, it still turned out delicious!
Step 2: Prepare the Chorizo "tea"
In a blender, blend together the chorizo, garlic, bouillon cube, rosemary, vinegar, and boiling water. Be sure the lid is on very tight, and cover the top with a tea towel in case it leaks.
Step 3: Pour the chorizo liquid onto the veggies in the sheet pan, and top with chicken chunks.
Step 4: Cover tightly with foil and bake for 30 minutes at 400 degrees. Then uncover and cook for 30-45 minutes more – or until the veggies are tender and chicken is fully cooked.
Enjoy!
For more recipes and ideas for your home, join the VIP group!
Become a VIP newsletter subscriber and get instant access to the library of free printables! Click the button below to join today.

This recipe was inspired by Jamie Oliver's One Dish Wonder appearance on the Marilyn Dennis Show.