How to Clean Glass Shower Doors
Learn how to clean glass shower doors the easy way without the intense fumes of harsh chemicals. Using a diy cleaner for glass shower doors recipe, you will be so pleased with your sparkly clean glass showers!
There's nothing quite like a clean bathroom with sparkly clean glass shower doors.
The problem is, cleaning a glass shower door can be quite the challenge! If not taken care of properly, instead of sparkly clean glass, glass shower doors can turn into a mess with soap scum buildup and maybe even mineral deposits and hard water spots.
Reasons why cleaning glass showers can be challenging
Over time and with lots of use glass showers can develop a buildup of soap scum (from liquid soap, bar soap, and shampoo) and minerals from hard water. It isn't easy to clean glass showers (even with commercial cleaners with harmful chemicals) once build up is stuck on! The glass surface is going to need a deep cleaning technique to get it sparkling again.
But, don't worry. This common issue doesn't require an expensive solution. Just a few simple ingredients mixed together makes a great cleaner for glass shower doors. It will be sparkling again in no time!
When we lived in a rental house with 2 glass shower doors, I researched and experimented with various methods until landed on a quick and easy way to clean glass shower doors. I found it to be the best way clean a glass shower door – with little effort! And bonus -I find it also works well on our current fiberglass shower & tub unit, too.
How to Clean Glass Shower Doors
Supplies needed for removing soap scum off glass:
Spray bottle
White vinegar
Dawn dish soap
Damp sponge or soft clean cloth
Old toothbrush
Step by step instructions for how to clean shower doors
Step 1.Mix up the best cleaner for glass shower doors with simple ingredients in a spray bottle.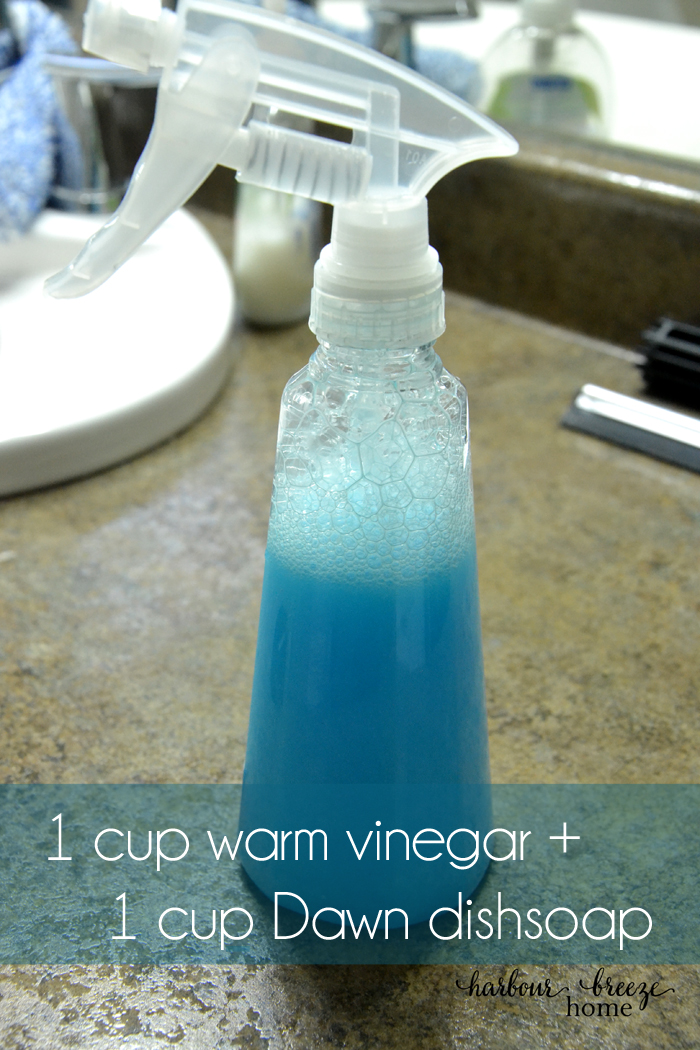 I discovered the most effective cleaning solution is a simple recipe you can make on your own. Here's how:
In a spray bottle, mix equal parts warm white vinegar and Dawn dishsoap. (1 cup of warm vinegar plus 1 cup Dawn dishsoap is what fit in the size of spray bottle I had.)
Step 2. Splash water on the shower door to get it wet. (Use the shower head or a bucket of water.) Then, spray the vinegar and Dawn mixture onto wet shower doors and let it sit for 30 minutes.
If the stainless steel shower door track needs cleaning, too, spray it down and scrub inside and outside it with an old toothbrush.
Try to make sure the spray solution is covering all of the surface. If you need to, use a wet cloth and rub it around in a circular motion so all the glass is coated well with the solution.
Let the mixture sit on the doors for 30 minutes before you rinse it off.
Step 3. After 30 minutes has passed, rinse off the mixture. If the door no longer has spots, use a squeegee to take the excess water off the door, and wipe down with a dry microfiber cloth. (Norwex products carry my favorite microfiber cloths.)
If your glass shower door has tough stains and a lot of build up, it may take a few applications to cut through all the build-up.
Here was our dirty glass shower door before cleaning with the vinegar and Dawn solution:
And here is the after (the picture is taken through the glass):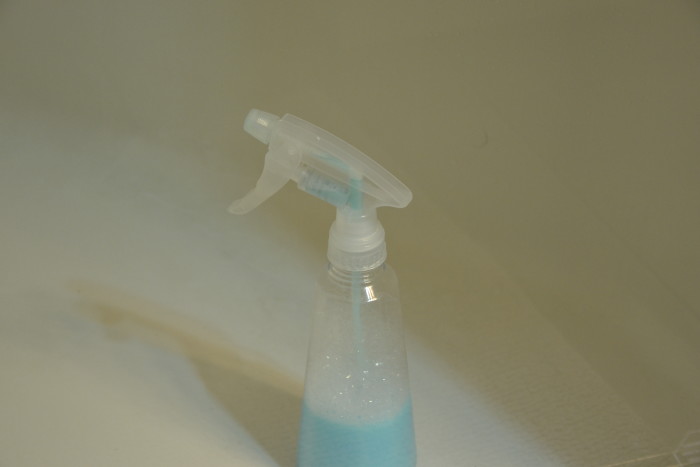 How to keep glass shower doors clean
Now that you've gone through all the work of getting the shower glass clean, you may be asking yourself what to do to prevent it from being such a big job in the future. (I know I sure did!)
The secret to keeping the shower glass walls sparkling is to dry the glass off before the water spots dry in the first place. An easy way to do that is to keep an inexpensive squeegee in the shower to use after each use. Or have a towel handy to dry it off after use.
Hard water stains are a bit more difficult to deal with. A water softener may help with that issue.
It just takes a few minutes, and it stays sparkly clean!
Get more time saving hacks for your home:
For more tips on cleaning:
Linking to: I Should Be Mopping the Floor, Coastal Charm
For more recipes, crafts & ideas for your home all year round, become a VIP!
Become a VIP newsletter subscriber and get instant access to the library of free printables (including wall art, gift tags, and more!). Click here or the button below to join today.


Original post was updated March 2022