I remember when I was a little girl longingly admiring high heeled shoes.
I couldn't wait til I could have a pair of my own.
I'd get into Mom's closet, strap on her heels, and clomp around pretending I was Cinderella ready for the ball.
The day finally arrived when I could get a pair of my own.
Although I don't remember the details, I remember the excitement of putting them on and wearing them for real.
I learned really quickly an important fact of life:
Sometimes beauty hurts.
(tee hee;))
I feel the same way about tiles with grout and cleaning glass shower doors.
They're beautiful.
And they're going to cause a little pain to keep them that way!
I've been researching the cleaning of these swanky finishings with more zeal than a 6th grader the night before the big Science Fair.
I've also been experimenting as much, too.:)
When we moved into this rental home, there was already some build up of water stains on the glass doors. Just wiping them down wasn't working.
It was time to get out the big guns.  Here's the contestants for the shower cleaner winner (so far):
1.Glass stove top cleaner. Having been recommended this method by one of my favorite bloggers, I tried it with great enthusiasm.  However, be warned. The fumes of said cleaner is about enough to choke a horse. (and the results weren't too hot for me…)
2.The same baking soda, hydrogen peroxide paste I used on the grout was also recommended for shower doors. I gave it a whirl while I was already in the shower standing in a dishpan.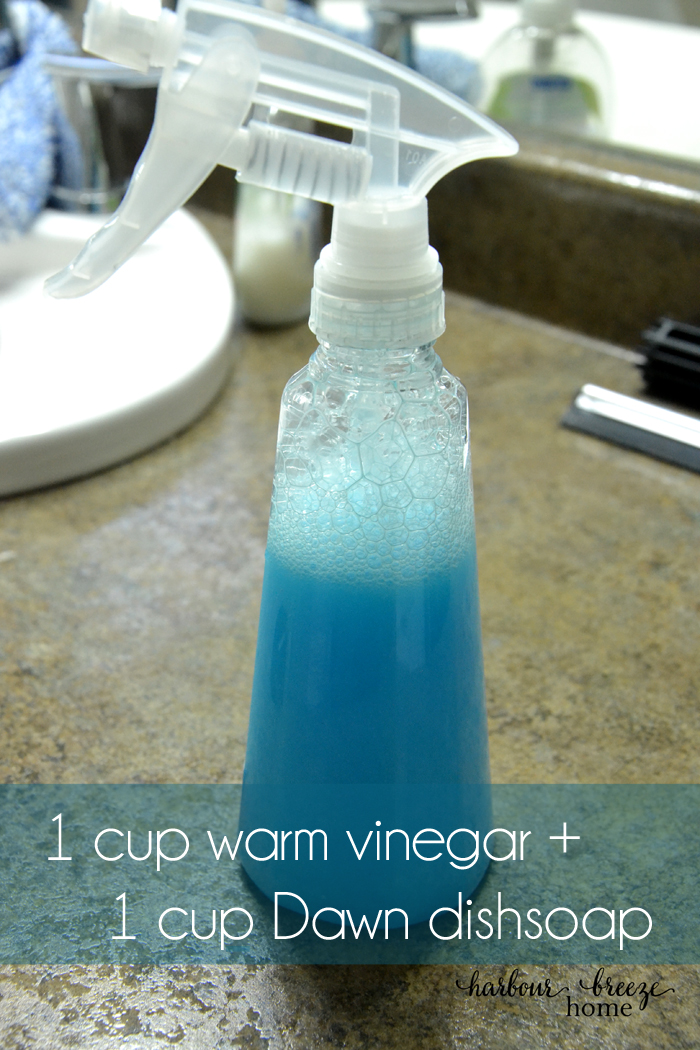 3.  A mixture of 1 cup warm vinegar and 1 cup Dawn dish soap sprayed on the doors.  Let it sit for 30 minutes and wash off with squeegee and then a microfiber cloth. (** I added in a little hydrogen peroxide for the second application.)
And the winner goes to…
Cleaner number 3!!
It took a few applications to cut through all the build-up, but our shower doors are sparkling much more these days.
Before:
After (the picture is taken through the glass):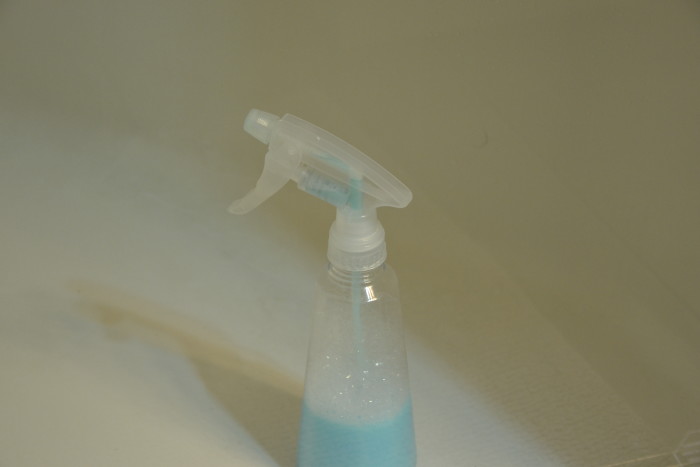 And, the key to keeping it clean?
You MUST squeegee off the water after each use, and wipe down with a microfiber cloth.
I know, it's a pain.
But remember, sometimes beauty hurts a little!;)
PS. Thanks so much for all the feedback to my hilarious attempt at grout cleaning.  I'm going to get busy on that sealing the grout issue…
Linking to: I Should Be Mopping the Floor, Coastal Charm