The EASIEST Poppy Seed Bread with Cake Mix
I've become a huge fan of quick bread recipes lately. This super quick and easy poppy seed bread with cake mix is moist & tender, full of flavor, and can be mixed in minutes and makes a perfect snack or dessert.
This recipe has special meaning to me, as I got it from my Grandma Bernice. In fact, I remember it being the very first recipe I wrote down to have as my own! I loved thinking about her and her happy kitchen as I made this recipe the other day.
Why You'll Love this Recipe
Requiring only a few ingredients, there isn't a lot of fuss and preparation to this recipe. Using just one bowl, it can all be dumped in together, mixed, and ready for the oven.
Poppy seed loaf is quick to mix, and delicious to eat. You're going to love it!
And, if you want to prepare ahead for guest or special occasions, this poppy seed bread freezes beautifully.
Ingredients
(For the exact measurements, please refer to the printable recipe card at the bottom of this post.)
yellow cake mix
instant vanilla pudding
cold water
oil
eggs
all purpose flour
poppy seeds
Instructions for this easy poppy seed bread recipe
Preheat oven to 350 degrees, and line 2 loaf pans with a parchment paper sling.
In a large bowl or the bowl of an electric mix, pour in the cake mix and pudding powder.
Add remaining ingredients in the order given.
Start the mixer speed at low for 30 seconds to mix the ingredients together and then increase the speed to medium high.
Mix for 2 minutes. Scrape down the sides and bottom of the the bowl to make sure everything is mixed together well.
Pour into prepared loaf pans, filling to only 2/3 to the top.
Bake at 350 degrees for 45 minutes, or until a cake tester inserted in the center comes out clean. Note that baking times differ between sizes and types of loaf pans. Keep an eye on it after 35 minutes. (For instance, the loaf baked in the glass pan had less batter in it, and was finished baking before the metal loaf pan was.)
Cool for 10 minutes in the pans, and then remove to cool completely on a wire cooling rack.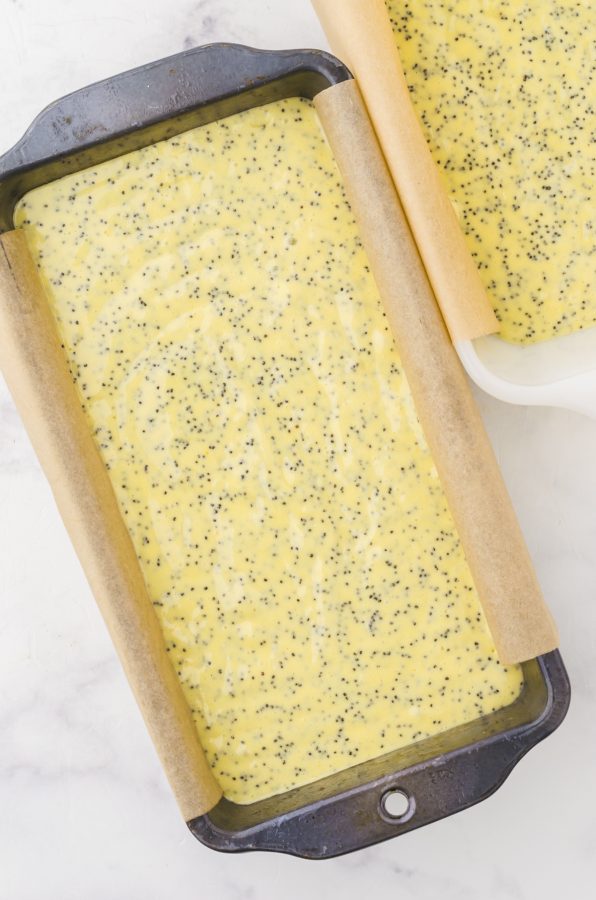 Tips & Tricks
Make sure you don't overfill the loaf pans, or it might spill over the sides when it bakes.
This recipe calls for instant pudding mix. Be sure you don't get confused and buy the cooked kind.;)
Lining the loaf pans with parchment paper makes it so easy to get the loaf out of the pan perfectly. You don't ever have to worry about it sticking.
Substitutions
To turn this poppy seed bread into lemon poppy seed loaf, substitute the yellow cake mix for lemon cake mix.
For a slightly different flavor, use instant coconut pudding instead of the vanilla pudding. In fact, my Grandma's original recipe calls for instant coconut pudding mix, but I can't get it here in Canada right now.
Variations
Quick bread recipes can be baked in different sized loaf pans for different presentations and looks. Mini loaf pans or even muffin tins could be used for this recipe – you would just cut down on the baking time.
A quick vanilla or lemon glaze could be made and drizzled over the top before serving for a pretty presentation and sweet topping.
Equipment
For this quick bread recipe, I used my electric stand mixer – which makes quick work of mixing it up. A hand mixer could be used if you prefer. Or, you could mix it by hand if you don't have either of those options.
(Don't forget to check out my Amazon storefront for some of my favorite kitchen tools!)
Storage
If you are going to use this poppy seed bread quickly, it can be stored on the countertop covered with plastic wrap for up to 2 days.
If storing for longer than that, I recommend wrapping it in saran wrap well, then covering in aluminum foil, and putting in a Ziploc freezer bag in the freezer. If wrapped well, this quick bread will still be fresh for up to 3 months. Thaw before slicing.
Top tip: Don't Underbake or Overbake!
To test whether the poppy seed loaf is done, press gently in the center of the loaf. It should be slightly firm and spring bake. Also, test with a long toothpick or cake tester by sticking into the center of the loaf all the way to the bottom of the pan. If it comes out clean, it's done.
Other Quick Bread Recipes:
PIN THIS RECIPE TO REMEMBER IT LATER: