Easy Pumpkin Bread with Canned Pumpkin and Yellow Cake Mix Recipe
Loaded with pumpkin spice and everything nice, this pumpkin bread recipe is a hit at my house. Made with canned pumpkin and yellow cake mix, it's super quick & easy to get in the oven.
Moist and tender and studded with chocolate chips, it will fill your house with the most amazing smell as it bakes. And, if it happens to last that long, this quick bread recipe is like banana bread – it tastes even better on the second day!
Cake Mix Easy Pumpkin Bread
Ingredients you'll need for this quick bread recipe
1 box yellow cake mix
1 can pumpkin puree – 15 ounces
1 teaspoon pumpkin pie spice
1/2 teaspoon cinnamon
eggs (see the back of your cake mix for how many)
vegetable oil (see the back of your cake mox for how much)
2/3 cups chocolate chips (semi-sweet, milk chocolate, or dark chocolate)
Sprinkle of powdered sugar for topping
Step by step recipe instructions
Step 1: Preheat oven to 375 degrees.
Step 2: Prepare a loaf pan for baking quick bread
Lining the loaf pan with parchment paper makes it so easy to get Pumpkin Bread out of the pan after baking. There's no danger of some of the bottom sticking!
There are 2 methods for preparing loaf pans for baking quick breads. If not prepared properly, you run the risk of the bread sticking to the bottom and sides of the pan – making it a mess to get out of the pan!
Many people simple spray the inside of the pan with cooking spray.
However, I prepare mine by lining it with parchment paper. Here's how:
Trim a sheet of parchment paper the width of the pan.
Place it on the bottom and drape it over the sides.
Making sure it is flat on the bottom, clip the edges with clothespins or clips so the paper won't fold over while you are pouring the batter into the pan.
Before placing in the oven, remove the clothepins from the parchment paper.
I have found the parchment lining method has never let me down, and the greasing method sometimes did!;)
When it is time to remove the bread from the pan, you simply lift up the sides of the paper and it comes out beautifully.
Step 3: Following the amounts of eggs and oil required for the particular cake mix you bought, mix together the cake mix, eggs, and oil on medium speed with an electric mixer. Keep mixing until the batter is smooth.
Step 4: Add the canned pumpkin and spices to the cake mix mixture and mix until well combined, scraping down the sides and bottom of the pan.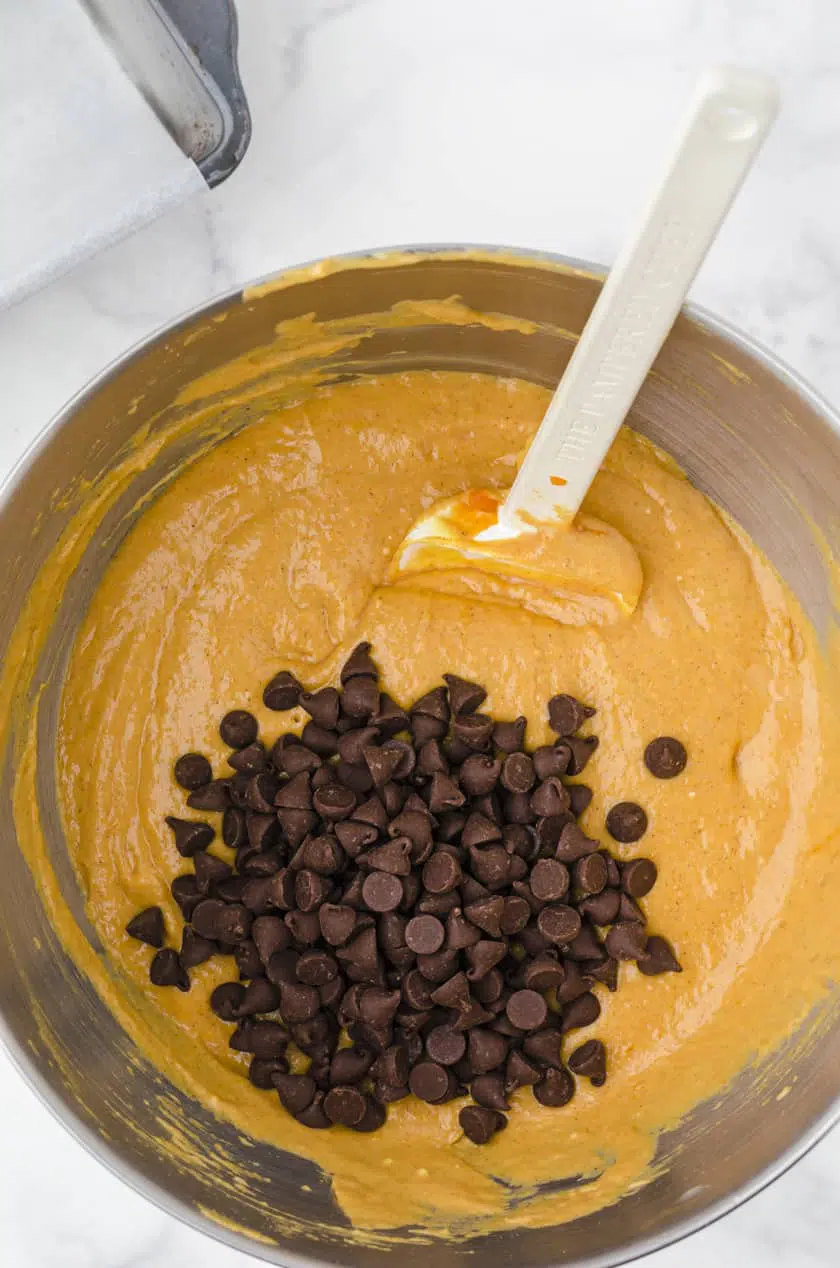 Chocolate chips are an optional add in to this pumpkin bread recipe. You can just stir them in by hand.
Step 5: Stir in the chocolate chips.
Step 6: Pour into the prepared baking pan and bake at 375 degrees for 50 minutes.
You'll know the pumpkin bread is baked when a toothpick inserted in the center comes out clean.
Step 7: Let cool in pan on a wire baking rack for 10 minutes before removing bread from the pan.
Once completely cooled, you can finish off the cake by sprinkling on powdered sugar.
Other options for this easy cake mix pumpkin bread
Use a spice cake mix and eliminate the spices.
Don't have a yellow cake mix? That's ok. You can use a white cake mix instead.
Use 1 teaspoon cinnamon instead of pumpkin pie spice.
Mix maple syrup and powdered sugar for a yummy Fall-flavored glaze to spread over the cooled bread.
Add in chopped pecans instead of or along with the chocolate chips.
Sprinkle on a yummy struesal topping before baking.
Drizzle over cream cheese icing once completely cooled.
What is a 15 oz can of pumpkin equal to in Canada (metric mL measurement)?
I'm becoming more and more annoyed that the US and Canada don't have the same sized food products and cans! I'm forever googling size comparisons in metric measurements.
In this case, the cans of pumpkin puree I found in my store were 398 mL, or 14 oz. Since it was just shy of the 15 oz. can that most recipes called for, I used it instead, and it worked out fine.
What size of loaf pan should I use?
The standard loaf pan size is 8 1/2 by 4 1/2 by 2 1/2. My loaf pan is a bit smaller than that. I noticed when I poured the batter in that it came almost right to the top. (Refer to the picture above.)
Although it baked fine, it did run over the pan on one side!!
So, learn from me. Use a standard sized pan for the best results.
How to store pumpkin bread
Pumpkin bread can be stored in an airtight container on a countertop for up to 2 days. However, I would tend to store it in my refrigerator instead.
It also freezes beautifully. To freeze pumpkin bread, place it in an airtight container or wrap it completely with plastic wrap. Place in the freezer and it will keep for up to 3 months.
You might also like these quick bread recipes:
And, this pumpkin soup is perfect for Fall, too!
If you're looking for other easy recipes using cake mix, check out these 4 ingredient cake mix donuts!
Go check out Shirley's Fall pumpkin recipe today!
My friend Shirley from Intelligent Domestications are doing a Fall blog series together for the next 7 days. So head on over to her site to see the amazing pumpkin banana bread recipe she's sharing today!
Don't miss out on a THING!!
Want to be notified of new posts and get more recipes and ideas for your home?
Just click here or the button below to join today!