How to Frost Cupcakes (the easy way!) – with a Video Tutorial
Learn how to frost cupcakes like a pro following these easy steps for using a piping bag for frosting.
I developed an aversion to frosting anything cakelike when I tried to make an "easy" monster truck cut up cake for my son.
I worked so hard on that crazy thing, but had nothing but trouble.
The cake peeled up with the frosting, it didn't sit level, and looked absolutely ridiculous on the platter with its donut wheels.
"It's ok, Mommy," my little 5 year old son told me, "it just looks like it's already been in a wreck!" (Bless his sweet, little heart.)
The good news is, thanks to my new job as a food photographer, I've learned a whole lot of tips and tricks in the cake frosting department.
Not only have I tackled frosting cakes and cupcakes for photoshoots, I can now say that I actually like it!;)
Here is what I've learned for how to frost cupcakes the easy way – (no wrecks involved!;). In fact, they'll actually turn out to be beautiful cupcakes! With the right tools and a little practice, you'll soon find yourself wanting to make them for any special occasion, too.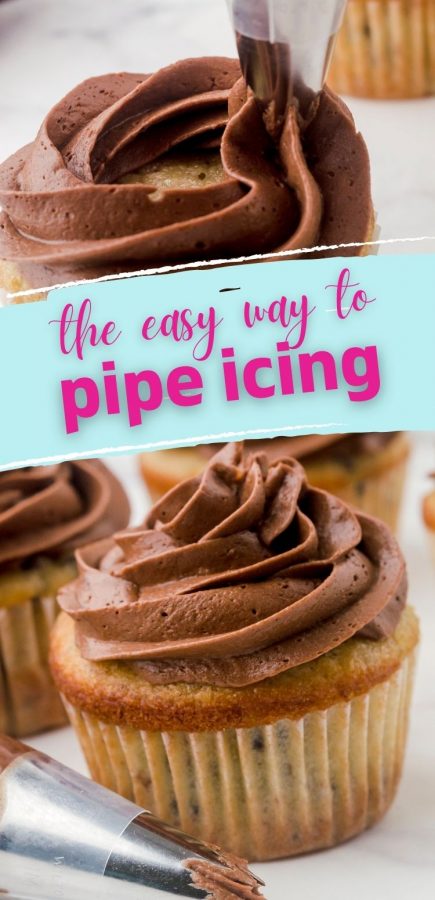 How to Frost Cupcakes the Easy Way!
Supplies/ tools needed for icing cupcakes
Disclosure policy: this post contains affiliate links for your shopping conveniece.
Whether you are working on frosting a cake or cupcakes, and you'd rather not pipe on the frosting, I highly recommend a straight icing spatula. Some people prefer the offset cake decorating spatulas, but I find I reach for my small straight spatula the most often. It helps spread the frosting on so much more precisely than just a butter knife.
When I work with cupcakes, though, I've found that piping on the frosting with a piping bag is actually quicker and easier than spreading with a spatula, and it looks amazing, too!
Here are the simple tools you'll need for piping frosting on cupcakes:
Or, you can do what I did, and buy a lovely cupcake decorating kit from Wilton. (It is a very good value, and I love Wilton tips!)
Start with a good frosting that's easy to work with
One of the biggest keys to beautiful frosted cupcake is the icing that you use. The consisitency of buttercream frosting very important.
If the frosting is too thick, it won't flow out of the icing bag easily and will make it hard to get a proper design. On the other extreme, thin icing will become runny and lose its shape when at room temperature.
This homemade chocolate buttercream icing (on this most amazing banana chocolate cupcake recipe) that I used in these photos was the perfect cupcake frosting to work with. Not only was it the perfect consistency, it tasted amazing, too!
If you're looking for a light colored frosting, this lemon frosting looks melt-in-your-mouth amazing!
Step by step tutorial for how to frost cupcakes with a piping bag
Since I'm a visual learner, I've put together a video to walk you through the easy tutorial of frosting cupcakes with a piping bag. You can watch it here or on YouTube, or refer to the written steps below it.
Time stamps for video:
Tips for how to frost cupcakes with a knife-18 seconds
Recommended tools-40 seconds
How to put nozzle in piping bag-55 seconds
How to fill a piping bag-1:16
How to pipe cupcake-1:38
How to pipe cupcake (with an easy swirl)-2:08
Put nozzle (pastry tip) into the piping bag and fill it with frosting.
Cut the end tip off the disposible pastry bag, and slide the piping tip of your choice down throught the hole until it is sitting snugly in the bottom of the piping bag.
Fill the piping bag with a generous amount of frosting.
**Tip: I've found the easiest way to fill a pastry bag is to stand it up inside a tall cup and fold the top edge of the pastry bag over the top of the cup. Fill up the piping bag with icing using a spatula, remove it from the cup, and push the icing down towards the tip until it just starts to come out the bottom. Twist the bag tightly right above the level of the icing.
Use your dominant hand to squeeze out the icing and your other hand to guide it. Hold the piping bag perfectly straight up at the 3 o'clock position, and start on the outside edge of the top of the cupcake. Gently squeeze the icing out and move the icing in a circle around the cupcake.
As it flows on to the cupcake, move the bag around clockwise on the cupcake in decreasing sized circles ending in the center of the cupcake. Then, lift the frosting tip straight up and off the top of the frosting to form a nice classic swirl.
Creative ways to decorate the top of cupcakes
Once you have the frosting on the cupcakes, there are many different ways to add some more decorations if you choose. You can use edible decor to indicate the flavors of the cupcake. Here are some examples:
mini chocolate chips
banana slices
strawberries
raspberries
chocolate curls
coconut
crushed nuts
Or you can use colored sugars, sprinkles, or sugar pearls to add a sparkly finish.
I hope this helps as you begin your journey to cupcake decorating. Enjoy!
More Baking & Cooking Tips
For more recipes, crafts & ideas for your home all year round, become a VIP!
Become a VIP newsletter subscriber and get instant access to the library of free printables (including wall art, gift tags, and more!). Click here or the button below to join today.