DIY Farmhouse Christmas Decor | Wood Block Gift
In this article: This DIY farmhouse Christmas decor project is simple and quick. Make this wood block gift with metal ribbon as a centerpiece or accent piece on farmhouse shelves.
After being inspired in the Christmas aisles of Hobby Lobby, I decided to craft up some farmhouse style accents for our farmhouse style shelves. The burlap wrapped gift was the first project. As I was finishing it up, I got the idea for this one. Why not try to make a gift accent out of wood? Is there anything more farmhouse style than that??
It turned out to be a super quick and easy project that is very budget friendly. In fact, you may have the supplies already sitting out in your garage…;)
Related DIY decor posts: Stenciled Antler Sign; Painted Noel Wreath; Antique Book Page Garland
DIY Farmhouse Christmas Decor | Wood Block Gift
Supplies needed:
2 pieces of 2 x 4 cut at 3 inches
wood stain (I used Minwax wood stain in Early American)
foam brush
rag
wood glue
wood clamp
aluminum tape
faux greenery
accesories like pine cones or jingle bells
Stain all sides of the wood except one flat side of each block.
I apply stain with a foam brush and immediately wipe off with a rag. Stain all sides except leave one flat side unstained. Unstained wood adheres better than stained wood, so you'll be gluing on the unstained area. (See next step.)
Glue 2 blocks together
Using wood glue, apply glue on the unstained portion of one block and press the two together, making sure all sides are even and flat together.
Clamp together and let dry
This is the most time consuming part of the project! I just let the blocks dry overnight (well, actually, for about 5 days…) and then went on to the other steps when I had time to get back at it.
Cut 2 pieces of aluminum tape to wrap under and around the block.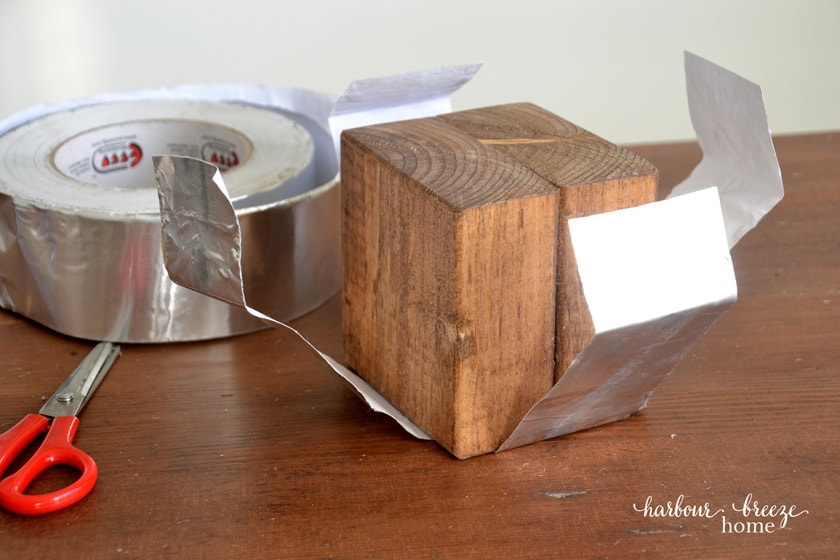 Peel off backing and adhere
Seriously, this aluminum tape product was a complete surprise to discover and so easy to use. When I was telling my husband I wanted to create a wooden gift with a galvanized metal looking ribbon, he knew just what to use. The bonus was that we already had some in our son's room! He had purchased it to repair something on his car…
Aluminum tape can be found in the car repairs section of a hardware store (who knew?), and it really does look like metal when it is adhered.
Place a bundle of silver tinsel as "filler" on the top
I happened to discover a dollar store silver wreath in my thrift store pile as I began this project. I wanted something to form a "bed" to grap the greenery I wanted to adhere, so I bunched up some squiggly tinsel from the wreath and glued it on.
Embellish with faux greenery and accents
Small bits of faux greenery were glued into the tinsel bed and topped with a pine cone.
And there it is! A super quick and budget friendly farmhouse style decor item for your home.
Additional Ideas:
For a different look, use plaid flannel or cotton strips of fabric instead of the aluminum tape.
Make miniature versions of these as placecard holders for your holiday table.
For more recipes, crafts & ideas for your home all year round, become a VIP!
Become a VIP newsletter subscriber and get instant access to the library of free printables (including wall art, gift tags, and more!). Click here or the button below to join today.