One of the challenges of living "in between" is not knowing what you'll need or have room for in the next house. After getting some order in the storage room, I still had some things in the shed to think about. They were larger items that I've held on to in hopes of diy-ing them and using them someday. I decided to keep some, make them pretty, and then if there isn't room for them in the next house, I'll sell them.
Today's project was the first on my make-it-over list.
Tucked away was this beauty ~ a vintage metal cart.
She had survived multiple purging escapades despite her very rusty shelves and crazy rubber covered legs.
Common sense whispered gently in my ear years ago that I should just get rid of it. But my heart just couldn't let it go.
You see, it was my mom's. I remember it sitting proudly in the dining room at the farm perched under the windows and holding the latest plants Mom was trying desperately to keep alive. I seem to recall that at one time it also ended up in the kitchen with yellow daisy ensconced contact paper…
I've always dreamed of someday restoring it to it's former glory and turning it into a "party cart".
That someday finally arrived!
After pondering it for so many years, it's funny to discover that it didn't take long at all. Why, oh, why didn't I do this before?
It was simple to dismantle the shelves from the handles by just unscrewing the screws.
Then I laid each shelf on the workbench and sanded off the rust with the random orbital sander.
I read the key to spray painting over rusty metal is to sand off all the rust first. For some reason I was really scared about this step. But, it ended up being quick and painless.  The key is to get all the bumpy and rough spots off the metal and make sure it's perfectly smooth with no loose paint.
Once they were all sanded, I laid them out on my outside spraying station ~ a tarp with boxes!:)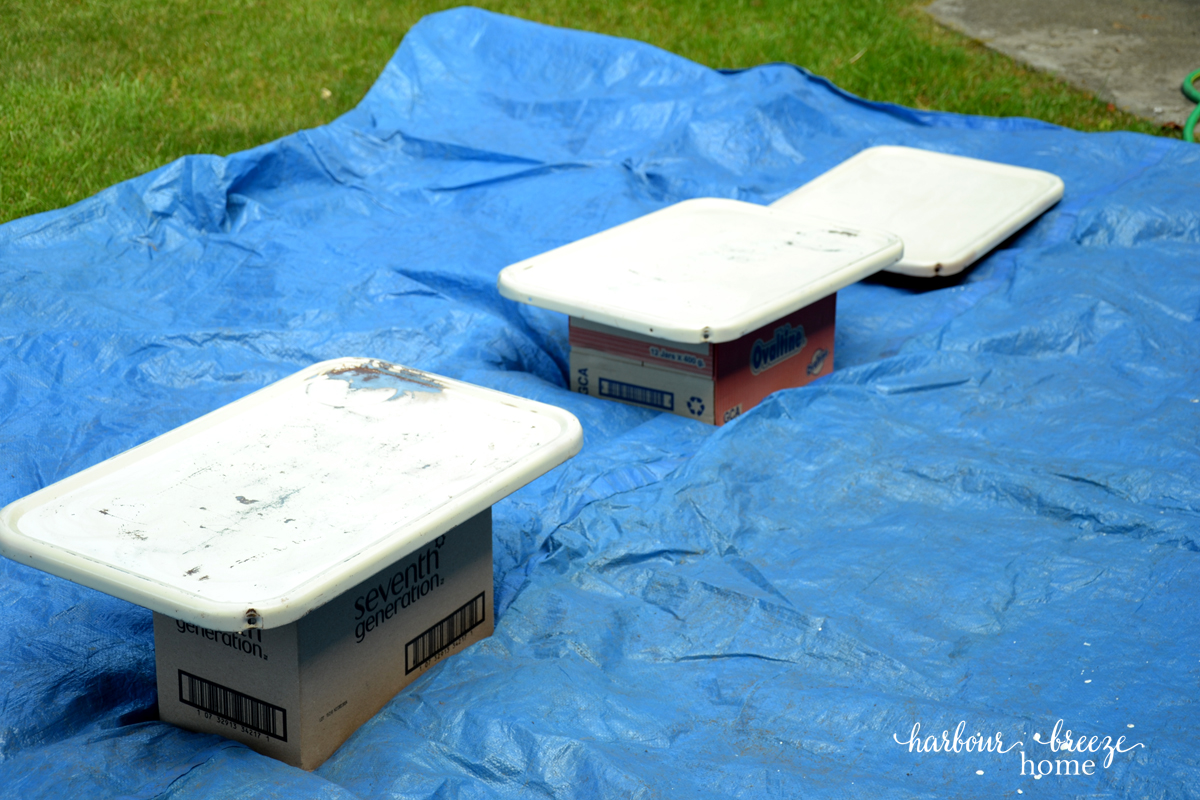 Following the directions, I first primed the pieces with a few thin coats of spray primer.  The sanded off spots showed through the primer, but since the primer's job is to just help the top coat stick better, I didn't fuss about that.
Then the fun part began! Using white satin spray paint, I sprayed on thin layers of paint ~ waiting a few minutes (about 8) in between coats. Little by little it covered up nicely until it was all pretty and white.
I washed the chrome handles with baking soda and vinegar and then re-assembled it all back together again once it dried overnight. Then it was time to get it all decked out for its new life as a "party cart"!
What's a party cart, you ask?
Well, it's a cart that helps you when you're entertaining guests.
In the summer time it can be wheeled out to your deck when you're having a barbecue and hold all the cold drinks ~
Like some fruit infused ice water and a bucket of ice with cans of pop.
You can add pretty flowers,
and put whatever on in that might save you from making a 100 trips back into the kitchen ~ things like silverware in metal buckets or napkins held down from the breeze by a cute enamelware bowl.
Then when you're finished with it, you can wheel it back into your house and it can hold whatever floats your boat ~ like perhaps some houseplants that you're trying desperately to keep alive!:)
In the winter time, I've seen these made into really cute hot drink carts, too ~ think of hot chocolate, coffee and tea.
I can't wait to put this little party cart to use.:) It's part of a whole makeover of our deck here…but we'll talk about that later.
What are some of your summer entertaining tips? Do you have a party cart, too?