In this article: A step by step guide for a painted dresser makeover. Learn the tools and techniques for a great end result.
It's no secret. I have a thing for dressers.
Of all the furniture in our homes, I think the humble dresser works the hardest.
I have one in nearly every room of the house.
Since we've moved to a smaller home, I've had to make some agonizing decisions and part with some of my favorite dressers. They just didn't fit.
But, this one made it into the house and stayed.
I loved how its drawers were built so sturdy and slid in and out so well.
And, I loved its story. It was built by hand many years ago and pre-owned by a special couple in our lives.
However, it didn't start all white with pretty glass handles. Instead, it looked like this:
(I can't believe I forgot to take a true "before" picture before I started painting, but I remembered just after I started putting on the primer.)
This project was one that I worked at step by step and made design decisions along the way. I did a Facebook Live during the steps, so if you'd like further information (and stories!), click on the videos below.
Here are the steps to this Painted Dresser Makeover:
Prime dresser with one coat of Zinnser Bullseye Primer (or your favorite kind of really good primer!)
(DIY FAILS & when to prime before painting video below.)
Paint dresser the color of your choice.
(How to choose a type & color of paint video below.)

I used one coat of Sherwin Williams Alabaster paint and 2 coats of Cottage Paint Cloudy White.
Add interest by highlighting the dresser's features.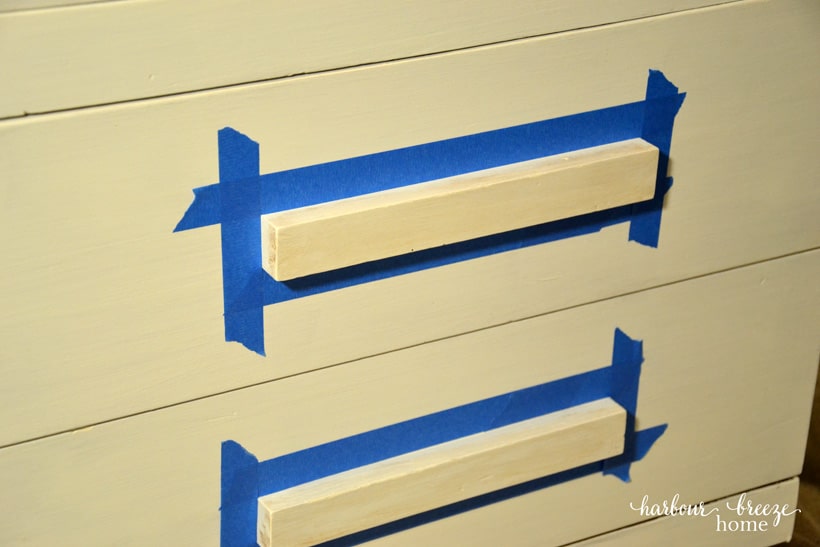 (Colors I used and how I painted the handles to look like driftwood in the video below.)

In this particular case, I used layered acrylic craft paints to draw out the detail of the drawer cutouts and handles.
Seal with Cottage Paints Acrylic Sealer.
(A cheater trick to applying chalk paint wax/sealer in video below.)

This dresser was a fun (and practical!) addition to my temporary Craft Room / Office. Stay tuned for its big reveal!