In this article: Looking for budget friendly travel tips? Here are some pointers on how to visit the Oregon Coast on the cheap!
My husband and I love to travel. Unfortunately, our previous line of work made Summer vacations out of the question.
That all changed last year.
Exactly a year ago today, we loaded ourselves into the car and headed out for our first summer vacation since our honeymoon in 1990.
Destination? The Oregon Coast!
We had more time than money (ha!), so we tried to think of ways to be as budget friendly as possible, without being miserable pinching pennies.
On this anniversary of our trip, I thought it would be fun to dig out the pictures and list some of the things we learned.
How to Visit the Oregon Coast on the Cheap
Map out a Plan
Before we even left our house, we spent some time with a map and determined a basic plan. We aren't detailed vacation planners, but having a rough idea in place is helpful.
We knew we didn't want to rush our time, so we planned our stops near the north end of the coastline. With only 5 nights to stay, we chose to only go as far South as Waldport.
Since we were travelling from Montana (after visiting my sister), our first scenic stop was in Multnomah Falls.
As a long time lover of waterfalls, I enjoyed this stop very much. Despite wildfires being close by and the sky filled with a smokey haze, it was a beautiful site.
Reserve Accommodations
Friends warned us that we should reserve accommodations early as the area is SO BUSY with tourists in the Summer.
We wish we would have heeded their advice earlier.;)
We quickly realized that even old, simple hotels are very pricey.
Air BnB is a cheaper alternative, but by the time we started searching for them, they were very picked over.
We did manage to find a cute little cottage in Tillamook through Air BnB, and we absolutely loved it! The hosts were friendly, but let us have our privacy too. The cabin itself was detached from the house with a wrap around porch. This Air BnB experience was our first, and it was wonderful.
Beyond that one Air BnB stay, though, we found little  nothing remotely in the "budget friendly" area of accommodations.
So, although I am not a camper, much to my husband's surprise, I suggested we pack our tent and save ourselves some super big bucks.
A devout camper friend of ours highly recommended KOA campsites, so we booked 2 locations online a few months before we actually hit the road.
Here was where we stayed:
Air BnB [that's my affiliate link. If you sign up with it, you should get a little money off your first stay. Let me know if it doesn't work for you.]: Tillamook 2 nights ~ Unfortunately the cute little cottage we stayed at is no longer listed as an Air BnB property.
Waldport/ Newport KOA – 2 nights
Lincoln City KOA – 1 night
I'll totally admit that I'm not the keenest camper in the world. But, I'm tellin' you what, the money we saved made it totally worth it. Only having to spend 30$ a night verses over $200 per night (for something not very nice) worked fine for us!;)
Enjoy exploring
The Oregon coastline is really something to see. Beauty is around every bend.
We purposely planned our stays to be 2 nights in one place so we had time to leisurely explore the areas.
If you are looking for cost saving activities, exploring trails and pulling over on scenic outlooks don't cost a penny!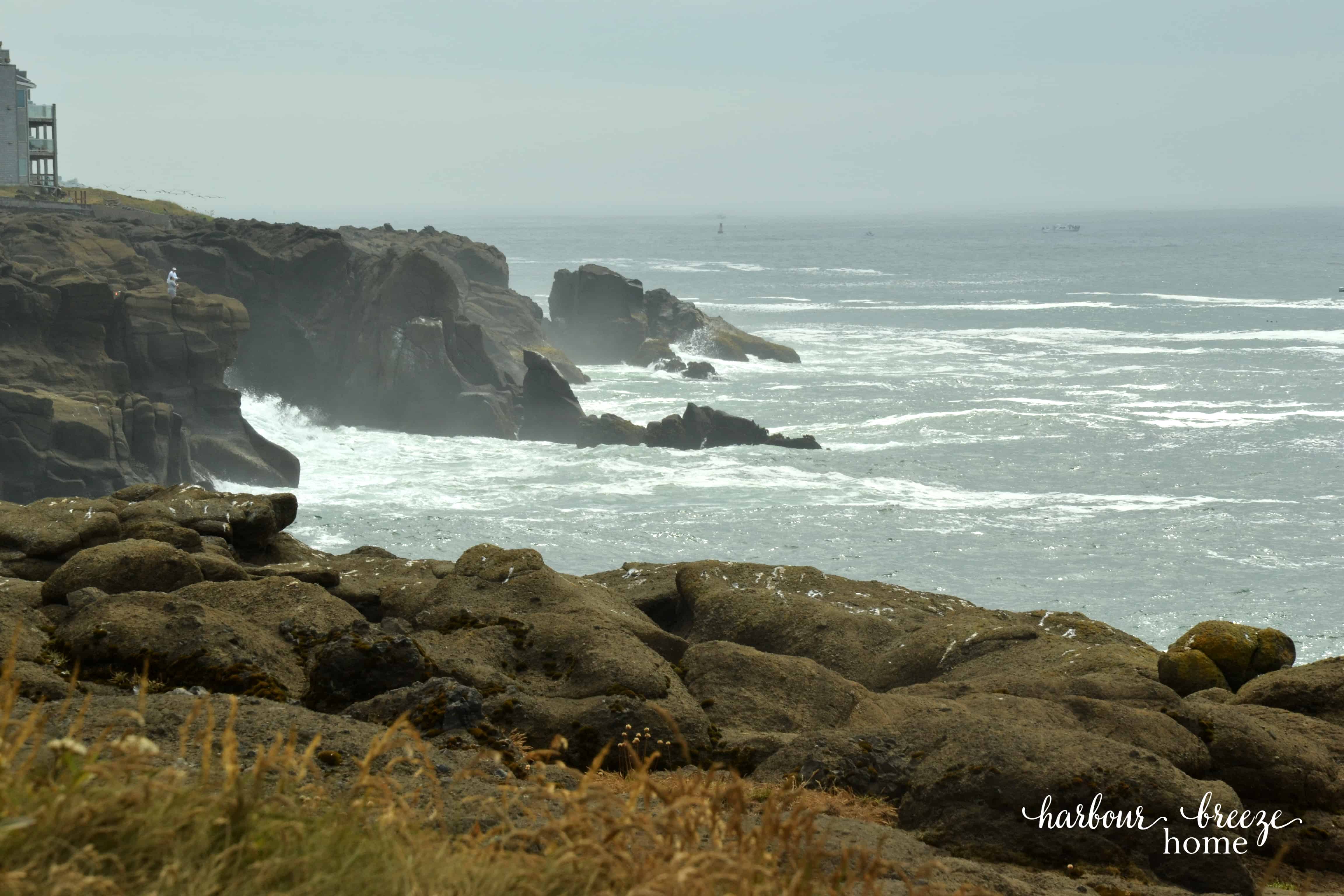 In fact, some of our favorite memories were stopping to see what was the scenic lookouts were all about!
In fact, at this stop, we watched a whale feeding below for quite some time…
We enjoyed sauntering through little towns and beaches…
…and visiting iconic places we'd only seen pictures of.
Tour A Lighthouse
Lighthouses dot the edge of the coastline. We chose to take a tour of the Yaquina Head Lighthouse.
It was fascinating!
A tour guide explained what the life of a lighthouse keeper used to look like. Then she led us up the stairs to the top.
I admit, those backless stairs and treads with holes freaked me out a bit. But, I made it almost all the way to the top (despite my terrible fear of heights…).
Although the wirefires of the summer left a haze in the sky nearly the whole time we were on the coast, we were glad to see little glimpses of blue every now and then.
Take Pictures
The Oregon Coast is a photographer's dream. If you already own a camera (or iPhone), practicing new skills on beautiful scenery won't cost you a dime.
And- bonus!- you just might end up with a photo you'd like to enlarge for your own art!
Strategically Plan Meal Times
Since we live in a location that gets a ton of Summer tourists, we've learned a budget saving trick in the meal department:
Eat in the nice restaurants at lunch time!
The lunch menu is less expensive, and yet you get the beautiful atmosphere of  high end restaurants.
We dined at the Wayfarer Restaurant in Canon Beach for my birthday lunch. Our table looked out over the beach and Haystack Rock. It was beautiful and delicious! We also enjoyed lunch with a view at Georgie's Beachside Grill in Newport.
Of course, in between those delicious lunches and simple suppers (like take out pizza or subway sandwiches), we were always on the hunt for cute and quaint coffee shops.
Even though we like to be careful with our money, eating out is one of our favorite parts of vacation.
We did try buying lunch items in the grocery store one day, but discovered we ended up paying as much as we would have at a fast food or sandwich place. So, we ditched that idea for the rest of the trip.
A Few More Tips
Be sure to pack a sweater and jacket. Those ocean breezes are really chilly on the Oregon beaches!
We weren't aware that it is against the law to pump your own gas in Oregon. We just thought the gas station attendants were "old fashioned and friendly"… ha ha!:)
Be aware of the restroom situation. I've never traveled anywhere else where I've found it so difficult to find public restrooms! Scope out where the nearest restroom is well in advance of when you actually need to use it.
If we ever go again (and wed like to!) we'd spend some time in Astoria (we just drove through it) and Canon Beach. Those are two places we'd like to explore more.
Other Travel Posts:
Hawaii
Georgia