How to Make a Small Flocked Christmas Tree
In this article: Learn how to make a mini flocked Christmas tree with greenery from the Dollar Store!
During a recent trip to our local Dollar Store, I discovered the perfect greenery for mini Christmas trees.
I had been wanting to have a few more mini trees, so I decided to get the supplies and give it a whirl. Making these small flocked Christmas trees was so fun, quick, and simple.
How to Make Mini Flocked Christmas Trees
Disclosure: This post contains affiliate links for your shopping convenience. Harbour Breeze Home is a participant in the Amazon Services LLC Associates Program, an affiliate advertising program designed to provide a means for sites to earn advertising fees by advertising and linking to Amazon.com.
Supplies:
You will need:
Floral foam for artificial flowers
Small buckets
Steak knife
Faux Greenery
Wire Cutters
Floral Wire
Snow Spray (I used something similar to this)
Step 1: Cut the floral foam with a steak knife
Since the bucket I was using was wider at the top, I cut it a little wider than the base. Once cut, I firmly pushed the foam into the bucket.
Step 2: Cut the greenery to the height you desire with wire cutters.
The greenery that I used was flat on one side, so I used 2 pieces for each tree. I cut them identical lengths.
Once they were cut, I held them together as one in my hand and slowly and firmly pressed them into the center of the floral foam.
If the hole becomes too big in the process and the tree wobbles, stuff a little paper towel into the hole to make it tight.
Step 4: Wire the 2 greenery pieces together with floral wire.
I cut a small piece of floral wire and tied it around the stems of the greenery to hold them tightly together.
Step 5: Add a tree "skirt"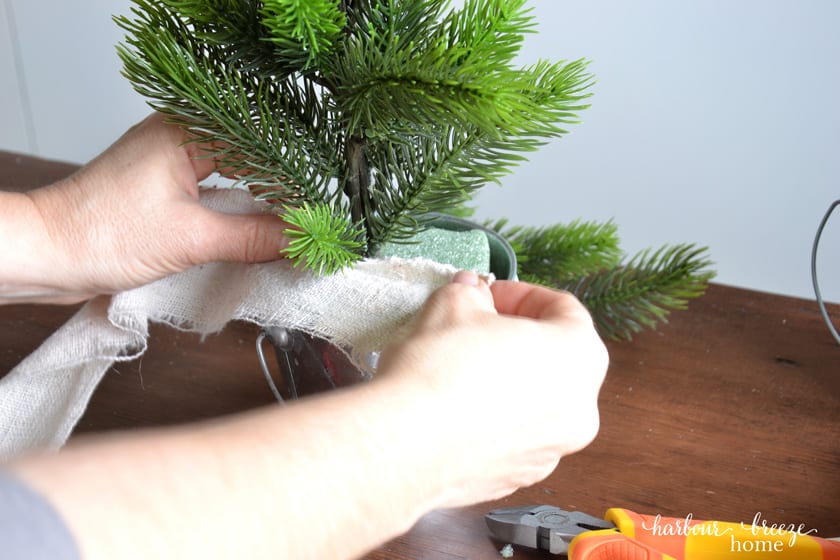 I wrapped around a ripped 2 inch piece of linen (or canvas) to cover the foam and make a little tree skirt.
Step 6: Add flocking
I added the snowy flocking by spraying the branches with Buffalo Snow. While still wet, I pressed into the white snow some buffalo snow flakes. Then, I sprayed again and let it dry.
They make a really fun little winter edition to our Christmas decor!
If you'd like to see this creation made in real time, head over to my Instagram channel and click on the Mini Tree highlight. You'll see my big blooper there!;)
Decor Ideas for these Trees:
Place them on shelves in a gallery wall above a couch.
Layer them at different heights under the Christmas tree.
Place on a bedroom dresser and decorate with small vintage ornaments.
For more DIY Christmas decor ideas, you may want to check out these posts:
Want more Christmas ideas??
Our little Christmas elves can deliver them up with lots of good cheer right to your inbox!
Just sign up by clicking here and you'll get a FREE GIFT of Christmas gift tag printables delivered immediately. Merry Christmas to you today!;)