I've been pondering a makeover for our main bathroom for a long, long time.  I was ready to dive right in.
However, as I plotted and planned, I realized a "little" makeover here was going to require much more than just a can of paint and some fun fabric.  Ideas that seemed so simple at first, would end up leading to some major snag!  So, now ~ almost 2 years later ~ it's still identical to what it was then.
But (hallelujah!)…we now have a plan.
It starts right here:
One of my main goals in this bathroom spiff up is to do something about those awful tiles.  The 70s retro look isn't what I have in mind.  In order to do something about that, I first had to remove all that caulking by the tub.  See it there?
It's kinda hard to miss.  In some places, it's  about 1 inch thick.  As soon as I started cutting it out, I realized it was our bathroom makeover "point of no return".
I'm committed now…
The plan is to start with this wall with the tub:
and then move on to the rest of the teeny tiny room.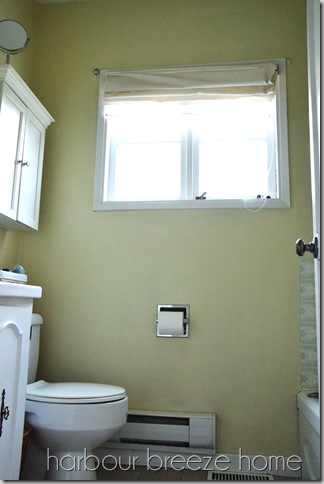 I have big ideas…;)