In this article: Reminiscing about the last time I said goodbye to dad. 
It's Sunday afternoon and I'm sitting here at the dining room table typing away on my laptop.
I have my to do list beside me, and I'm trying desperately to cross some things off it.
After blogging for 8 years, I have a ton of old posts that I'm going through. Some are being updated and freshened up, some are headed to the archives, and some…
…well, some just make me cry!
This is one of those. It doesn't really fit in with my genre of home decor and diy, but I did put in a category of "faith and family", so this one will reside there.;)
It brought back such great memories of my dad, and although 23 years have gone by since he went to Heaven, I still think of him so often.
Now that I'm older and
have lost my mom, too
, I find that heaven seems ever so much closer than it did years ago.
How grateful I am for my family and the legacy of faith they gave me.  If you have lost a loved one too, my heart goes out to you. Big hugs from me to you.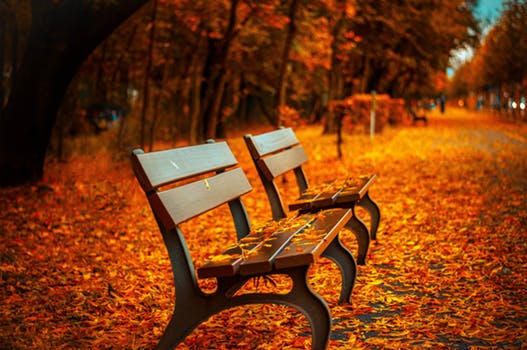 ***
(Originally written October, 2010)
Grief is triggered at unexpected times
I have a confession to make…My mind was wandering during this morning's church service. It all started with the song "How Great Thou Art"…
"…When Christ shall come
with shouts of acclamation
and take me home –
what joy shall fill my heart.
Then I shall bow
in humble adoration
and there proclaim,
my God, How Great Thou Art!"
As I sing those words, I always think of Heaven…and picture my Heavenly Father…and my earthly one, too.
Grief brings good memories to mind
I have a mountain of memories of my Dad:
He came to the breakfast table every morning "singing" one line of "When it's Springtime in the Rockies". I say "singing" very loosely here, as Dad was completely tone deaf. I have no idea what the significance of that song was, but it was a cheery way to start the day – no matter what season it was in the Rockies!
Dad helped me to understand what "the fear of the Lord" meant. Although a calm and patient man by nature, when he started to chew the side of his tongue, I knew the patience was running thin. I knew I needed to change my behaviour or there'd be consequences!
Dad was a man of few words, but the words he said were often wise. He had an amazing ability to summarize a complex situation in a neat, little phrase.
When Dad told a funny story, he'd laugh so hard he could hardly get the words out.
Every moning he'd turn on the local radio station to hear the "Farm Report"…but what he really got a kick out of was the words to those crazy country songs!
Grief remembers the pain of the last goodbye ~ always
15 years ago this November, my Mom and Dad were planning a trip to visit us here in Canada. But, instead of a ride to the airport, my dad rode by ambulance to the nearest hospital. He had been battling a neurological disease for 11 years, and the diagnosis of "pneumonia" was life-threatening in his condition.
What followed was a series of phone calls back and forth with my siblings. "Should we come?" It was a hard decision. He had had close calls in the years previous, but had managed to make it through.
One evening we got the news that Dad's condition seemed to be improving. We went to bed that night relieved and thinking he was heading towards recovery.
When our phone rang in the dead of night, I didn't even need to answer it to know what it would be. The doctor had described my dad's last breaths so graciously to my mom. He said, "Jim's heart stopped beating. We'd get it started and it would stop again. It was if he had been to a better place and wanted to stay there."
Ahh…Heaven!
I know there are no "Do-Overs" in life, but if there were, I would want to get to that hospital on time. I would tell my dad thank you. And , "I love you". And I would kiss his weather-worn cheek.
I know in the big scheme of things the outcome wouldn't be different if I had gotten there on time. But I wish I could have honored him in that way.
Grief can make a family bond stronger
I have some very vivid memories of the time I spent with my family before and after Dad's funeral. But, by far the most precious one was when we all gathered together at the funeral hall for the "viewing". We had all gone to the casket to say our good-byes and we sat down to a few silent, awkward moments. I'll never forget what happened next. My brother started singing,
"When peace like a river…"
and one-by-one we all joined him…
"attendeth my way.
When sorrows like sea-billows roll.
Whatever my lot
Thou hast taught me to say.
It is well.
It is well with my soul."
Grief can make you more thankful
The greatest gift my dad ever gave me was my heritage of faith. My parents and grandparents all had a close relationship with Jesus -the Saviour of our souls. And because of their desire to teach us kids the Way of the Lord, we were able to sing that song during a time of deep sorrow. Oh…the hope of Heaven is indescribable!
Grief Changes You (Don't fight it!)
As the years go by, I've discovered a fascinating phenomenon. As the anniversary of Dad's death approaches, I think of him much more. It's as if the grief is sort of "fresh" again. I didn't understand at first what was going on. But a friend of mine explained that that is a normal part of the grieving process. "The body never forgets", she said.
I've learned to accept this as a normal part of "me"…and to rejoice that I have so many great memories to hold on to.
So, as I sit in church and
sing about Heaven

or hear about my Heavenly Father

or watch Grandpas with their grandkids
I'll probably tear up a little…or alot…
or if the worship leader decides to sing "It is Well With my Soul"…
I'll cry buckets…buckets and buckets.
But, I'm fine really. It's just part of "me". I joke with those sitting by me that I have 2 options:
I'm going to cry, or

I'm going to throw up on you.
They, without fail, choose the tears!:)
Here's my dad at about age 18 on his Navy ship during the Korean War.
And here he is holding our oldest son. He was 2 when Dad passed away.
 I asked him recently if he remembered Grandpa Jim.
"Oh, yes", he said.
"I don't remember much. Just that he loved kids!" 🙂