Urban Patio Styling ~ Before & In Process
I fell in love with the outdoor space when we were shopping for our new home. It was small enough to easily take care of, but big enough to use and enjoy.
However, since our winter was long and rainy and gray, our poor little outdoor space was sadly neglected.
Here's what it looked like just a few days ago:
It had become a spot that collected the odds & ends ~ that occasionally grilled a few burgers.:)
The flower bed was just a mess of dead weeds…
So, on the first day of sunshine, I headed out to give it a little love.
I first cleaned out the flower bed. Then, I added some pink wave petunias and snapdragons. (Grow, babies, grow!). The two boxwood shrubs were transplanted from their former planter homes, so I could use them for other things!
I swept the deck, gave the lawn chairs a bath, and planted plants in their new homes.
After sitting in the sunshine and sipping afternoon coffee in the dappled sunlight, I got an idea.
Down to the store I went. I hunted and hunted until I found a cheap area rug (on sale at the local Superstore) in colors I liked. Laying it down on the deck as the sun was setting seemed to make the project come to life!
It adds some bright and cheery color and grounds the space a bit. I'm still cooking up some more fun ideas for this space, but for now, it's the perfect place to sit and soak up some sun!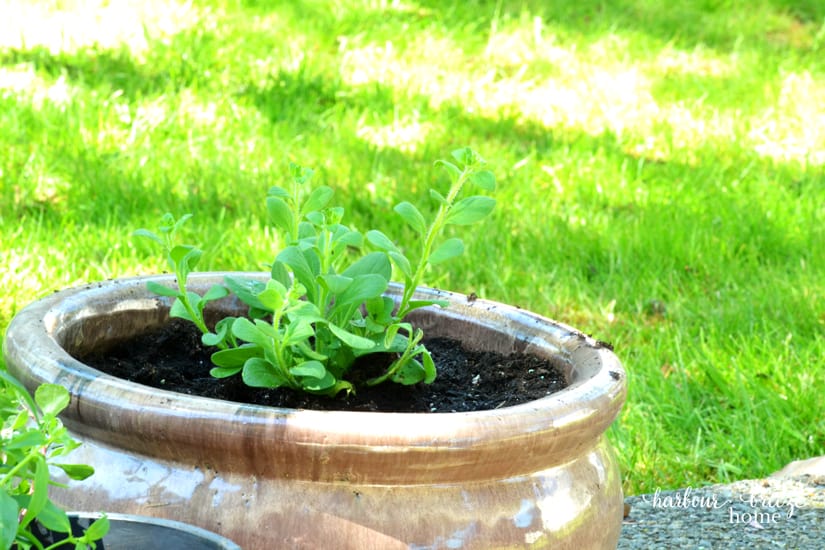 Linking up: Outdoor Extravaganza Wrapup