Quick & Easy Homemade Ground Turkey Sloppy Joes
Turn your sloppy joes recipe into a healthier version without losing big flavor with this quick & easy recipe – Sloppy Joes with ground turkey.
My mom had the best sloppy joe recipe.
I made it so often when I was in high school, that I don't even need a recipe for it anymore.
A few years ago, I decided to try to develop healthier habits, and discovered Dr. Oz's Sloppy Jims recipe – which is basically homemade sloppy joes with ground turkey instead of beef.
I combined my mom's amazing sloppy joe recipe with Dr. Oz's healthier version and came up with this recipe. I've been making it ever since.
Homemade Turkey Sloppy Joes Recipe
Ingredients you'll need:
1 pound ground turkey

1/2 cup diced onion

1 large red pepper, diced

1 1/4 cup ketchup

2 Tbsp. mustard

1 Tbsp. vinegar

1 Tbsp. Worcestershire sauce

1 Tbsp. brown sugar

salt and pepper

Step 1: In a large frying pan, saute the pepper and onion until the onion is translucent and pepper is tender-crisp.
Step 2: Add ground turkey and cook until turkey is browned and cooked through.
Step 3: Add in all the other ingredients. Stir and cook until heated through.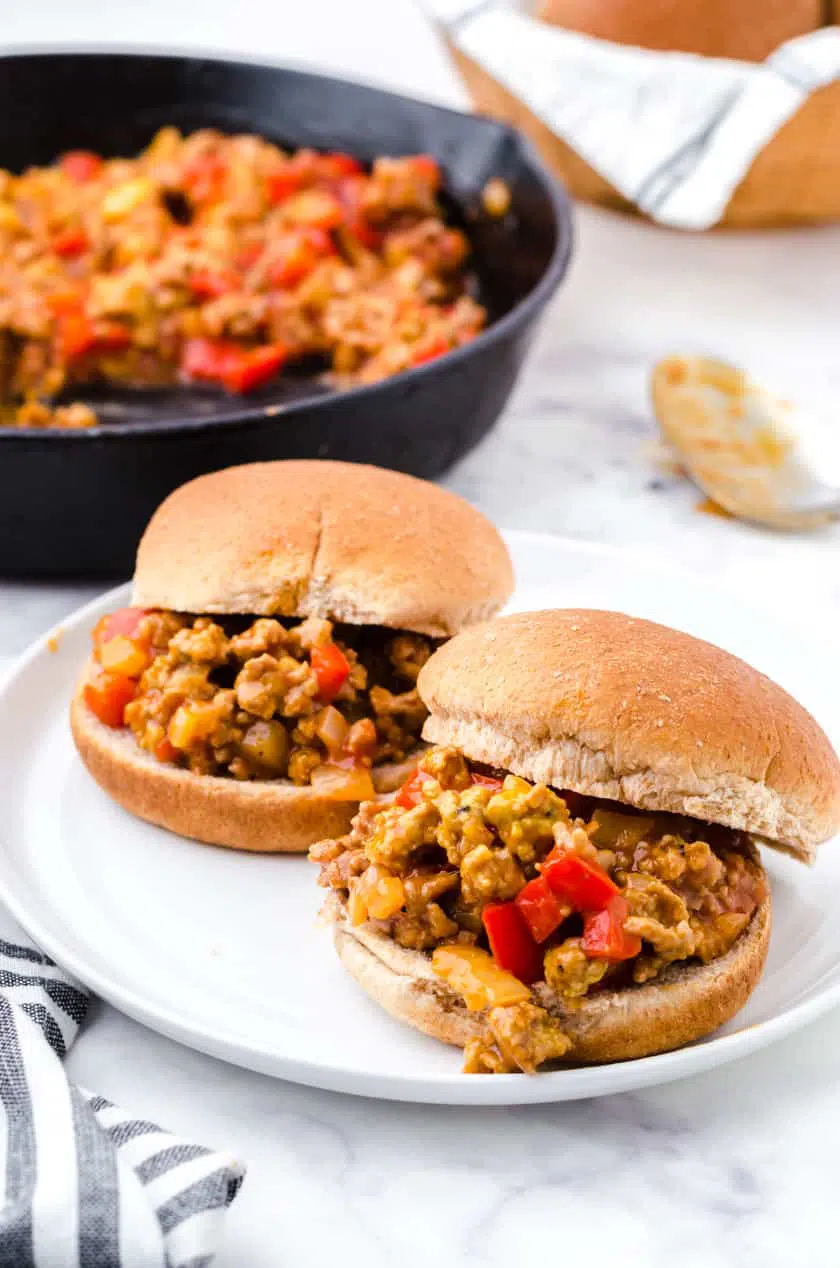 How to serve turkey sloppy joes.
You can serve these turkey sloppy joes just like traditional sloppy joes – on a bun like a sandwich!
Things that go well with them are potato chips, oven french fries, pickles, and cheese slices.
Or, for a healthier version, you can skip the bun and serve them over roasted sweet potatoes.
We add a side spinach salad, and it makes the most delicious quick and easy meal!
For other variations of these Turkey Sloppy Joes:
Add a can of drained and rinsed black beans to make the recipe serve more people. Just add a 1/4 cup more of ketchup to the recipe.
Agave syrup can be used instead of sugar.
Dijon mustard can be used in place of yellow mustard.
For more recipes and ideas for your home:
Be sure to join the VIP newsletter list! As a valued VIP member, you will get exclusive access to the entire library of free printables – including wall art, cards, organization lists, menu planning set, and more.
Click here or the button below to join today.

And if you want to see more real life behind the scenes action, be sure to come join me on my @harbourbreeze Instagram Channel!
Comfort Food Dinner Ideas Just for You!
I co-wrote a comfort food recipe e-book set with my friend Shirley from Intelligent Domestications. You'll find 30 Comfort Food Dinner ideas plus a bonus 10 Sweet & Treats recipes.
Click here for all the details.