How to Add Spring to Your Small Living Room: The Canadian Bloggers SPRING Home Tour
*Disclaimer: This post contains affiliate links.
I'm over the moon excited to be a part of the Canadian Bloggers Spring Home Tour hosted by Home Made Lovely and The DIY Mommy this week! If you're joining me for the first time, I'm so glad you stopped by. Welcome!
By introduction, I'm Rita Joy ~ a farmer's daughter from Montana who fell in love with a Canadian at college.
I married that guy :), and this year will mark our 28th anniversary.
We raised our 3 boys while living and working at a year round Christian camp on an island off of Vancouver Island ~ exactly the opposite of where I grew up on the prairies!
2 years ago, our jobs changed and we moved to a nearby town and bought the first house of our own ~ a cute little townhouse. That's where you'll be visiting today.
Come on in!
Moving homes meant downsizing dramatically for us. It was a challenge. We went from having a family room, living room, and dining room to just this:
(You can see our first One Room Challenge makeover here ~ Done just 1 month after we moved in.)
It's still a process figuring out what fits and functions well in our new space.
The longer we live here, though, the more I'm falling in love with it. It was so much fun to add some Spring touches to this small space.
Here are 3 ways I freshened up the Living Room for Spring:
Bookcase Styling
This Billy Bookcase system from Ikea is a lifesaver in our small space. The lower cabinets hide away our office supplies and books, and the top shelves give me a chance to add some personality into the space.
The inspiration for the gold accents came when I discovered a great clearance sale at Homesense. They add a touch of sparkle and shine.
Greenery – both real and faux  – add a nice pop of color and life against the white background.
The mirror with gold "spokes" was also a bargain find at Homesense. It was on a stand with a marble base. Since it was broken and slightly crooked, I removed it from the base and hung it on the wall. (You can see the marble base under the greenery ball in the bookcase above…)
I picked up the over-sized light bulbs at an after Christmas sale, and I've been anxious to find a place to put them. I wrapped a pink pom-pom garland around the wire and used the pom-poms to disguise the picture frame hooks that I hung them with. The cord hides behind the side of the bookcase, and in the evening we can just switch the battery operation on. It works like a charm!
Artwork
Colorful artwork is a wonderful way to add a dramatic pop of color and freshness to a space. This print from Minted used to hang in our bedroom. I switched it around and am loving the aqua, yellow, and pink colors it gives to the Living & Dining Room space.
Remove some furniture
We removed our heavy wooden coffee table and replaced it with 2 sleek little end tables from Superstore.
We just love how they look and function. Since they are lightweight, we can easily pick them up and use them wherever we'd like ~ and it makes for more room to move around in the tight space.
Add Flowers
You can never go wrong with adding flowers to a space. I have a mix of both fake (like the above on the Dining Room buffet) and fresh.
I chose a big batch of pink carnations this time, as they last such a long time.
Thank you so much for visiting me in my little townhouse home today. I'd love it if you stopped by again sometime. You can also find me on Facebook, Instagram, Pinterest, and YouTube.
Have a great day, and Happy Spring!
Don't forget to check out the other homes in the Canadian Bloggers Spring Home Tour. The links are listed below the image. I'm confident that you'll come away with great inspiration and ideas for making your home fresh for Spring.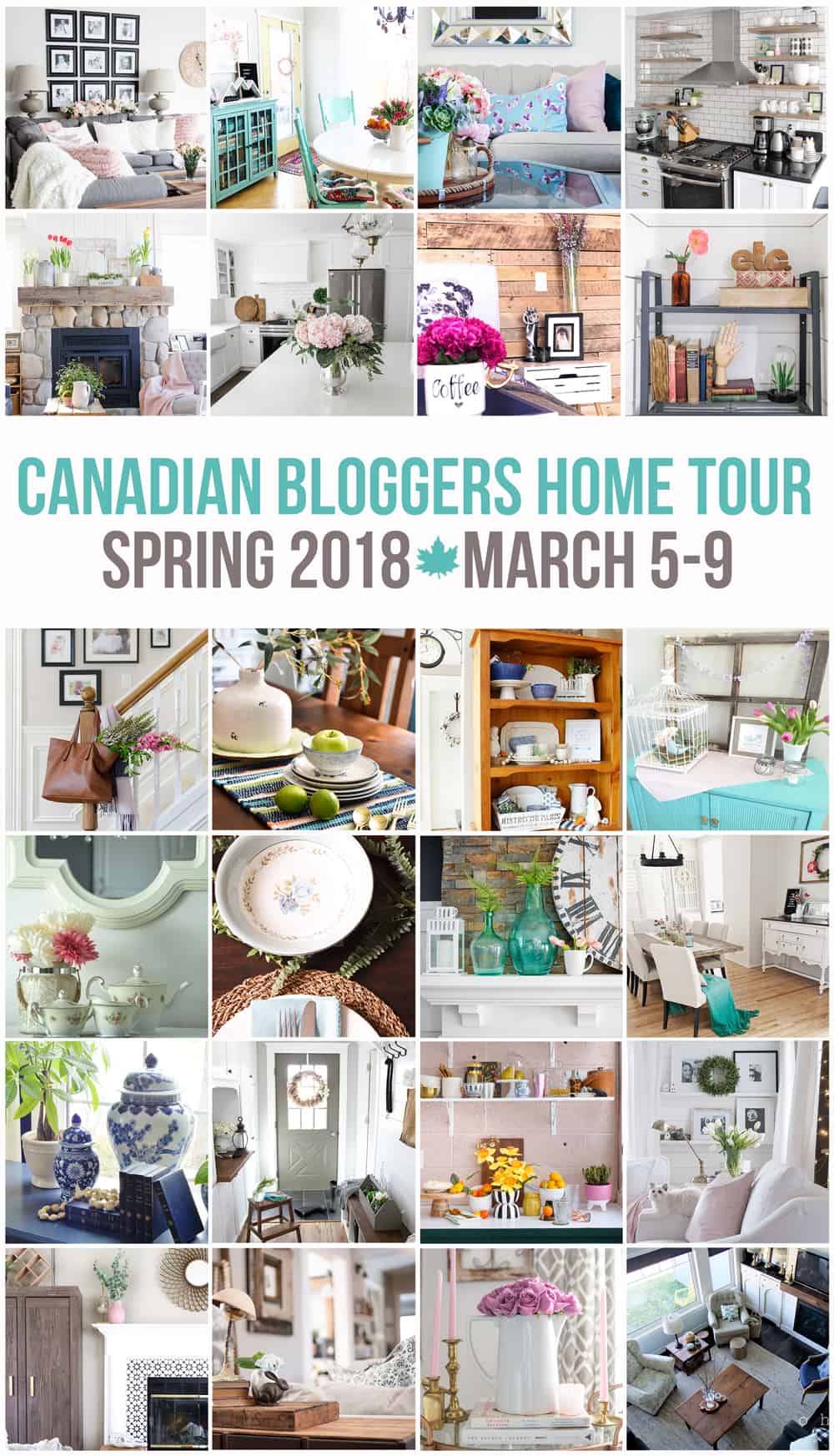 Monday
Tuesday
Wednesday
Thursday
Friday