Fashion for Women over 50: Fun, Fresh Style for Spring!
Freshen up your style for Spring with these affordable ideas for fashion for women over 50.
Spring is just starting to show its cheery face in our neck of the woods, and I can't be happier.
As the weather turns warmer and flowers start to bloom, it's a perfect time to have a fresh start with our style, too!
Sometimes our personal style can seem dull and uninteresting – but, it doesn't have to.
Today I want to share with you 7 ways to freshen up your wardrobe and style – without breaking the bank.
Fun, Fresh Style Ideas Perfect for Spring! – Fashion for Women over 50
Disclosure: This post contains affiliate links for your shopping convenience and as a way to help support this blog.
1. Get your closet ready for a new season
I know this doesn't sound very fresh & fun, but trust me, it is! Cleaning out your closet by purging items you no longer wear or want, and putting the Spring items front and center can make your wardrobe feel fresh and exciting again.
Not only that, it will remind you of the entire stock of clothes you already have and love, and you can build on that.
If you feel overwhelmed with where to start with organizing your closet, here is an easy step by step approach for closet organization.
2. Replace wardrobe staples that have worn out.
Cleaning out your closet may have reminded you that some of your timeless staples need replacing. For instance, I tend to have one pair of favorite jeans that I wear on a regular basis year after year. However, clothing items just don't last forever! Note down items that you love wearing, but are in need of replacing.
For Spring, you may notice that some of your favorite t-shirts are looking a little dingy. Again, take note and shop for pretty new replacements.
SHOP MY CLOSET STAPLES:

3. Try something trendy!
I love to know what the trends are and incorporate a bit of trendy things into my classic mix and match wardrobe. If you're wondering what some of the trends are for this Spring, here's what I've discovered are some trendy fashions for Spring 2021:
Tie-dye – The 60s is back again in tie-dye fashion! You'll see it in stores all over in t-shirts, sweatshirts, sweatpants, and more.
Neck scarves – I love this trend. Cute little neck scarves are being worn tied around the neck, onto bags, or in hair. They add a fun pop of color and style. I put together a whole collection of pretty scarves from Amazon here.
Overalls – Yep! They're back – and I'm wishing I had saved the cute pair of overall shorts I wore for our honeymoon 30 years ago!;)
4. Paint your nails a pretty new color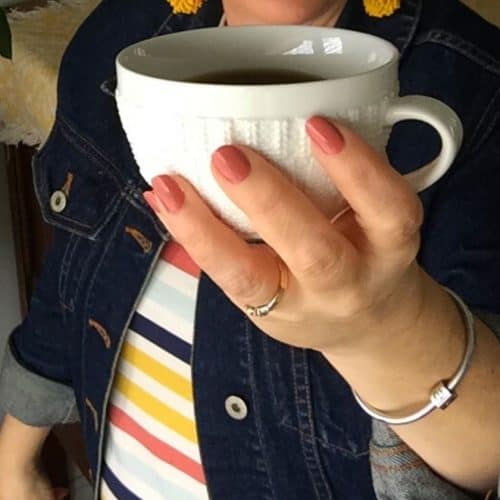 As I've been recovering from surgery, I've found that I enjoy painting my nails every Saturday night. I just might make it a new tradition.
After trying various brands, I've landed on the Essie gel line that I prefer most of all. It is easy to apply, and lasts so nicely all week long. Then, it's easy to remove with simple nail polish remover. I use a base coat and a top coat in addition to the pretty polish color of choice. I've noticed that neutral nails are popular, so I've enjoyed trying out some new colors.
SHOP MY FAVOURITE NAIL POLISH:

5. Perk up your wardrobe with a fun, casual dress
I fell in love with this pretty striped t-shirt dress from Old Navy, so I ordered it. It arrived and I just love it. While the days are still cool, I pair it with a denim jacket or sweater, but in the Summer it will be perfect just with its short sleeves. I'm going to wear it with my favorite sandals.
6. Pick up a fun new lip color
Lip stick or lip gloss isn't that expensive, and it's a great way to add a fresh new color to your Spring style.
SHOP LIP COLORS:

7. Finish off an outfit with fun accessories.
A fun, new pair of earrings , bracelet, or necklace can make an outfit come to life.
SHOP EARRINGS:

For more fashion ideas, you may want to check out these posts:
Join the list so you don't miss a thing!
Become a VIP newsletter subscriber and get all the latest news. As a bonus, all newsletter subscribers get access to an entire free printables library filled with free printable artwork, menu planners & grocery lists, cards, and more.
Click here or the button below to join today.

And if you want to see more real life behind the scenes action, be sure to come join me on my @harbourbreeze Instagram Channel!