Cheater Tricks to Paint a Dresser QUICK!
Freshen up a tired piece of furniture by painting it. Learn simple tricks for how to paint a dresser quick!
Sometimes painting a dresser is a labour of love. It's fussed over and carefully handled and hours and hours are spent making it just right.
Other times, painting a dresser is something on your to do list that you just want to get done and over with!
Such was the case of my last dresser project.
It was a thrift store find from years ago that was already painted and stencilled before. It has no sentimental value and isn't a work of art. However, it's an incredibly practical piece of furniture that currently works hard in our Master Bedroom.
With all our recent moves, it's had lots of bumps and scrapes along the way, and it was just time for it to be freshened up. I was on a mission to get it done! As I worked away, I thought I'd better share with you my favorite:
Supplies you'll need for painting a dresser
Disclosure: This post contains affiliate links for your shopping convenience.
Cheater Tricks for how to Paint a Dresser Quick!
1.Don't bother lugging it through the whole house so you can paint it in the garage.
Just lay a few old towels underneath it and paint it right in the room where it's going to end up.
2.Sand down the whole piece quickly with sanding blocks.
Don't worry about spending a whole lot of time on this. Just rough up the surface so the new coat of paint will stick well.
Sanding tips: Start with the coursest grits of sandpaper first (like 60-80) and work your way down to the finer grits.However, it is imperative that the piece is clean and free of dirt, dust, and grease. Wipe your piece off after sanding with a damp cloth or tack cloth.
3.Choose paint with a built in primer.
If time is a factor, choose paint that doesn't require an additional top coat (or wax) to seal it. For this project, I chose Sherwin Williams satin paint in the color Alabaster. Since I just needed a small amount, I got a sample sized container (which saved money, too!:)).
Update!! Although this dresser painted like a dream with the sample paint from Sherwin Williams, the top ended up staining terribly. I would advise if you use this type of paint that you seal the top well with a clear coat of sealer.
4.Remove the drawers (and the handles) and paint everything except the top.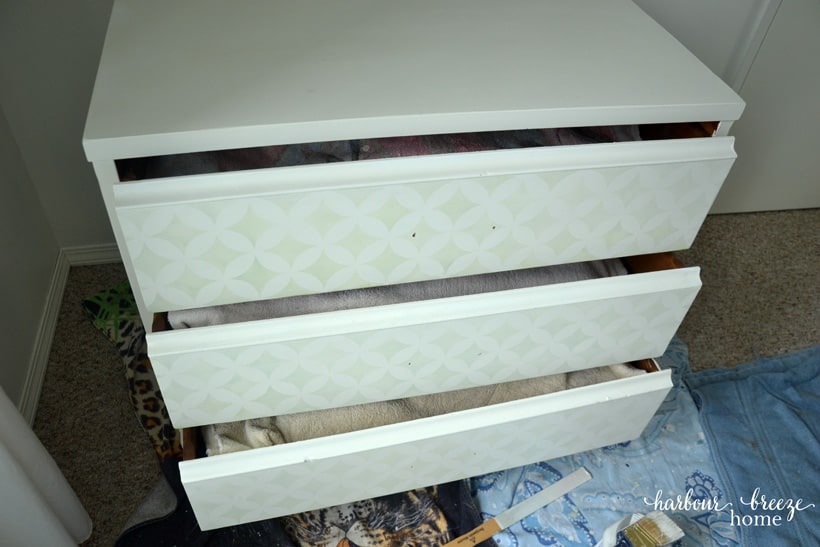 5.Once the frame and sides are painted, place an old towel on the clothes in the dresser (to protect them from drips) and put the drawers back in, staggering them, and paint the fronts of the drawers. Then paint the top last.
Watch for drips, but be sure to put enough paint on that you can draw your brush completely across the board while the paint is still wet.
6.Paint as many coats as needed to cover the dresser well, ensuring the paint dries between coats.
Since the stencilling was quite dark, the drawer fronts took 3 coats.
In between coats, I spray painted the original handles Oil Rubbed Bronze.
After just a few hours, the dresser went from this:
To this!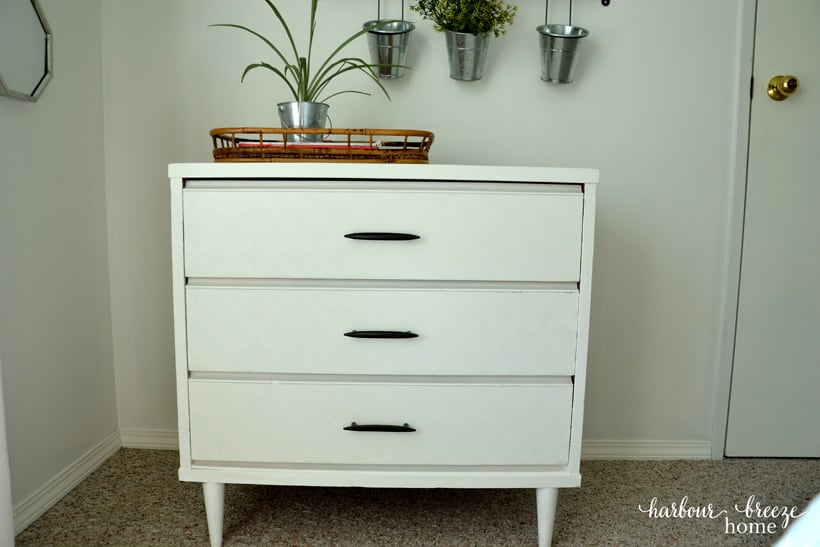 Isn't it handsome?
I did a Facebook Live video during the process, so if you'd like to see the process in action (along with my favorite brush!), here it is:
To see future Facebook live projects, be sure to like the Facebook page here.