6 Ways to Save Money on a Farmhouse Bedroom Makeover
In this article: Wondering how to get a Farmhouse Master Bedroom when money is tight? Here are 6 ways to save money on a farmhouse bedroom makeover.
After weeks of stringing you along every step of the way, I finally revealed our new Modern Farmhouse Master Bedroom a few days ago.
As promised, I'm back today to share all the details in case it might help you for future projects.
I also thought it might be helpful to discuss the budget as well. I know money is always an awkward topic. However, if you think a low budget should prevent you from starting a makeover project ~think again! This room was done on a very low budget (comparably, that is), and we still love it lots.
Here are 6 ways to save money on a Farmhouse Bedroom makeover:
Define a feature wall using paint.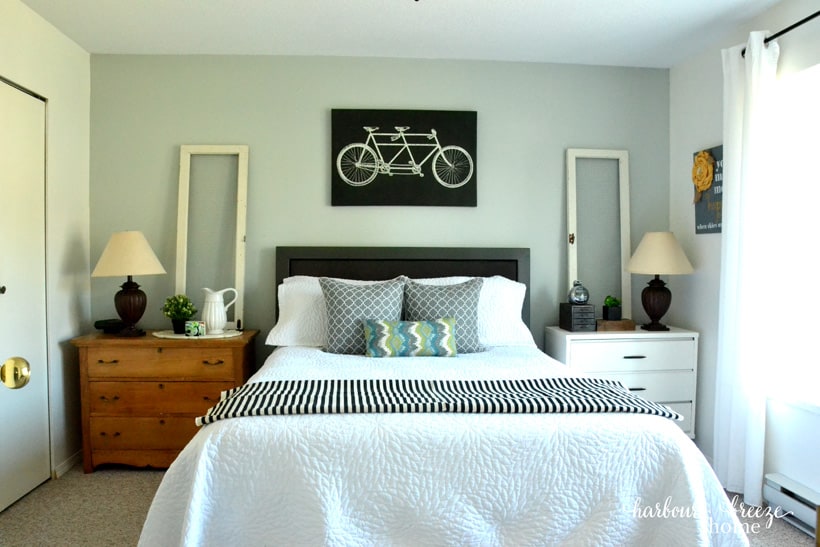 I started out dreaming of an uber cool shiplap wall or jaw dropping wallpaper treatment. I researched the cost and process of both. Although I'm sure there are reasonably priced wallpaper sources out there somewhere, the perfect one I was looking for came with a whopping price of $195 per single roll. Since I would have needed 2 double rolls…Nope! That wasn't happening…
So, plan B came into play:
SOURCE: Sherwin Williams paint in Silver Strand Color –  approx. $50.00 Canadian
(The other walls are painted in Simply White by Benjamin Moore ~ approximately $50)
Creatively use furniture for closet organization
I'm not gonna lie. I'm still dreaming of this closet having a built-in organization system, wallpaper on the back wall, and a sparkly chandelier. What I didn't show you is that I even tried to do a stenciling treatment to mimic wallpaper…but I didn't like it at all. So, instead, it got a fresh coat of paint, some furniture we already owned, and decor from my own stash. It's the perfect solution for now.
SOURCES: Sherwin Williams Silver Strand paint (leftover from the can for our feature wall)
Bird Jewelry Tree ~ Torre & Tagus
Choose what is worth the investment -vs- wasting money on something you don't love.
The throw pillows on the bed are my example for this mistake. I spent lots of time in the fabric store looking for fabric with colors I loved for the jumping off point for the bedroom design. I bought some clearance fabric that I thought would be "good enough", but when I got it home, it just didn't work for me.
In contrast, I walked into the Winners store and immediately fell in love with 2 sets of pillows that were just the colors I was looking for.
I snatched them up, and the room makeover made a huge turn in the right direction!:)
SOURCE: 2 gray trellis pillows by Envogue and 2 small rectangle pillows all found at Winners ~ $50
Purchase sample-sized cans of paint for small projects rather than large ones.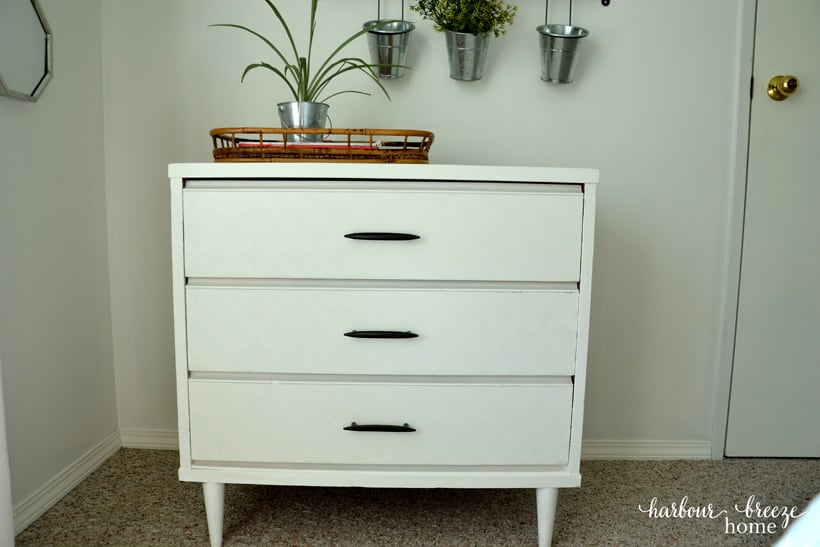 I used this cost saving tip with both the dresser project and the headboard ~ and I still have plenty of paint left over!
SOURCES: Alabaster paint by Sherwin Williams for dresser
Urbane Bronze paint by Sherwin Williams for headboard
Both were sample size & on sale for a total of ~ $17.00
Take your time shopping for home decor
Truth be told, I'm always on the hunt for clearance priced home decor. I rarely (dare I say NEVER?) buy it full price. If you put your patience on, you'll be absolutely amazed at how far items get marked down.
SOURCES: Set of 3 mirrors ~ Winners ~ $9.00
Big Gold Clock ~ Winners ~ $16.00
Bar with tin cup holders ~ Ikea (already owned)
Driftwood side table ~ made by us
Revamp/ Repurpose/ Re-envision items you already own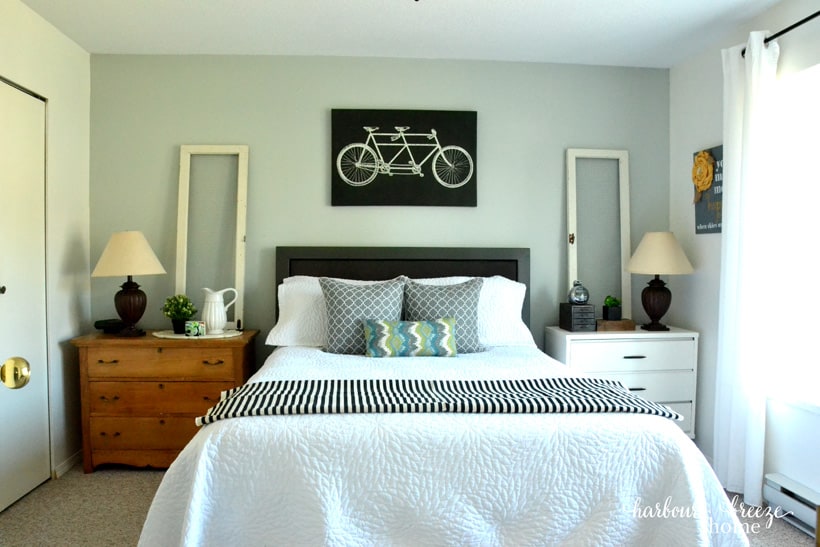 I admit, I got  stuck when it came time to decorate our nightstands and the feature wall. I finally went to our garage and started digging out decor that was still stuffed into the corners and drug it up to our room. I tried out lots of options and looks before landing on what you see in the picture. Everything you see there has been used at different times in different parts of the house. But, given a new place to be, it all feels brand new!
Sources: Bedspread & shams from Superstore (I purchased it a few years ago)
Striped "throw" is canvas fabric on clearance at Fabricland
Curtain rod from Ikea (also owned from years ago) & curtains are so old I'm not sure where they're from!;)
TOTAL BUDGET: $192.00!!