Christmas Living Room Tour
Last week, I shared our Christmas Dining Room. Most of the Christmas decor is in that space, but, today I thought I'd give a little tour of the whole big room all ready for Christmas.
I changed out the new accent rug with a black and cream striped one I picked up at the same time.
I was already dreaming up a little black/ white/ and gold color scheme for Christmas when I was working on the One Room Challenge.
The billy bookcases were the perfect place to add in a bit of holiday decor.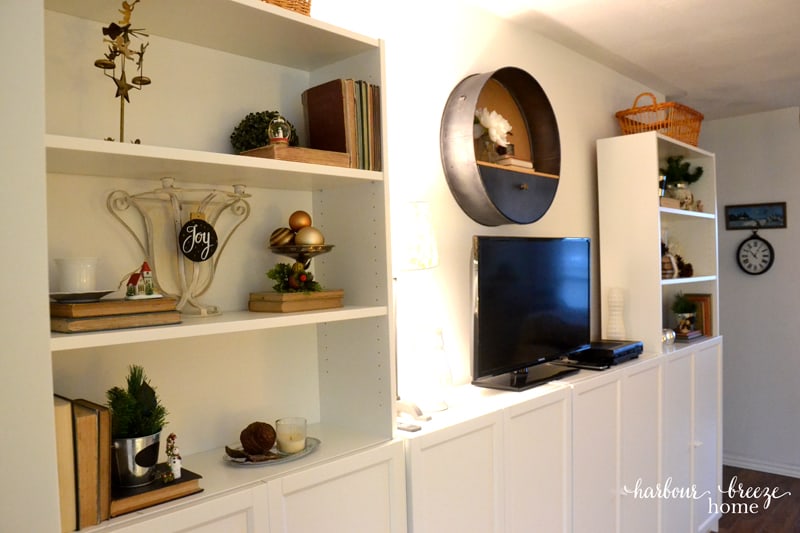 Old books are used throughout to vary heights of items and add interest.
Little ornaments my mom gave each of our boys are placed throughout.
Pinecones and fake greenery add interest and texture to the neutral color scheme.
The old window on the wall got a splash of holiday cheer with a wreath,
and an enamelware bowl full of vintage ornaments adds a Christmas touch to the side table.
This time of year tends to be quite dark throughout the day. In fact, I took these pictures at 1:00 in the afternoon and had to turn on every light in the room to make it bright enough to photograph! We've been enjoying burning candles more than ever and often light the candles on the coffee table and let them burn all evening…and even sometimes throughout the day, too.
After living with a wood stove for so many years, maybe it's pyschological, but there's just something about having a little fire burning…
And that's it for my little Living Room Christmas tour.
If you missed the Christmas Dining Room tour from the other day, you can find it here:
And, to see how to make your Christmas bookcase twinkle, here is a throw back post from a few years ago.