How to Organize Cupboards in a Small Kitchen
Organizing kitchen cupboards is like putting together a puzzle. Each item should have a spot that is perfectly suited for its convenience of use. But, trying to figure out where to place those puzzle pieces can be a challenging!
As I mentioned before, I've rearranged my kitchen 5 times since we moved in a year and a half ago.
This sixth time was a charm!;)
Here's what I've learned during my multiple attempts at organization:
How to Organize Cupboards in a Small Kitchen
Purge every item you don't need, use, or love.
Lack of space is a huge motivator in the purging department. As you go through your cupboards and discover things you've forgotten you had, ask yourself if you really need to keep it. To determine if you should keep or discard an item, here are some helpful questions to ask yourself:
Have I used this item in the past year? (No? Then let it go!)
Do I actually use all of these duplicate items at the same time? (Like 6 baking pans the same size?)
Have I ever used this nifty appliance I bought from the shopping network?
Is this item something I need to keep, but it's too large to fit in the kitchen? (I store my biggest stock pot in the garage.)
Is this item a family heirloom that I'd like to use and pass on to my children someday?
Analyze what is currently working in your kitchen organization systems and what isn't
I used this thought process when I organized my pantry, and it worked like a charm. I did the same when I tackled the upper kitchen cupboards.
I did this by first opening up all the doors and drawers and standing back to look. (It's not a pretty site!)
Remove everything from all the cupboards and start with a blank slate.
I know this sounds scary, but it isn't as bad as it sounds! When everything is empty, you have a chance to wipe out the cupboards and have a pretty, clean slate to work with.
Once it's all clean, you can start putting the "puzzle pieces" into place. It's important that you consider how you work in your kitchen and arrange items for your personal convenience.
Place items that you use on a regular basis in a convenient and easy to reach location.
For me daily dishware works well in the largest cupboard near the sink. I had missed being able to access my "pretty glassware" (from my Mom), so I placed it on the top shelf where I could enjoy seeing it every time I opened the door.
Make activity "stations" throughout your kitchen
I realized that when I do baking, I always stand at the same counter space. It made sense then, to make that area the baking section.
Measuring cups and spoons, spatulas, flavorings, and dry baking goods are all located in the same corner area, so it is easy to grab what I need.
Similarly, the coffee bar area has everything we need for coffee times ~ conveniently located right by the sink.
Coral Spices
Spice storage is so tricky! I had spices all over my kitchen.
I went through all of them and first threw out the ones that were dreadfully outdated. Then, I grouped them all together in one cupboard.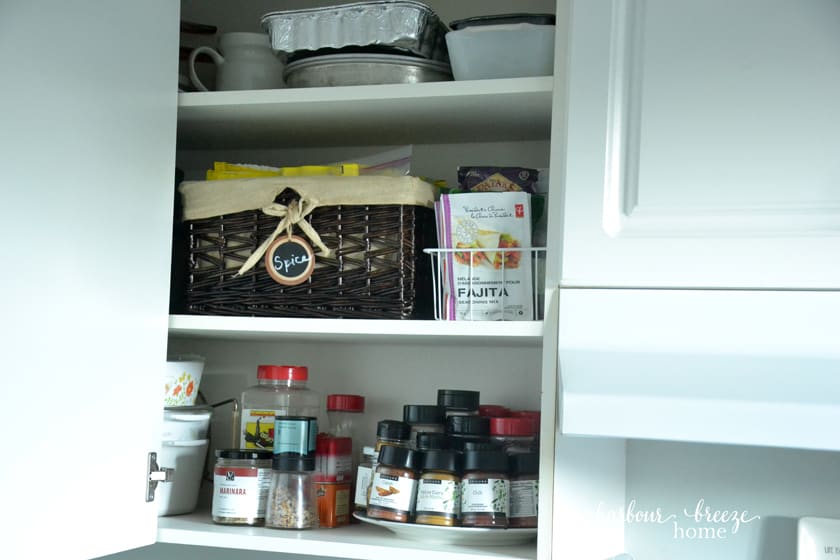 A basket holds all the spice packets (organized alphabetically), a metal basket holds all the mixes, and I'm currently searching for 2 lazy susans for the spices on the bottom shelf.
Place seldom used items in harder to reach areas
The corner and upper cupboards in our kitchen are very hard for me to access. I placed items in those that I use occasionally, but not regularly ~ like the turkey roasting pan and covered casserole dishes. The lower corner cupboards are awkward to use. One day, I nearly got myself stuck in one as I tried to reach something in the WAY back! (Notice how I used the "fling it in" method for my Tupperware??)
To solve that problem, I relocated most of the items from that corner cupboard and put the remaining items in the front so I can easily reach it.
We installed a lazy susan in the other one that functions really well. All my pots and pans, the toaster, and basket of onions and potatoes are easy to reach as it swings around.
Don't forget to use the storage drawer under the stove
I relocated the pots and pans that used to go here to the corner cupboard, and this handy drawer became the perfect spot for my cookie sheets, muffin tins, and cooling racks.
Utilize wall space as prime organization real estate.
Having kitchen tools stuffed into a drawer was terribly inconvenient.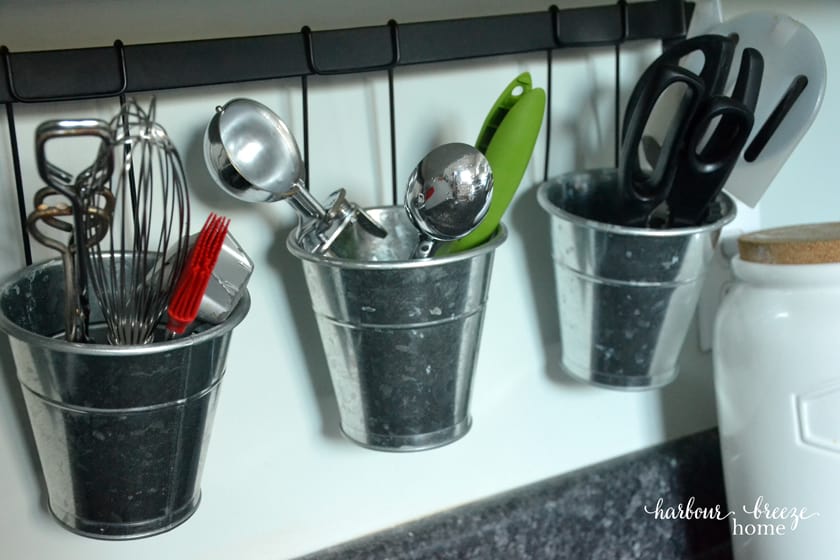 Hanging up this bucket organizer from Ikea was the solution! It allows us to see where our tools are and we can grab them easily when we need them.
Also, hanging up strainers on an empty wall space both freed up some drawer space and makes a pretty decoration.
Maximize drawer space
Our kitchen only has 3 drawers, so I needed to choose carefully what to put in them!
Baking pans are in one.
Another holds potholders and awkward kitchen tools.
And, the top one is a classic "silverware drawer".
Utilize creative solutions for specific problems
There were a few things that I really struggled with, and was delighted to discover simple solutions!
Magazine holders became the perfect container for wraps' boxes.
Tucked in the cupboard above the stove, I can easily reach them to pull down and grab what I need.
I cleaned up an old shower caddy that had lost its suction for the shower walls, and stuck it inside the door of the under-the-sink cupboard.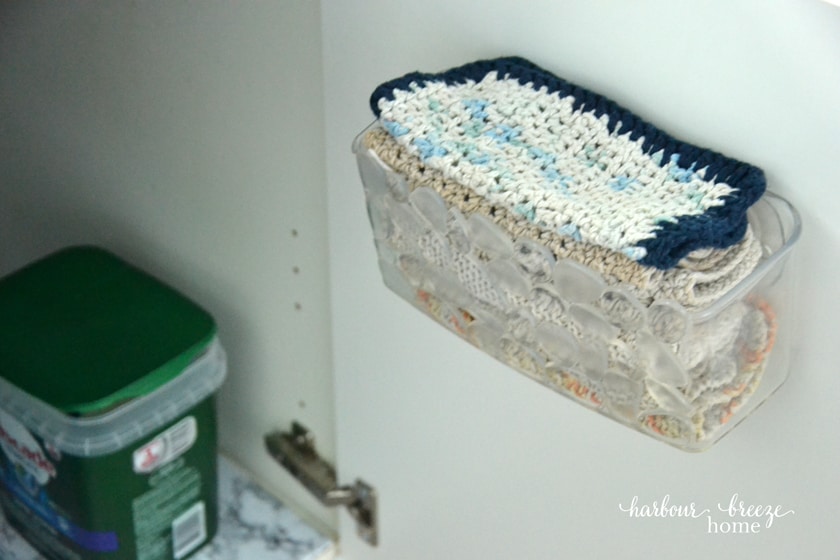 Add decorative touches that reflect your style.
Decorating a room is the icing on the cake! To add some fun touches to the kitchen, I tucked a cake stand with lemons, some greenery and a vase of tulips in the corner.
Although I still have to live with that ugly vent on the upper cupboards, painting it the same color as the walls helps it blend in a bit better…
and the pink wooden flower basket adds a little more color to the space.
Having my kitchen finally organized feels SO good!
Are you wanting to get your home organized, too? It's not too late to start the Organization Challenge whenever you're ready. Click here here for all the details and list of previous posts. And if you'd like some more kitchen organization ideas, check out my Pinterest Organization Board.
PS. I'm also over at Kenarry Ideas for the Home today guest posting about how to make labels out of packing tape. It's really neat! You just might want to check it out…
Related home organization ideas & tips:
Want help getting started in decluttering your home?
I've put together a free Home Organization series just for you! Included in it are:
Simple 15 minute organization tasks for each day

Additional resources and ideas for more specific spaces – like organizing kitchen cupboards, pantry organization, and how to organize small closets.

FREE printable checklists
Click here or the button below to get started today.